Wittgenstein
(1993)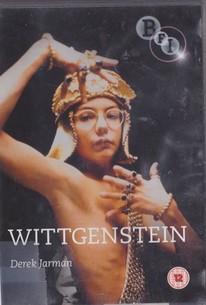 Movie Info
Derek Jarman directed this witty, stylish biography of the life of the eccentric 20th-century philosopher Ludwig Wittgenstein (Karl Johnson). Wittgenstein is shown as a boy living a repressive youth, demonstrated by his family appearing in Roman togas. When Wittgenstein leaves to study under Bertrand Russell at Cambridge, he begins to investigate language and apply the strictures and constructs of language to philosophical study. The subject of Wittgenstein's homosexuality is depicted when, after World War I, he falls in love with a poor philosophy student, Johnny (Kevin Collins). Also portrayed is Wittgenstein's death at an early age from prostate cancer.
Critic Reviews for Wittgenstein
All Critics (6) | Fresh (5) | Rotten (1)

Ozus' World Movie Reviews
One of Britain's most famous avant garde filmmakers, Derek Jarman, constructs a biopic of Viennese philosopher Ludwig Wittgenstein with a bravura display of visual imagery

Offers many zany snapshots of the 20th century Austrian who made philosophy more self-conscious

Spirituality and Practice
Audience Reviews for Wittgenstein
½
True to the rest of Jarman's work, Wittgenstein opts for an ultra-minimal, soundstage-based production and is filled with his signature period idiosyncrasies. There are times when it feels as if he's emulating the style of a children's program, which is appropriate given the fact that this is much more ridiculous, lighthearted, and funnier than his usually austere looks into the lives of gay historical figures and social outcasts. Thankfully, this also gives him an opportunity to play dress-up with Tilda Swinton, these visual and narrative points of lightness supplementing the philosophical musings of its subject. The fact that he chose to document Wittgenstein's life specifically is admirable as his work is known to be generally impenetrable, but he approaches his ideas through some clever physical representations of the abstract concepts that work pretty well, and though it all amounts to minor Jarman, it's still absolutely enjoyable for fans of his work.
Reece Leonard
good biopic. a bit strange. it does a decent job at introducing his unique life and even attempts, fairly well I'd say, to introduce his ideas. it does deviate from his life at times but it still works. also, it could easily be adopted for the stage and may have been written as a theater piece.
willy wonka
With an impressive script by the talented Terry Eagleton, Derek Jarman's experimental biographical film about the philosopher Ludwig Wittgenstein is a truly fascinating film. Having never read the works of Wittgenstein, I can't say how accurate it is regarding his philosophy. However, the concepts and questions raised cannot be ignored and are intriguing enough to continue watching this through it's entirety. This isn't a long film, but it's certainly a great film which certainly makes us think during and after the film. Using a minimalist set, we are able to get pure Wittgenstein through the spectacular performances of Karl Johnson and Clancy Chassay as Old and Young Wittgenstein as well as Michael Gough's performance as Bertrand Russell. Everyone else, though, is fantastic and worth noting and they make a great job at transferring both his life story and his philosophy in little over an hour. This is one of Jarman's greatest works and should not go unnoticed.
Nelson Maddaloni
Wittgenstein Quotes
There are no approved quotes yet for this movie.
Discussion Forum
Discuss Wittgenstein on our Movie forum!