A Hologram for the King
(2016)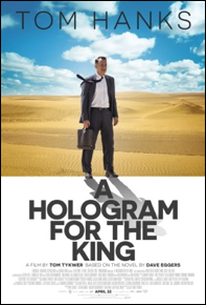 TOMATOMETER
AUDIENCE SCORE
Critic Consensus: A Hologram for the King amiably ambles through a narrative desert, saved by an oasis of a performance from the ever-dependable Tom Hanks.
A Hologram for the King Videos
A Hologram for the King Photos
Movie Info
Cultures collide when an American businessman (Tom Hanks) is sent to Saudi Arabia to close what he hopes will be the deal of a lifetime. Baffled by local customs and stymied by an opaque bureaucracy, he eventually finds his footing with the help of a wise-cracking taxi driver (Alexander Black) and a beautiful Saudi doctor (Sarita Choudhury).
News & Interviews for A Hologram for the King
Critic Reviews for A Hologram for the King
Audience Reviews for A Hologram for the King
½
Tom Hanks takes us to Saudi Arabia where he's a fish-out-of-water Yank unacquainted with the local customs, some of which could be very dangerous, but it's kept light overall. The biggest shocker for him is a promiscuous Dane, but its this light tone that keeps the film from fully engaging. In one scene Hanks closest Saudi buddy walks in on him with a Saudi woman and things nearly get nuclear pretty fast, but this opportunity, and many others, get passed by for the sake of that light tone. As it is, we're left with a Better Homes and Gardens version that begs in favor of diversity while avoiding some ugly truths.
Kevin M. Williams
Super Reviewer
Often times, I wonder why certain films needed to be or should have been made. This is one of them. Obviously, not every movie is made for me or my demographic, and I try to be mindful of that when passing judgement. However, I find it hard to believe that most people would bother with this one. "A Hologram for the King" is essentially about Tom Hank's first world problems, his brief midlife crisis, him being a fish out of water in Saudi Arabia, and him accepting his failures and starting fresh. It is as exciting as mayonnaise. It is as funny as a bird flying into a window. I would have fallen asleep if I hadn't just drank half a gallon of iced tea. In its defense, there were a few semi-surrealistic moments in the first half of the film, but they never commit to fully weaving that into the narrative. The titular hologram is a Macguffin in a film that should have been called "You've Got Mail 2: Allah My Love". And there are boobs.
K Nife Churchkey
Super Reviewer
½
Any film that chooses to embrace Electric Light Orchestra, or for that matter acknowledge how wonderful ELO truly is, is okay in my books. This bodes well for A Hologram for the King as it seemingly has a lot to offer, but ends up offering as much in such a fashion that it feels it's holding back on the best, most interesting stuff. I haven't read the novel by Dave Eggers on which this film adaptation is based, but from being familiar with Eggers style and having his influence be strongly present during my college years I can see how this book, which was published after I graduated from college, would seem like a natural progression for the writer. He is getting older, so too are his protagonists, but the existential questions still remain-just in different forms and from different perspectives. Though I haven't read Eggers' novel it is easy to see the main ideas and themes the author was addressing come through in the opening moments of director Tom Tykwer's (Cloud Atlas, Run Lola Run) film. Tykwer takes us through the deconstruction of what more or less defines success in Western culture and strips it away from our protagonist before dropping him into Saudi Arabia where success and satisfaction are still measured in many of the same ways, but where society has a more narrow view of how those rewards should be distributed and touted. Still, the film doesn't look down upon its main setting so as to say we have it all figured out in America and they should take note, but rather it displays the still very present complications and struggles alive within a well to-do, middle-aged white guy that should seemingly have it all, including any opportunity he desires. Most writers place their surrogates into characters who mimic themselves which translates to an abundance middle-aged white guys, but here the choice to have the lead character fit this profile is a strategic one, a decision that greater emphasizes the difference in having it all and having what is meaningful. I'm still not sure if there is an analogy or metaphor that we should interpret from the title, but it seems it should naturally have an underlying meaning. I bring this up because much like the title of the film the contents feel as if there should be more to them, something that anchors the ideas and makes them feel more substantial; effecting viewers in greater ways. Instead, A Hologram for the King simply skims the surface, albeit an interesting surface. read the whole review at www.reviewsfromabed.com
Philip Price
Super Reviewer
A Hologram for the King Quotes
There are no approved quotes yet for this movie.
Discussion Forum
Discuss A Hologram for the King on our Movie forum!