A Monster Calls
(2017)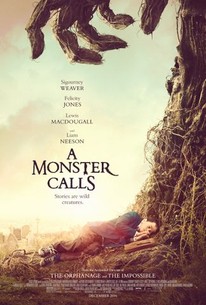 TOMATOMETER
AUDIENCE SCORE
Critic Consensus: A Monster Calls deftly balances dark themes and fantastical elements to deliver an engrossing and uncommonly moving entry in the crowded coming-of-age genre.
Movie Info
A visually spectacular drama from director J.A. Bayona ("The Impossible"). 12-year-old Conor (Lewis MacDougall), dealing with his mother's (Felicity Jones) illness, a less-than-sympathetic grandmother (Sigourney Weaver), and bullying classmates, finds a most unlikely ally when a Monster appears at his bedroom window. Ancient, wild, and relentless, the Monster guides Conor on a journey of courage, faith, and truth. Toby Kebbell plays Conor's father, and Liam Neeson stars in performance-capture and voiceover as the nocturnally visiting Monster of the title.
News & Interviews for A Monster Calls
Critic Reviews for A Monster Calls
Audience Reviews for A Monster Calls
As of a few years ago, it was certain that director J.A. Bayona would be a name to remember. With his feature debut in The Impossible, I was blown away and looking forward to anything his mind was ready to dish out next. With his latest venture in A Monster Calls, he has proven himself as a significant staple in modern cinema. This is not only one of the most beautifully told films of 2016, but also one of the most sincere dramas I have witnessed in recent memory. The trailers make it would to be a grand fantasy with a boy and a tree that comes to life, but it really isn't that at all. It definitely has those elements, but the meaning behind them will bring tears to all. I found myself on the verge of tears throughout the entire third act. Here is why A Monster Calls is one of my favourite films of 2016 (if not my absolute favourite). Trying to cope with his mother's cancer and inevitable death, young Conor seeks out the companionship of a tree that comes to life in his time of need. Telling him stories that relate to his current situation and life in general, his existence is to ease the pain of his dying mother. What the trailers of this film fail to show, is the fact that his existence means much more to the film than meets the eye. I refuse to speak about the specifics of the reason he is around, due to the fact that certain scenes hold a few of the most beautiful cinematic reveals of the year. This film is made out to be a fantasy, but its presentation is a fantastical drama through a child's mind. There are many more layers throughout this film than one might think. Heavy, but not when it comes to casting the right people in a film, it all comes down to whether or not they will be able to carry the film as a whole or deliver in the way that the director is expecting them to. In his very few appearances throughout film, Lewis MacDougall has now fully proven his talents. As young Conor, he was able to portray a character who is both able to fantasize as most kids do, as well as grieve in a very believable manor. His performance made me completely entranced and I was along for the ride the entire duration. A Monster Calls doesn't have a single dull moment. Not only is his performance fantastic for his age, but the cast around him only elevates the rest of the film. Practical vs. aforementioned, this film presents itself as a full on fantasy with a boy and a tree. Yes, there are dramatic elements hinted throughout the trailer, but they are much heavier in the context of the film. Felicity Jones plays Conor's dying mother and for me personally, this is the greatest performance I have ever seen her give. She was able to bring me to tears with her portrayal of a dying mother and I found her final moments the most effective piece of filmmaking that I have seen in all of 2016. For these reasons alone, this already incredibly told story will easily make it to the top of my list for 2016. It's a very rare sight to see a mesh of CGI and practical effects. Normally a film chooses to go with one of the two routes, usually in favour of CGI in recent memory. Director J.A. Bayona chooses to showcase a blend of both and that may just be one of the biggest compliments I can give this film. There are moments of pure cinematic joy when practical effects and miniatures are utilized, but it is never noticeable, making the CGI blend perfectly with the practical effects. It just goes to show that classic filmmaking isn't dead and that new-age filmmaking has come a very long way. Some A-List directors like Martin Scorsese are on record in saying that cinema is on the verge of death and that no new filmmakers will ever be able to match what the classics have been able to achieve. Throughout the past few years, I would normally agree with that statement, but the fact that smaller/independent films like this are still made each year, reinvigorate my hope. In the end, A Monster Calls is not just a perfect film in what it sets out to execute, but it's a beautiful depiction of how kids may have to deal with cancer in their family. There are some very heavy themes here that are handled with enormous care. I was in tears from start to finish at how well-made, well-structured, and how it was able to impact me by the end. This is new-age filmmaking at its finest and I would not be surprised if this ends up being my favourite film of 2016 once I have finished catching up. Please, do yourself a favour and check out A Monster Calls.
An adaptation of the critically acclaimed novel, A Monster Calls is about a 12 year old boy who struggles to come to terms with his mother's battle with cancer. I remember reading the book a few years ago and was moved by the unique perspective of such a tragic yet relatable story. Having now seen the film adaptation, I can safely say that this is one of the best book-to-film adaptations I've seen and if this does not get nominated...heads will roll. Newcomer Lewis MacDougall takes on the role of Conor, quite a difficult character to portray but he does so perfectly. I had initial concerns especially as a newcomer but his debut performance solidifies that he will have a successful career in the future. He wasn't an annoying child actor, he personified the maturity of Conor exceptionally and when it came to the more emotionally driven scenes he was extraordinarily good. He is in the company of Felicity Jones (who I really really hopes gets nominated) and Sigourney Weaver in which the latter gives one of her best performances. The story is one we have seen many times in films, but what makes this more creative is the story is told through the perspective of Conor and the monster he imagines to help get him through this difficult time. Even the credits are told through his perspective as the characters are stated as their relationship to Conor (i.e. Mum, Dad etc.), I thought that was a nice touch. J.A. Bayona mixes the dark mature tones with the child-friendly shell that the marketing may have you suggest but do not be fooled. I can assure you, you will feel. You will get the feels. I consider myself emotionless and yet I grew slightly teary in many scenes, it's just so emotionally powerful without the film being manipulative and to me that is an extremely admirable trait to have. As the monster (voiced by the epic ness that is Liam Neeson) describes three tales to Conor, the film pulls the audience into a watercolour animation sequence which is absolutely beautiful to look at. The fact that Bayona decided to retain the watercolour and sketching style shows that he knows what he is doing, he is a confident visual director. Patrick Ness, who wrote the book, also wrote the script for the film which is why it is an extremely faithful adaptation. Perfect balance of smart wit and captivating drama. Overall, A Monster Calls is simply one of the best dramas I have ever seen. Tantalisingly powerful, heart achingly emotional and beautifully majestic. The best thing I can say, is that I want to see it again right away. - Review at: http://www.themoviediorama.com
Luke Andrews
Super Reviewer
GET AWAY FROM HIM, YOU BRANCH! - My Review of A MONSTER CALLS (4 Stars) While I enjoyed J.A. Bayona's feature debut, THE ORPHANAGE, I was less than enthusiastic about his follow-up, THE IMPOSSIBLE. With the infinite number of stories that could have been told about the 2004 tsunami, I felt he could have chosen a better one than that of a family which literally walks through the rubble to locate each other. Not only wasn't it filled with obstacles, but Bayona, who's Spanish, literally whitewashed the true tale of a Spanish family by casting Naomi Watts and Ewan McGregor in the roles. It did, however, display an incredible visual sense and a way with young actors. With A MONSTER CALLS, in which Patrick Ness, the author of the book, skillfully adapted for the screen, Bayona brings it all together for an emotionally wrenching, thrilling, wise film filled with impeccable performances and a beautiful look at coping with loss. His lead actor, the fantastic Lewis MacDougall, plays Conor, a bullied young man who lives with his terminally ill mother (Felicity Jones). She shields him from the truth about her diagnosis, but he's still riddled with anxiety, with a recurring nightmare underlining that fact. One night, he's visited upon by a Monster (voiced by Liam Neeson), who emerges from a Yew tree outside his window. The Monster pretty much provides the framework of the film by saying to Conor that he'll tell him three stories, after which Conor will tell him one, and that it will have to be the painful truth of his worst nightmare. As his mother's condition deteriorates, his controlling Grandma (Sigourney Weaver) and absent father (Toby Kebbell) come to visit, further providing a window into Conor's hidden wells of anger. Luckily, the Monster's stories provide a distraction for our hero, and they're a true work of art. It's established early on that Conor and his mother enjoy art when we see her instructing him. He also sketches in school and dabbles in watercolors. Thus, the Monster's stories, using wonderful watercolor animation, feel organic to the story and prove completely immersive. As each unfolds, they resonate with the film's themes of the unfairness of life, the complex nature of humans, and the difficult choices we all face. It would be easy to categorize A MONSTER CALLS as an intense film for children, but there's such magic here that all ages will enjoy. It reminded me in a way of E.T. and PAN'S LABYRINTH, two films with harrowing moments that proved instructive to young viewers. Here's another film with fantastical elements used to explain real pain which peels back the layers to reveal raw emotion about something traumatic. Bayona shows really dexterity with the camera that gives this film such power and sweep, yet also plenty of soft, intimate moments. HIs frequent collaborator, cinematographer Oscar Faura, lights the dramatic scenes with such empathy that the grandiose moments never seem to overshadow them. Despite all of the huge effects, I will most remember this film as a series of gorgeous shots of Conor peering through doorways. In addition to McDougall, who shows a wide range and knows how to make quiet observation look compelling, Bayona gets an achingly good performance out of Jones. We see her deterioration through Conor's POV, which is sometimes hidden from him, so each scene comes with the shock of seeing her falling apart. Through it all, Jones valiantly puts on a brave face for her son and tries to tell him everything he needs to know in order to cope. It's truly remarkable work. Neeson, who was filmed with motion capture, delivers one of his best performances, providing just the right amount of menace to the imposing character he plays. While this isn't the scary movie its title implies, Neeson's performance still manages to keep you on edge. Weaver has so many moving moments in the film one can forgive her less-than-perfect English accent. Didn't she learn her lesson from THE YEAR OF LIVING DANGEROUSLY? She's a great actor who can't do accents. Not everyone is Meryl Streep, but she still shows true power here. However you feel about her performance, just try not to be wrecked in the scene with the passing train. Keep those hankies out, because you're likely to sob at least 20-30 times in its final act. Ok, I'm exaggerating a tad, but there's a scene where characters finally speak from the heart, and it wrecked me. I saw my mother fight her battle with cancer when I was 28, so perhaps this story got under my skin more than it might to the casual viewer, but losing someone and figuring out what to do with the misery and horror it entails is universal. Some may find this film a little too simplistic or too on-the-nose. It definitely suffers from that here and there, but all told, there's real art in A MONSTER CALLS.
Glenn Gaylord
Super Reviewer
A Monster Calls Quotes
There are no approved quotes yet for this movie.
Discussion Forum
Discuss A Monster Calls on our Movie forum!