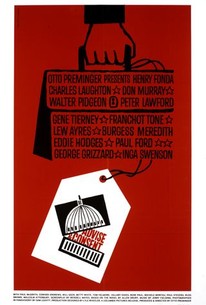 Advise and Consent
1962, Drama/Lgbtq+, 2h 20m
12 Reviews
1,000+ Ratings
Rate And Review
Advise and Consent Photos
Movie Info
Based on the lauded novel by Allen Drury, this political drama depicts the debate sparked when controversial candidate Robert Leffingwell (Henry Fonda) is nominated as U.S. Secretary of State. As concerns are aired during the Senate investigation of Leffingwell's qualifications, Senator Brig Anderson (Don Murray), the head of the committee, soon finds the proceedings descending into heated exchanges, with various politicians trying to further their own agendas.
Audience Reviews for Advise and Consent
A brilliant examination of American politics, blind hypocrisy, idealism, and self-interest. For my money, it's one of Don Murray's finest performances. The sets and locations are excellent, and as best as I can tell, at least some are authentic. (The film's trailer indicates that certain scenes were actually filmed in a real senate committee room!) Altogether, an excellent and exciting film.

A great political drama full of marvelous performances from all involved. Ahead of itsâ(TM) time in the examination of political witch hunts and blackmail, as well as other taboo subjects very rarely examined in film at that time. A fantastic script and good direction make it both enthralling and tense.

Its a bit scatterbrained for my taste, as it shifts back and forth between characters at odd moments. It also spends way too much time on the build-up to the reveal of a homosexual love affair (although the brief sequence in the gay bar proved less offensive than I anticipated) but there are enough strong performances and a well earned ambiguous ending that help earn it a passing grade from me.

"Advise and Consent" is a political drama and also the last of Charles Laughton's performances and features a solid performance along with the other stars including Henry Fonda. This is a deliberately slower film and one that requires your full attention but is ultimately watchable thanks to it's talented cast and solidly acted performances. It's a dialogue driven film and one that gives an interesting look behind the closed doors of our Nation's leaders and what influences them and their jobs. It's interesting enough to hold our attention but a little long and flounders at times but ultimately picks up at the end.
See Details