Aerial Gunner
(1943)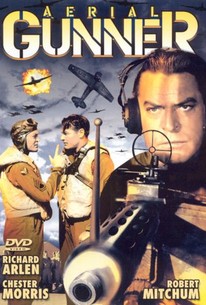 AUDIENCE SCORE
Critic Consensus: No consensus yet.
Movie Info
A wounded aerial gunner tells his story in this wartime propaganda film. He begins with his recruitment and basic training before the war. There he discovers that his sergeant is one of his foes, and that both of them are fighting for the affection of the lovely sister of a fellow recruit who becomes terrified of flying and suffers a plane crash during training. Eventually all is overcome and the new squadron prepares to fly for the South Pacific. The two rivals end up landing on an island overrun by Japanese troops. They frantically try to repair their downed plane. Later the brave sergeant sacrifices his life to save his rival who takes off and somehow makes it back to safety. ~ Sandra Brennan, Rovi
Rating:
NR
Genre:
, ,
Directed By:
Written By:
In Theaters:
On DVD:
Runtime:
Studio:
Pine-Thomas Productions
Critic Reviews for Aerial Gunner
There are no critic reviews yet for Aerial Gunner. Keep checking Rotten Tomatoes for updates!
Audience Reviews for Aerial Gunner
Fans of Robert Mitchum will delight seeing him in a very short scene at about the 38 minute mark of this B film. He makes, even in this brief appearance, the rest of the cast look like kid actors. Another WWII film that conveniently puts two civilians at each others throats most of entire film. A really sappy ending too. [img] https://lh6.googleusercontent.com/-t6wz2J_d1Kk/TgqLw_9E08I/AAAAAAAAADI/on8Eaw5qJKQ/aerial%252520gunner%2525204.jpg[/img] For the most part, this is a training film about "tail" gunners, not in the big bombers, but in Army Wildcats, [img]http://t1.gstatic.com/images?q=tbn:ANd9GcTpEzzbSuDSzRbtJakwbnFeyhe0sV0PuJoQ2fInzY3bLY27X-Os[/img] or so it appears. The squadron graduates and we get to see all the training before that point. We even see a gunner who ends up shooting the tail off his own plane! I guess it could happen. [img]https://lh5.googleusercontent.com/-uQW8uHv-igw/TgqL0zDXYOI/AAAAAAAAADM/EWGKY93HlUY/aerial%252520gunner.jpg[/img] Rank this one as good views of real training, two seater airplanes at the time. The usual hokey romance stuff becomes trite after a while. But the real film, largely a flashback, begins after the squadron goes into REAL combat in the Pacific. Eventually the squadron gets assigned thier real mission in small twin engine bombers, much like mosquito style craft. Oddly, there is no training buildup to these aircraft. True to the largely propagandistic nature of the film, these bomber missions are filled with success raids until the Japanese finally do something about it. But then again, while the crew has deaths, they eliminate the enemy as expected. The aerial combat, what little there is near the end, is pretty good stuff save for the really fake death scenes of Japanese and U.S. airmen. I won't spoil the ending, but this film is largely so full of two men bickering it becomes boring and nonsensical. Nevertheless, I will not trash the film as a whole. Its got lot of vintage training footage and reeks of patriotism at the time of its release just a year or so after Pearl Harbor. Exciting ending. Happy 4th of July! See the entire film at: http://www.archive.org/details/aerial_gunner Cast Complete credited cast: Chester Morris ... Sgt. 'Foxy' Pattis Richard Arlen ... Sgt / Lt. Jonathan 'Jon' Davis Jimmy Lydon ... Pvt. Sanford 'Sandy' Lunt Amelita Ward ... Peggy Lunt (as Lita Ward) Dick Purcell ... Pvt. Lancelot 'Gadget' Blaine Keith Richards ... Sgt. Henry 'Jonesy' Jones William 'Billy' Benedict ... Pvt. Jackson 'Sleepy' Laswell (as William Benedict) Olive Blakeney ... Mrs. Sanford Lunt Director: William H. Pine Writers: Maxwell Shane (screenplay) Jack F. Dailey (idea) Runtime:78 min Sound Mix:Mono (Western Electric Mirrophonic Recording) Color:Black and White NOTES about the film: 1 Taglines: THRILLS...ACTION..."Somewhere in the Pacific" 2 AERIAL GUNNER also marks one of the first appearances of Robert Mitchum in a brief role as the commanding officer of Morris' rival squad of gunners. 3 Also known by the title: Henry Aldrich Goes to War REVIEWS of the film: 1 "Based on my father-in-law's first hand accounts, I can tell you that the aerial gunnery school sequences in this film are relatively close to what the training was like. (For example, they really did make them assemble a 50 caliber machine gun while blind-folded.) However, the combat/action sequences at the climax of this film miss the mark by a mile. I'd recommend this film to you if you are a fan of Robert Mitchum and want to see one of his early (uncredited), bit-part roles." 2 "A typical cheap WWII propaganda movie, but that's not to say it wasn't that bad. Not a great deal of war action until the last 10 minutes of the movie. The target practice scenes using a mobile target on a rail track was historically interesting. Seeing Robert Mitchum was a surprise, as his name did not appear in the opening/ending credits. It goes to show what a small part he plays."
monsieur rick
more about the role of an aerial gunner and the training that is required to become one than a compelling story
Harim Kim
"B" World War II film, fast paced, well done with a few touches of comic relief. Good cast. It's nothing out of the ordinary, but still entertaining.
James Higgins
Aerial Gunner Quotes
There are no approved quotes yet for this movie.
Discussion Forum
Discuss Aerial Gunner on our Movie forum!