After the Thin Man
(1936)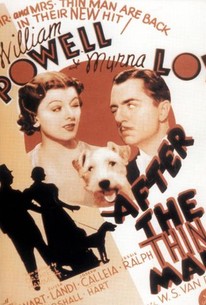 After the Thin Man Photos
Movie Info
This second of MGM's Thin Man films reteams William Powell and Myrna Loy as, respectively, bibulous private detective Nick Charles and his socialite wife Nora. The Charleses are sucked into another murder case via Nick's lovely cousin Elissa Landi, whose husband Alan Marshall has vanished. Hubby has been conducting an affair with nightclub thrush Dorothy McNulty (later known as Penny Singleton) and is also blackmailing gangsterish Joseph Calleia. When the corpses begin piling up, Nick and Nora try to piece the clues together, with the earnest assistance of Jimmy Stewart, who carries a torch for Landi. You won't believe who turns out to be the murderer in this one--then again, given the plot's strict adherence to "least likely suspect" formula, you probably will.
News & Interviews for After the Thin Man
Critic Reviews for After the Thin Man
Audience Reviews for After the Thin Man
Made for three times more money after the success of the first go-round, this one brings back the hard-not-to-adore couple of Nick and Nora Charles, he an ex-private detective and she a current rich socialite. There's murder afoot and these two work to find out who's about it, charming us in the meantime. Jimmy Stewart plays a small role, too. About as good as the first one, and soaked in the juices of post-prohibition euphoria and jazz age wanton.
Kevin M. Williams
Super Reviewer
A great sequel to The Thin Man, I recommend seeing the whole series they're all so good. This one has a very surprising performance from James Stewart.
The sequel to The Thin Man finds Nick and Norah Charles on their way home to California after solving the east coast case (as seen in the first film). Nick thinks he's in for a restful respite after his New York adventure, but upon arriving home, Norah's cousin calls for help, desperate to find her missing husband. He is out running around with other women, and soon gets himself stuck in a blackmailing scheme. Much of this movie will seem familiar to those who've seen the first one, it follows the previously established formula very faithfully. We the audience are given a list of suspects, all with a possible motive for murder, and are allowed the fun of trying to figure out "who dun it". Myrna Loy and William Powell reprise their roles as the lovingly sophisticated and witty couple, and Powell's Nick is still a raging alcoholic (and of course Asta, their cute little dog is back, cuter than ever). Perhaps it's not quite as good as the first one (the dialogue is a little less risque and funny this time around), but there's enough laughs and surprises to make it well worth a watch.
Devon Bott
Super Reviewer
After the Thin Man Quotes
| | |
| --- | --- |
| Nora Charles: | You wouldn't know them, Darling. They're respectable. |
| | |
| --- | --- |
| Nora Charles: | (Last line as Nick gapes at Nora knitting baby booties): And you call yourslef a detective. |
| Nora Charles: | [last line as Nick gapes at Nora knitting baby booties] And you call yourslef a detective. |
| | |
| --- | --- |
| Selma Landis: | Goodnight Nick, and dthanks so much for everything. I want to kiss you. (Looks at Nora). May I? |
| Selma Landis: | Goodnight Nick, and thanks so much for everything. I want to kiss you. [looks at Nora] May I? |
| Nora Charles: | Go right ahead. But i warn you, it's a hard habit to get out of. |
| Nora Charles: | Go right ahead. But I warn you, it's a hard habit to get out of. |
| | |
| --- | --- |
| Nick Charles: | I mean, did I ever tell you that you're the most fascinating woman this side of the Rockies? |
| Nora Charles: | Wait till you see me on the other side. |