Alamar (To the Sea)
(2010)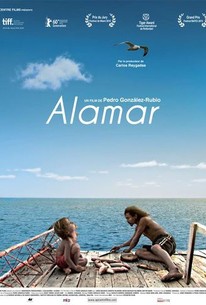 Alamar (To the Sea) Photos
Movie Info
A young boy and his father learn about living in harmony with nature in this languid drama from filmmaker Pedro Gonzalez-Rubio. A man from Mexico (Jorge Machado) travels to Italy and falls in love with a beautiful local woman (Roberta Palombini). Their feelings for one another are strong, but they prove to be short lived, and when they decide to beak up after the birth of their son Natan, he returns to Mexico while she stays in Italy and takes primary custody of the child. However, the father strives to remain a presence in his son's life, and the boy visits his father at least once a year. As the five-year-old Natan travels to Mexico, his father has joined the family' fishing operation near the coral reefs of Banco Chinchorro. Living in an elevated cottage near the shore, Natan and his family devote their summer to an idyllic existence, spending their days catching the plentiful fish and observing the wildlife, and their nights sitting by the fire and admiring the stars. To the father, this simple life teaches an important lesson of existing in peace with the natural world, and Natan comes to see himself as being as much a part of this environment as the fish, the waterfowl and the seaweed. Alamar (aka To The Sea) was the first solo directorial credit for cinematographer Pedro Gonzalez-Rubio.
News & Interviews for Alamar (To the Sea)
Critic Reviews for Alamar (To the Sea)
Audience Reviews for Alamar (To the Sea)
½
Sweet film that makes you wonder how much of this is a documentary and how much of it was scripted. Something to while away a Sunday afternoon with. Nice length however. I think any more sweetness, I would begin to find it grating.
John Ballantine
Super Reviewer
½
"Alamar" is a sweet, gentle and beautifully filmed movie. Once upon a time, Jorge(Jorge Machado) and Roberta(Roberta Palombini) fell passionately in love and had a child but then reality set in. It soon became clear they had distinct needs in life, being from very different places, and separated.(Cue the opening credits from "Green Acres.") At the start of the movie, Roberta, who lives in the urban paradise of Rome, is sending their son Natan(Natan Machado Palombini) to spend time with his father and other relatives at the aquatic paradise of Banco Chinchorro in Mexico. It is there in a sort of men's club(the only sign of women are the pin-ups adorning the huts) that Natan is shown how to explore underwater and fish by his father and grandfather(Nestor Marin) which his family has been doing for generations. This resonated with me, reminding me of fishing as a boy in the Upper Peninsula of Michigan, although we never caught fish anywhere near that large. In fact, the fish are so large and plentiful in the movie that even the crocodile does well for himself, just sitting around.
Alamar (To the Sea) Quotes
There are no approved quotes yet for this movie.