All the Little Animals
(1999)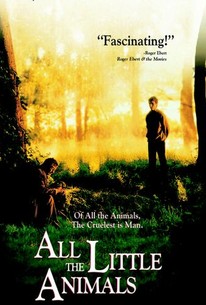 All the Little Animals Videos
All the Little Animals Photos
Movie Info
In this fable set in England, Christian Bale stars as a mentally disabled man who is housebound for most of the 24 years of his life. After a dispute with his abusive father, he runs away to the countryside where he befriends John Hurt, a recluse with the strange habit of burying dead animals.
Rating:
R (for some violence)
Genre:
,
Directed By:
Written By:
In Theaters:
On DVD:
Runtime:
Studio:
Lions Gate
Critic Reviews for All the Little Animals
Audience Reviews for All the Little Animals
As Bobby(Christian Bale) tells it, due to being hit by a car as a child, his brain is not quite right and is unable to understand complex issues, leaving him in a childlike state and possibly vulnerable to the manipulations of his wicked stepfather(Daniel Benzali) after the death of his mother(Amy Robbins). That being said, mama did not raise any idiots, as Bobby firmly resists any efforts to sign away his mother's store, even under threats and his pet mouse being killed. So, Bobby does the only sensible thing by going for a long walk, before hitching a ride to Cornwall with a trucker(John O'Toole) who tries to run over a fox. In stopping him, Bobby causes the truck to crash before encountering Mr. Summers(John Hurt) who has more sympathy for a dead rabbit than the dead truck driver. "All the Little Animals" has certain things going for it like excellent acting and pleasant scenery. And I like that the movie is about people attempting to live off the grid, especially the bit about the Travelers. But sadly, it takes a pedestrian approach to this potentially interesting material, which does not allow the viewer to fully grasp what the world looks like through Bobby's eyes, as the movie cannot decide whether the world of animals is less cruel than that of humans or that Bobby and Summers have their priorities thoroughly out of whack. That's not to mention the movie eventually falling into a cliched trap of a climax.
½
Um...pretty good. Good acting and all that, and the plot is certainly odd and enjoyable. The moral of the story is don't kill animals, just kill people if they deserve it. The step father acts in the last half hour of the film in ways that don't make any sense, especially in his demise. I must also add that I get tired of movies where the main character goes on about how perfect nature is and how bad people are (i.e. Instinct). What this guy doesn't get is that animals kill each other all the time, for food or for territory, or no apparent reason at all, that some animals need to eat dead animals to survive (so burying them only hurts animals), and that feeding mice and cockroaches so they don't 'steal' from you is really only going to increase the population of these creatures until they will steal from you. These mentalities are only fit for 'against the man' high school children and for environmentalists who have never stepped foot outside or read a book about how violent and unfair nature is. Ok, the end.
Curtis Lilly
Super Reviewer
I would just like to say -when i saw Christian Bales performance in this movie -I know he was one of the greatest actors in my life time and i have enjoyed watching him grow on screen-
Tracee Garcia
All the Little Animals Quotes
There are no approved quotes yet for this movie.
Discussion Forum
Discuss All the Little Animals on our Movie forum!