American Guerrilla in the Philippines
(1950)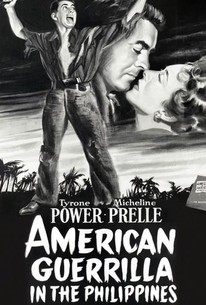 American Guerrilla in the Philippines Photos
Movie Info
This WW II actioner is based upon the adventures of Navy Lt. I.D. Richardson who with his fellow sailors refused to succumb to the Japanese who overtook the Philippine island of Bataan in 1942. After the battle, the determined soldiers fight to make their way through the dense, dangerous jungles to Leyte where a small boat waits to take them to Australia. During the arduous journey, the wife of a helpful planter joins them. They make it to the village, but there is no boat and they must steal one themselves. It is a rickety affair and eight miles off shore it sinks, forcing them to swim to the nearest shore where they are found by native partisans who hide them in the jungle for the next few months. It is dangerous as the Japanese are looking for them. Thanks to the help of resistance leaders, the brave sailors manage to get a message to McArthur's representative in exchange for their safe passage to Australia. Instead, the soldiers are ordered to return to Leyte and create a radio network and help out the rebels in any way they can. Eventually, the lieutenant and the planter's wife fall in love. Their affair blossoms when she learns that her husband was killed, but MacArthur invades Leyte and now the officer and his men must use the radio to contact the American troops and tell them where to go. Unfortunately, the enemy hears the messages and begin slaughtering the sailors. Eventually, the Japanese corner them in an empty church. Most of the lieutenant's men are slaughtered before the American troops finally arrive and save them. On the beach the officer meets MacArthur himself who praises the young man for his great courage.
Critic Reviews for American Guerrilla in the Philippines
Audience Reviews
There are no featured reviews for American Guerrilla in the Philippines at this time.
American Guerrilla in the Philippines Quotes
There are no approved quotes yet for this movie.