Amityville Dollhouse: Evil Never Dies
(1997)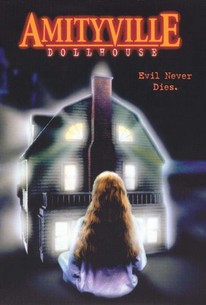 AUDIENCE SCORE
Critic Consensus: No consensus yet.
Movie Info
After filmmakers with varying degrees of talent managed to squeeze an unbelievable eight sequels out of the already-weak premise of the original Amityville Horror, the makers of this installment manage to go off on an even weirder tangent, with evil forces from the Long Island haunted house traipsing to yet another part of the world -- this time in a creepy little miniature replica. The dollhouse is well-constructed, and probably began life as a special-effects miniature from one of the previous films. Not one of the worst sequels, but unnecessary nonetheless; one can only hope that Amityville Dollhouse might finally encourage the film community to throw the last shovelful of dirt on this decaying concept and move on... a notion certainly shared by most moviegoers.
Critic Reviews for Amityville Dollhouse: Evil Never Dies
All Critics (3) | Fresh (0) | Rotten (3)
Paint-by-numbers tedium, mixing up most of the ingredients of the previous Amityville pictures into a grey swill, and adding a few terrible ones of its own.
yeah, it's just as bad
July 8, 2005 | Rating: 0/4
Audience Reviews for Amityville Dollhouse: Evil Never Dies
As far as I'm concerned, there really aren't any good reasons to keep making these sequels that are more boring than exciting. This is yet another dull movie in a series that never should have existed in the first place. Sometimes studios tend to stretch out a concept beyond its limits and that is the case with Amityville: Dollhouse. Although introducing a new idea to the series, and quite frankly it is pretty interesting, the film falls flat due to a poor script that really doesn't have anything good going for it and it's yet another boring film that is void of scares and effective storytelling that will keep you involved from start to finish. This film suffers yet again from a lack of a good script and good cast. Add to that poor directing, a low-budget feel and you get another awful film that doesn't satisfy. Even with an interesting idea, the film loses its focuses due to lackluster performances and poor writing. The film feels as if it was green lit after a first draft was written, and no care was given whatsoever in the final product. The result shows on-screen and this is yet another lazy film that is awful and not worth seeing as it really doesn't do anything interesting with its plot. Don't expect anything with this one, you'll be disappointed. I never knew why they making these uninspired films as they were always dull and not scary, most of the time they were stupid and cheesy and you have that with this entry. Watch something else, you'll be glad you did.
½
Other than some really cool looking zombie makeup this (thankfully) last Amityville sequel is the pits and probably just as bad as Amityville: A New Generation.
A.D. Villarreal
Super Reviewer
As said before, I ll never understand the Amityville Story and its sequel.
Amityville Dollhouse: Evil Never Dies Quotes
There are no approved quotes yet for this movie.