And Now the Screaming Starts
(1973)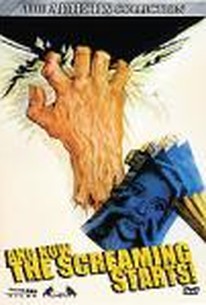 And Now the Screaming Starts Videos
And Now the Screaming Starts Photos
Movie Info
This creepy, atmospheric horror film from England's Amicus Productions dispenses with much of the tongue-in-cheek presentation of their popular '70s horror anthologies (such as Asylum and Dr. Terror's House of Horrors) in favor of a more adult-oriented approach. The story begins in the 18th century, as a young stable hand tries to prevent nobleman Fengriffen (Herbert Lom) from raping a young servant girl -- who happens to be the stable hand's wife -- and for this transgression has his hand lopped off. Flash forward to the present, where Fengriffen's ancestor (Ian Ogilvy) and his wife (Stephanie Beacham), now living on the ancestral estate, are haunted by the servant's vengeful spirit, as well as the severed hand itself, which roams the gloomy corridors of the mansion. Most video versions are taken from the TV print, which is missing some scenes of violence and nudity. ~ Cavett Binion, Rovi
Critic Reviews for And Now the Screaming Starts
Audience Reviews for And Now the Screaming Starts
½
Rather than the portmanteau films that Amicus were known for in the early 70's here they try to ape Hammer and create their own gothic horror. Unfortunately there is little that is actually horrific here aside from a few shock moments and the whole thing feels a bit laboured. The cast are pretty strong and do their best with the material but you kind of wish the whole thing had been compresses into a short story and thrown into another portmanteau film. I think I'll stick with 'Asylum' and 'Vault of Horror' in the future.
David Sayers
Super Reviewer
Weird movie. I struggled watching this movie. The only part I liked was when he tells the legend to Dr. Pope. Wouldn't watch it again though unless there was absolutely nothing else.
Jennifer Torres
This popped up again from the To-Watch Pile and I can happily say that it holds up really well. Great looking film, great sets, nice atmosphere. Nicely atmospheric ghost story that I have to admit I dozed through a short portion of. I enjoyed the film and I think the dozing reflected how tired I was and not necessarily the quality of the film. Well worth a look, give it a rental.
Bill Bryant
And Now the Screaming Starts Quotes
There are no approved quotes yet for this movie.
Discussion Forum
Discuss And Now the Screaming Starts on our Movie forum!