Antonia (Antonia's Line)
(1995)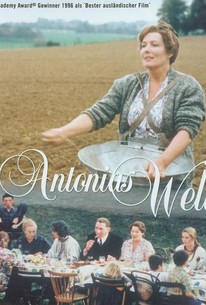 Antonia (Antonia's Line) Videos
Antonia (Antonia's Line) Photos
Movie Info
A strong-willed Dutch woman recalls her life in this uplifting picture that won the 1996 Academy Award for Best Foreign Language Film. Antonia (Willeke van Ammelrooy) is an elderly woman who wakes up one morning and realizes that this is the last day of her life. She begins to tell her story in flashback, beginning with her arrival home to the family farm after World War II with her daughter, Danielle (Els Dottermans). For the next fifty years, a variety of colorful characters come and go on the farm. Danielle becomes a painter, and decides she wants a child but no husband, so Antonia arranges the proper donation. Danielle giving birth to Therese (Veerle van Overloop), who laters has her own child, Sarah (Thyrza Ravesteijn), also without virtue of a husband. Antonia and her descendants come to symbolize the freedom of independent females, with little need for men in their lives.
Rating:
R (for strong sexual content, and for some violence, including a rape scene.)
Genre:
, , ,
Directed By:
Written By:
In Theaters:
On DVD:
Runtime:
Studio:
BMG
Critic Reviews for Antonia (Antonia's Line)
Audience Reviews for Antonia (Antonia's Line)
½
Family Is What You Make It The problem, I think, is the emphasis on an era. Netflix reminds us very firmly that the story is about a woman coming home after World War II, and that leaves us with certain expectations. However, the war hardly matters in this movie; one building we see early in the story has a large welcome to Allied troops painted on it, and a character is mentioned as having been shot for hiding a Jew, but for the most part, it is the changes that took place after the war which are more important. It also means that this isn't quite the same story I was expecting, and if I'd known that, I might have watched it some time ago. Netflix refers to this as a heartwarming drama, and while I suppose you could call it that, it's also extremely funny. "Heartwarming drama in a small town after World War II" has a very specific implication, and I am delighted to announce that this movie doesn't go along with that. It is probably true that their lives could not have progressed the way they did had the war not changed so much, but it's also true that this is more a twentieth century story than a post-war story, and I'm not sure we have enough of those. Antonia (Willeke van Ammerlrooy) has returned home. Her mother (I'm not sure) is dying, and that's the only thing that brings her back, since her mother is horrible and crazy. Antonia and her daughter, Danielle (Els Dottermans), take over the family farm, and in many ways, it's as though Antonia has never left. She knows everything about the town, though there is a new farmer, Boer Bas (Jan Decleir). He proposes to Antonia, partly in hopes of a mother for his sons and partly because of genuine affection for Antonia. One day, Danielle decides that she needs a child, and she and Antonia go in search of a father for one. Not a husband. They meet Letta (Wimie Wilhelm), who sets Danielle up with her brother; Danielle does, indeed, get pregnant, and she gives birth to Thérèse (Carolien Spoor, Esther Vriesendorp, then Veerle van Overloop). Thérèse is incredibly intelligent. Her grandmother also took in Deedee (Marina de Graaf), who was raped by Pier (Dirk Zeelenberg), her brother, but then got married and had children. Her oldest boy, Simon (Carlo van Dam, Igor Corbeau, and then Reinout Bussemaker), loves Thérèse, and they have Sarah (Thyrza Ravesteijn). Antonia is a charming woman. She is a pillar of freedom and liberation; it is because of her that the priest (Leo Hogenboom) leaves the Church and ends up having many children with Letta. It is she who decides that it is perfectly acceptable for Boer Bas to make love to her without being married to her and that it is perfectly acceptable for Danielle to want a child but not a husband. Heck, she even lets Danielle's girlfriend, Lara (Elsie de Brauw), move in with them. We know of at least five irregular couples under Antonia's roof, and who knows how many of Deedee's and Letta's children are in relationships with various other people over the years? It wouldn't surprise me to discover that it is she who arranges for Mad Madonna (Catherine ten Bruggencate) and the Protestant (Paul Kooij) to be buried in the same grave. She and Danielle are also the first ones with the strength to give Pier what he deserves. Frankly, Antonia is so forceful at speaking her mind that I wonder how she got through the war without being shot. I also like that Thérèse doesn't end up with someone of her own intellectual level. Of course, the only person we see who is definitely of her intellectual level is Crooked Finger (Mil Sehers), who is old and bitter. She dates college-level psuedo-intellectuals for a while, but she quickly realizes that they are less than they think they are. It isn't necessarily that Simon is her ideal lifemate, because I'm not sure he is, but they do still manage to make each other happy. His seems to be a quiet, fawning sort of happiness, but she isn't all that demanding of him. She wants to have her books and her music, and she isn't even all that sure if she wants to be a mother or not. She goes along with it in part because it seems to be what Simon wants. I also can't help wondering how much it's because she cannot bear to be the one who breaks such a strong line of women. Yes, Antonia's mother was crazy, but Antonia and Danielle were intelligent, strong, and creative. Just because Deedee's line wasn't as good doesn't overpower the desirability of passing on Antonia's genes. I think the best of Antonia can be summed up by the moment when Letta and her two oldest show up at the farm. Letta is pregnant, probably for the third time, and she tells Antonia that she has nowhere else to go. Antonia doesn't hesitate to let her come sit at the family table. Even the priest, who had formerly been comparing Danielle to Jezebel, is allowed at the table. Pier hadn't changed from his wicked ways, so he cannot share the meal, but everyone else is welcome. Antonia will not turn people away. It's up to everyone to decide whether her sexual morality is valid or not, but her welcoming nature is the best thing about her. Thérèse is scarily intelligent, so Thérèse will be provided for the best Antonia can manage. Danielle had wanted a daughter, and art school, and whatever else, so Antonia provided it for her. And one day, Antonia decided that she had given her family everything she could, and that it was time for her to move on. She had been happy, and what made her happy was taking care of those she loved.
Edith Nelson
Antonia's Line is a quirky and whimsical story of Antonia with themes on love, family, and community that also gently explores topics on feminism and independence. Emotionally engaging, pleasant, and precious masterpiece. Remarkable.
Jan Marc Macababayao
Super Reviewer
A woman recalls her entire adult life on her deathbed. This film is way too expository, relying almost solely on narration to tell the story. It's not really a film because it uses almost none of the elements inherent to film; rather, it's a short novel with pictures and actors. A perfect example of the film's flaws is the impact of the second rape scene. Out of the blue, we hear that a character has been raped, and then we see Antonia's response to it, taking a gun and kicking the rapist out of town. But this sequence, ripe with emotional resonance, has almost no impact on the audience because there wasn't an adequate set-up, so that we can feel suspense and fear for the victim, and there wasn't any visual, graphic or implied, that allowed us to see the result of the crime. The sequence becomes mere Cliff's Notes, and the same problem pervades the entire film. And the titular character is almost a minor role. I'm surprised that the film didn't center around her and the other interesting character, "Crooked Finger," more. Overall, Antonia's Line is like the connective tissue of a Victorian novel, over-narrated, maudlin, and unspecific.
Jim Hunter
Super Reviewer
Antonia (Antonia's Line) Quotes
There are no approved quotes yet for this movie.