Atlas Shrugged: Part II
(2012)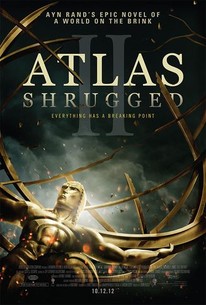 TOMATOMETER
AUDIENCE SCORE
Critic Consensus: Poorly written, clumsily filmed and edited, and hampered by amateurish acting, Atlas Shrugged: Part II does no favors to the ideology it so fervently champions.
Atlas Shrugged: Part II Videos
Atlas Shrugged: Part II Photos
Movie Info
The global economy is on the brink of collapse. Unemployment has risen to 24%. Gas is now $42 per gallon. Brilliant creators, from artists to industrialists, continue to mysteriously disappear at the hands of the unknown. Dagny Taggart, Vice President in Charge of Operations for Taggart Transcontinental, has discovered what may very well be the answer to a mounting energy crisis - found abandoned amongst the ruins of a once productive factory, a revolutionary motor that could seemingly power the World. But, the motor is dead... there is no one left to decipher its secret... and, someone is watching. It's a race against the clock to find the inventor before the motor of the World is stopped for good. Who is John Galt? -- (C) Official Site
Rating:
PG-13 (for brief language)
Genre:
Directed By:
Written By:
In Theaters:
On DVD:
Box Office:
$2,509,139.00
Runtime:
Studio:
News & Interviews for Atlas Shrugged: Part II
Critic Reviews for Atlas Shrugged: Part II
Audience Reviews for Atlas Shrugged: Part II
Atlas Shrugged II: The Strike is a compelling and provocative film that brings Ayn Rand's classic novel to life. The saga continues with Dagny Taggart and Henry Rearden struggling to hold off a total economic collapse while an oppressive government tightens their control and leading industrialists mysteriously disappear. All of the major roles have been recast, which is rather off putting and doesn't result in any noticeable improvements in the characters. However, the directing is a little better and delivers a clearer vision than the first film had. Additionally, the special effects are fairly well-done for an independent film, and are used quite effectively to add energy and excitement to the scenes. While Atlas Shrugged II: The Strike doesn't live up to the quality of the source material, it still delivers a solid dramatic thriller.
Dann Michalski
Super Reviewer
½
Ayn Rand's industrialists fight against the Fair Share Act, which further strangles the economy. First, the most unfortunate thing about this film was the endorsement that the real Sean Hannity gave to the fictional Hank Rearden. Additionally, protesters directly referenced the Occupy Wall Street rhetoric. The one-to-one relationship between the modern day right wing and Rand's objectivists is bullshit, and it's a shame that this film's creators got sucked into Rand's abduction by the right wing. After all the contemporary right wing is in the pocket of conservative Christians, yet Rand was an ardent atheist; the modern day right wing gives welfare to corporate fat cats whom Rand would consider looters. What does this have to do with the film? The iconography of the protesters and Hannity place the film in our historical moment, not Rand's, which takes us out of the film's world. Second, I was impressed with Samantha Mathis's performance. Her Dagny was given more to human emotion, which played peek-a-boo amid Dagny's characteristic stoicism. But her acting was the best of the cast. I particularly disliked Jason Beghe's gravel-voiced Rearden. Finally, the film is poorly paced. The speeches by Readen and Francisco belong in the film, but director John Putch should have taken a walking and talking page from Aaron Sorkin's book to give the film some energy, and the montages of poverty do little to add to the plot. Overall, this is a controversial film not because Rand is a controversial figure (even though she is) but primarily because the film doesn't really get her.
Jim Hunter
Super Reviewer
What the heck happened here? They changed the actors for almost EVERY role from the part 1 of this saga. Whose bright idea was that?? This could have been an interesting continuing story, but I found the new actors way too distracting....were they all busy? sheesh...
Cynthia S.
Super Reviewer
Atlas Shrugged: Part II Quotes
| | |
| --- | --- |
| Francisco d'Anconia: | "Check your premises!" |
| Francisco d'Anconia: | Check your premises! |
| | |
| --- | --- |
| Henry Rearden: | Try pouring a ton of steel without rigid principles |
| Henry Rearden: | Try pouring a ton of steel without rigid principles. |
| | |
| --- | --- |
| Ken Danagger: | The government takes what it wants and taxes what's left. |
| | |
| --- | --- |
| Dagny Taggart: | I swear by my life and my love of it that I will never live for the sake of another man, nor ask another man to live for mine. |
Discussion Forum
Discuss Atlas Shrugged: Part II on our Movie forum!