Matango:Attack of the Mushroom People
(1963)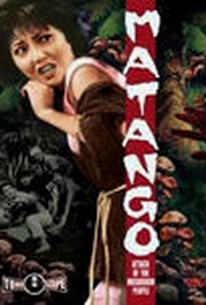 AUDIENCE SCORE
Critic Consensus: No consensus yet.
Matango:Attack of the Mushroom People Photos
Movie Info
This twisted, surreal monster story is related in flashback by an asylum inmate, who tells of his horrific experiences as one of several castaways on a mist-shrouded tropical island. While the crew affect repairs to their yacht, the stranded passengers take refuge in a derelict ship overgrown with a strange variety of mushroom -- which seems to be the only available source of food on the island. When their own rations are depleted, they begin to develop an eerie, uncontrollable craving for the mushrooms, and for a time only the narrator and his girlfriend manage to resist the urge to chow down as well. As expected, everyone who partakes of the fungus begins to transform into a giant, lumbering mushroom-monster, and eventually even the two holdouts find themselves tucking in to the tempting toadstools. Naturally, the narrator's tale is pooh-poohed as the ravings of a madman, until he suddenly begins to develop a severe complexion problem... This is something of a wacky diversion for the Godzilla gang (director Inoshiro Honda, monster-maker Eiji Tsuburaya and others), and is available under a wide assortment of titles, including Matango, Curse of the Mushroom People, and Fungus of Terror. ~ Cavett Binion, Rovi
Critic Reviews for Matango:Attack of the Mushroom People
All Critics (3) | Fresh (2) | Rotten (1) | DVD (1)
A surprisingly downbeat example of Japanese horror, with an extremely cynical view of human nature.
Strange Japanese sci-fi film that seems to evoke the effects of Hiroshima and Nagasaki.
November 26, 2003 | Rating: 3/5
Audience Reviews for Matango:Attack of the Mushroom People
½
Downbeat, pesimistic film with a nice sense of dramatic tension and social paranoia.
Tsubaki Sanjuro
Super Reviewer
½
I was really surprised to discover that, instead of being a campy old Japanese beastie movie like I expected, it's...well, it's still a campy old Japanese beastie movie. But there are undeniable traces of insight, originality, and plain ol' loveliness to it. Matango is astonishingly bleak, not at all the escapist fun that I would have expected from the English title, especially toward the ending. The soundtrack is mostly an aping of American creature horrors of the time, but it does them one better, managing to achieve a creeping unease. It looks fantastic too, not at all cheap like most of Japan's attempts at blockbuster cinema. Foggy, swampy and landlocked, this island of murderous mushrooms has an odd personality of its own that makes it surprisingly captivating. I can't say I was ever truly scared by Matango, but I did think to myself several times "this is actually creepy" and I empathized unironically with the characters. The movie's strengths are sort of avalanched by its oddities; some of the human behavior is totally inexplicable, the premise at a base level is ridiculous, and the gun never seems to run out of ammunition despite being shot well over 100 times. Though well-drawn, the characters are generally unsubtle. It's also rather misogynist, with all of its action driven by the male characters while the females stand back and scream, but this is more an issue of the era and culture than the movie itself. Matango could easily be pinned to a wall and lambasted by any moviegoer looking for a cheap shot, but those willing to look at it in an appreciative way might find something worth championing here.
Drew Smith
Super Reviewer
Some How I expected more from Toho Films, other Sci Fi pictures they put out just seem to have the excellent plastic model effects when it came to tanks and jets, but this one had none of these, just people washing up on a island after their yacht goes a stray, and they find another deserted ship, with mushrooms growing wild onboard, and on the island, they all figure out if you eat the mushrooms you will turn into a mushroom, I ate some mushrooms in Puerto Rico one time and thought I was a mushroom for about 10 hrs, anyway most of the crew falls into the trap of eating the mushrooms. I am told that this film was banned in Japan when it first came out because it reminded people of the atom bomb victims. Not at all a good B&W sci fi film but I will give it 3 stars and add it to my collection of Toho Films.
Bruce Bruce
Super Reviewer
Matango:Attack of the Mushroom People Quotes
There are no approved quotes yet for this movie.