Baba Yaga (Kiss Me Kill Me) (The Devil Witch)
(1973)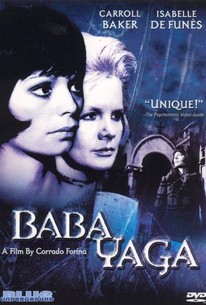 AUDIENCE SCORE
Critic Consensus: No consensus yet.
Baba Yaga (Kiss Me Kill Me) (The Devil Witch) Videos
Baba Yaga (Kiss Me Kill Me) (The Devil Witch) Photos
Movie Info
This Italian horror story is based on the comic strip Baba Yaga created by Guido Crepax. In the movie, fashion photographer Valentina meets Baba Yaga, a dowdily-dressed, magnetic woman who seems to know all about her. Valentina winds up in Baba Yaga's sinister house, suffering from visions of horrible mistreatment.
Rating:
PG
Genre:
, , ,
Directed By:
In Theaters:
On DVD:
Runtime:
Critic Reviews for Baba Yaga (Kiss Me Kill Me) (The Devil Witch)
All Critics (1) | Fresh (1) | Rotten (0) | DVD (2)
adapted from Guido Crepax's comic strip 'Valentina', [it's] an elegant phantasmagoria - perhaps not revolutionary in the true sense, but certainly unique, and far from the Eurosleaze schlockfest you might be expecting.

Audience Reviews for Baba Yaga (Kiss Me Kill Me) (The Devil Witch)
Interesting giallo with witchcraft and a lot of quirkiness. The film includes some really cool dream sequences, some rather original uses of comic book panels, sado-masochistic dolls, etc.
Al Miller
A stylish tale based on Guido Crepax Valentina comics, this film is a strange watch, but if you're willing to go with the jazzy vibe of it, it's a very rewarding experience, especially the new Blu-ray. A photographer finds herself experiencing what may or may not be hallucinations and realizes that her camera may be killing people after she encounters a strangely predatory older woman. Possibly an acquired taste, but a fun film if you like slow burn Euro-horror.
Bill Bryant
½
A pretty damn good Italian horror adaptation of an Italian comic book that deals with the occult and some S&M (but not too much). Valentina is a fashion photographer, who hangs around intellectual lefty artist types. One night after leaving a party, she runs into a dog, who is about to get hit by a car. Che dives in front of the car and pushed the dog out the way, luckily survivng. The women behind the wheel goes by the name of Baba Yaga. Shes a strange lady, with obviouis lesbian tendencies and perhaps also Magikal abilities. It does quickly become apparent that Baba has indeed put a spell on Valentina, but is this all in Valentina's imagination or is it real. The movie is heavily stylized, with rapid and intresting editing, plentiful dream sequences (involving nazi's whips and dominatrix's amongst other things), lots of photographic stills, and is a pleasure to look at. The story itself is also highly unusual. When I read the synopsis I thought I had a pretty good idea of what I was about to see, being that these were common themes in Italian horror in the 70's. I was pleasantly surprised that this film had it's own personality, and manages to stay away from the sleazier aspects that a lot of other Italian filmmakers would focus on. For example most of the S & M is only implied at, with only one scene actually confronting it face to face. The scene is brief and not too graphic. Definently a tasteful choice, as this way one can actually focus on the ideas the film is trying to get accross, rather than confrontational imagery alone. The film does drag at times, and at a little under 90 minutes that shouldn't have been the case. but still this is a highly interesting, enjoyable and creative horror that is not easy to pigeonhole, and truly stands on its own, and not just another example of Italian giallo, cannibal, supernatural etc. which too many other Italian horrors of this period have a tendency of doing.
Ed Fucking Harris
Super Reviewer
Baba Yaga (Kiss Me Kill Me) (The Devil Witch) Quotes
There are no approved quotes yet for this movie.