The Ballad of Jack and Rose
(2005)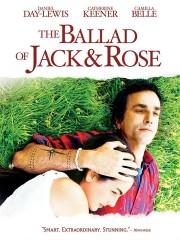 The Ballad of Jack and Rose Trailers & Photos
Movie Info
A single father tries to come to terms with his 16-year-old daughter Rose's coming-of-age. When the father's new love, Kathleen and her two teenage boys come to live with them, Rose undergoes a sexual awakening with both liberating and devastating consequences.
more
| | |
| --- | --- |
| Rating: | R (for language, sexual content and some drug material) |
| Genre: | Drama |
| Directed By: | Rebecca Miller |
| Written By: | Rebecca Miller |
| In Theaters: | Mar 25, 2005 Wide |
| On DVD: | Aug 16, 2005 |
| Box Office: | $0.6M |
| Runtime: | |
Cast
News & Interviews for The Ballad of Jack and Rose
Critic Reviews for The Ballad of Jack and Rose
Audience Reviews for The Ballad of Jack and Rose
Jim Hunter
Super Reviewer
½
This is the story of a bohemian environmentalist named Jack who lives alone on an island off the east coast of the U.S. on the remnants of an abandoned commune with his young teenaged daughter Rose. He suffers from a ad heart and is nearing close to death, and she knows nothing of life outside her isolated world on the island. No one else lives there, but they get an occasional visitor, though from a guy who brigns flowers for the girl's garden.Despite their isolation and his sickness, they have a good thing going. All of that changes however when he invites his secret mainland girlfriend and her two teenaged sons to comes to the island to live with them. Jack's intentions are good but maybe a little misguided since he doesn't have much time left and he wants Rose to have a mother figure and someone to give her guidance after he passes, but he's not prepared for the consequences of changing her world, which she doesn't want to change at all.

This is basically a study in familial bonds, trying to create and maintain a utopia, and having to deal wih all that comes up when challenges arise. It's definitely an interesting premise, and it toys with some neat ideas and concepts, but I don't think it's quite as good as the similar film The Mosquito Coast. Still though, despite some issues, it's an okay enough movie to warrant a watch.

The cast has a few notables, namely writer/director Rebecca Miller's husband Daniel Day-Lewis, Camilla Belle, the always great Catherine Keener, and appearances by Paul Dano, Jena Malone, Jason Lee, and Beau Bridges. Not a bad lot at all. They give some decent performances too. However, some of the writing is a little uneven, the characters aren't always as sympathetic as they should be, and thigns could be fleshed out a little more and better.

But, it does have some really good cinematography, and the music is notable too, including two covers of "I Put a Spell on You" (one jazz, the other the CCR version (which opens the film)), and three songs by Bob Dylan among others. I liked what they were trying to do with this film, and i have to say that no, this isn't a film aout incest, although it is about trying to deal with those sort of issues. It's got material worht thinking about and discussing, even if how it is done is a little weak and could have been handled better.

Overall, not bad, despite the problems. If you're in the mood for a quiet, introspective, and sometimes quite solemn indie drama, then give this one a go.
Chris Weber
Super Reviewer
½
Cast: Daniel Day-Lewis, Camilla Belle, Catherine Keener, Paul Dano, Ryan McDonald, Jena Malone, Beau Bridges, Jason Lee, Susanna Thompson, Anna Mae Clinton

Director: Rebecca Miller

Summary: Jack is a father intent on raising his daughter (Camilla Belle) as an environmentally responsible adult. His complete devotion to the cause moves him to the remotest of islands, where he feels he'll be able to lead a more compassionate, "green" life. No matter how he tries, however, he can't seem to run from the demands of human interaction.

My Thoughts: "First off I will say that this film had a great cast and great acting. But then there's the script. It's a bit of a mess with some things not making much sense. Like Rose's odd behavior. She is suppose to be acting this way considering she's been isolated with little human contact besides her father and his friend who delivers flower's to them. But when Jack moves in his girlfriend and her two sons, it is mentioned that he took Rose out of school when she was eleven. So she obviously hasn't been isolated for very long which disputes that as the reason for her odd behavior. Just things like this throughout the film that really make you question what you have already been lead to believe. Then there is the relationship between the father and daughter. Although I see how strange it is, but it's also kind of sweet how close they are and how much they do care for each other. It's one of those movies that leaves you with mixed feelings. But as I said before, it has a great cast and some really great acting, especially from Daniel Day-Lewis. Camilla Belle was good as well."
♥˩ƳИИ ƜѲѲƉƧ♥
Super Reviewer
The Ballad of Jack and Rose Quotes
Discussion Forum
Discuss The Ballad of Jack and Rose on our Movie forum!
News & Features