Sibirskiy tsiryulnik (The Barber of Siberia)
(1999)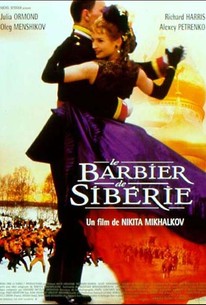 AUDIENCE SCORE
Critic Consensus: No consensus yet.
Movie Info
Love blooms amidst the backdrop of czarist Russia in Nikita Mikhalkov's The Barber of Siberia. The story opens in 1905 Springfield, MA, when a woman writes a letter to a young man in a military summer-training camp. He is currently being punished by one of his superiors, who forces him to wear a gas mask until he acknowledges that Mozart was a worthless composer. The woman has an important story to tell her addressee, and our story flashes back 20 years to Russia, where American Jane Callahan (Julia Ormond) is traveling to Moscow. A man who may or may not be Jane's father, Douglas McCracken (Richard Harris), is trying to perfect a machine, christened "The Barber of Siberia," that will harvest trees from the vast Siberian forests. Douglas hopes Jane can charm Gen. Radlov (Alexei Petrenko), the head of a Russian military academy, into arranging the financing that will enable him to complete his work on the harvester. En route, Jane meets a friendly Russian soldier, Andrei Tolstoy (Oleg Menshikov), and the two soon fall in love. Jane then meets and flirts with Radlov, who grows reciprocally fond of her -- enough so that he asks her to marry him. When it becomes evident she'd rather be with Tolstoy, he finds himself shipped off to Siberia after allegedly attacking a grand duke. Merging romance, costume drama, and slapstick comedy, The Barber of Siberia was screened at the 1999 Cannes Film Festival. ~ Mark Deming, Rovi
Critic Reviews for Sibirskiy tsiryulnik (The Barber of Siberia)
Audience Reviews for Sibirskiy tsiryulnik (The Barber of Siberia)
½
I know when I think of a sprawling epic, I think of a lengthy study on a barber. Granted, this film isn't exactly an epic, or actually about a barber, and besides, we're talking about Siberia, and I'd imagine there would be some tension in that area when we're talking about someone who carries around blades that are meant to come "close" to your flesh, but still, the fact of the matter is that this title doesn't sound like it belongs with a film this long. Of course, in all fairness, they all said that "Ryan's Daughter" didn't seem like something that could be turned into a three-and-a-half-hour epic, and yet, lo and behold, David Lean pulled it off... right? Yeah, forget y'all, I think "Ryan's Daughter" is good, it's just a bit too long, and that can pretty much be said about this film, which is good and all, but so long that it went so far as to give one of its characters the surname Tolstoi. Okay, maybe this film isn't quite that overlong, but it is lengthy, which isn't to say that you ignorant Americans should worry too much, because this film did pull a Luc Besson and forced in some English-speakers, which isn't to say that this film goes full-on "Le Grand Bleu" (Speaking of films that are way too long), to where they have to drag along a barely necessary American into most every scene and take on something of an excuse to not speak a lick of French. No, people, as much as I like France, Mother Russia is hardly without its integrity, no matter how much the communists messed it up, and it's not like the entertainment industry of Russia hasn't earned its pride, as it has indeed made some enjoyable films, such as this one and one of the Nikita Mikhalkov's more recent epics, "Burnt by the Sun 2"... right? Look it up, kids, it's, like, the saddest thing ever in Russian cinema, as opposed to this film, which is decent, though not exactly as decent as I was hoping it would be, largely because its tone isn't exactly what I was expecting. It should be noted that this film is very much driven by highly pronounced humor, to the point of being about as much a big-time comedy as a moderate drama, and such a tone is fine and all, even if it does thin out the full dramatic weight of the final product, yet would have been more forgivable if it was more consistent, because even though the film isn't too all over the place with its sense of humor, you'd be hard pressed to not be very often thrown off by this film's comedy's jarring jumps between near-dryly restrained and just plain over-the-top (I would never have guessed that you could get so drunk that you would start biting off chunks of the glass you're drinking from, probably because that stuff doesn't happen), and it doesn't help that when this film gets really silly, it gets pretty disconcertingly cheesy. The film can't even keep perfectly even with its sense of humor, so, as you can probably imagine, when it comes to handling other tones, this film isn't as comfortable as it probably should be, for although jumps in tone are surprisingly limited, and, for that matter, rarely all too inorganic, there are, in fact, moments in which this film stumbles in its should-be smooth flow from fluffy comedy to relatively heavier moments. As lengthy and potentially rich as this film is, it never gets all that heavy, and I hate saying that, because I was hoping to get a fairly compelling dramatic piece, but just ended up with a relatively light dramedy that, even with it's not being too layered, still can't get all that firm of a grip on tonal consistency (I dig this film's final act, but it comes in from out of nowhere). Shoot, this film can't even gain all that firm of a grip on focal consistency, going so far as to occasionally crowbar in a frame story subplot that deals with Julia Ormond's Jane Callahan character's son's time at a military academy and kind of expendable, as reflected by the fact that it is underused. Sure, focal unevenness is at its very worst during the occasions in which storytelling direction slips into the subplot in question, but there are still plenty of moments in which storytelling goes off on a tangent, and these moments remind you of both the film's inconsistency, and of the film's simply being just too blasted bloated, because as fun as the film is, it, at nearly three hours in length, outstays its welcome, dragging its feet and leaving your investment to slip, little by little. Sure, your engagement value never drifts too far away from the final product, but what could have been a genuinely rewarding film ends up getting too caught up in its fluff, to the point of thinning out impact, which takes further damage from the unevennesss and bloating that holds the final product back. Still, while this film isn't exactly what I was hoping it would be, or even what it probably should be, it is consistently enjoyable, with a reasonably decent taste in storytelling, or at least a pretty good taste in music. There is something of a minor classical theme within this film that is, of course, not all that noted, but just pronounced enough for classical sensibilities to slip into this film's soundtrack, whose richly fine taste in classical music, complimented by fine original score work by Eduard Artemyev, thus gracing this film with excellent musical aspects that help in driving entertainment value with sweeping liveliness, something that can even be found within the design departments. Set not but a few years after the turn into the 20th century at the very earliest, and going as far back as about three-fourths of the ways throught the 1800s, this film has the potential to do a fine job of piecing together a lively visual interpretation of distant eras, and boy howdy, does it deliver, with costume designers Natalya Ivanova, Alla Oleneva and Sergei Struchyov crafting the casual, military and even royal attire of the time stunningly, while production designer Vladimir Aronin rebuilds the world of this era with exceptionally sweeping intricacy that captures your eyes time and again, and is itself captured remarkably by Pavel Lebeshev's delightfully grand and sometimes visually stunning cinematography. As far as stylistic artistry and technicality are concerned, this film accels about as much as I was hoping it would, if not more so, and this kind of sharp stylizing breathes a lot of liveliness into the air in order to back up entertainment value, whose ground beneath the foundation that is this film's stylistic sharpness wouldn't stand if it wasn't established by an entertaining story. This film's story concept isn't exactly all that original, nor is it even milked for all its potential worth, not delivering on the dramatic weight that I was hoping it would until about the final act, which, even then, wasn't without the thinning fluffliness that plagues the whole of this film, and is made all the worse by tonal unevenness, so it's not like you should walk into this film expecting the most engrossing of epics, but do note that this film's subject matter has quite a bit of immediate intrigue to expand on in execution. Needless to say, this film doesn't what what it probably should do with its reasonably worthy story, but with that said, what is done right in the telling of this story keeps you going, with Nikita Mikhalkov turning in a spirited directorial performance, as well as a script, co-authored by Rustam Ibragimbekov and Rospo Pallenberg turning, that, while flawed, is generally sharp in its humor and colorful in its characterization, which crafts, albeit sloppy, but mostly lively story structuring, as well as characters who are truly brought to life by this film's just as lively cast. From the unevenly used Richard Harris to, well, most anyone who stands in front of the camera for more than a few minutes, just about every notable member of this cast has his or her time to charm, with particularly charismatic forces including the delightful Aleksei Petrenko, the very lovely lovely Julia Ormond - who nails both a flawless American accent and the poise of a charming lady of the late 19th century - and an engaging Oleg Menshikov, whose somewhat layered and genuine portrayal of the ambitious Andrei Tolstoi makes him a worthy lead. There are plenty of strong notes behind this film, many of whose shortcomings are natural, but the fact of the matter is that this film could have been more, which isn't to say that there isn't enough entertainment value to this fun little sprawler of a comedy-drama for you to stick with it. В конце концов, uneven and often cheesy humor, as well as jarring jumps in major tone, if not focus, and overall bloating hold this film back from what it could have been, driving it into a state of relative underwhelmingness, though not so deeply that there isn't enough entertainment value recovered through excellent music, exceptional production designs, fine cinematography and a lively story - brought to life by reasonably colorful direction, writing and acting - to make "The Barber of Siberia", or "Sibirskiy tsiryulnik", or "Сибирский цирюльник", or whatever an adequately fun film, no matter how flawed it may be. 2.75/5 - Decent
Cameron Johnson
Super Reviewer
Sibirskiy tsiryulnik (The Barber of Siberia) Quotes
There are no approved quotes yet for this movie.