Before I Wake
(2018)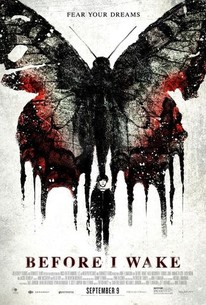 Movie Info
In this intense and heart pounding supernatural thriller, Jessie (Kate Bosworth) and Mark (Thomas Jane) decide to take in a sweet and loving 8-year-old boy, Cody. Unbeknownst to them, Cody is terrified of falling asleep. At first, they assume his previous unstable homes caused his aversion to sleep, but soon discover why: Cody's dreams manifest in reality as he sleeps. In one moment they experience the incredible wonder of Cody's imagination, and in the next, the horrific nature of his night terrors. To save their new family, Jessie and Mark embark on a dangerous hunt to uncover the truth behind Cody's nightmares. BEFORE I WAKE stars Kate Bosworth (Superman Returns), Thomas Jane (TV's "Hung"), Annabeth Gish (TV's "Pretty Little Liars"), Dash Mihok (TV's "Ray Donovan") and introducing Jacob Tremblay as Cody.(C) Relativity
News & Interviews for Before I Wake
Critic Reviews for Before I Wake
Audience Reviews for Before I Wake
½
Dreams are always an interesting subject to explore, particularly in a horror setting. Where, as far as I can tell, with the exception of the Nightmare on Elm Street, there haven't been many horror flicks centered around dreams. Though, to be fair, the Elm Street franchise pretty much made the rules as it saw fit. Sometimes you had to be asleep for Freddy to haunt you, other times he was just out and about, like a real being. Moving on, I'm certain most of you have had some sort of recurring dreams and/or nightmares. I don't necessarily have the same dream over and over, but it's more the same themes over and over, involving a lot of the same people. I'm not gonna share what this recurring dream is, not because it's anything that bad, but because it's just personal to me. One I can share, however, is this dream that I have where, in an intense situation, or an argument, I'm so agitated but when I try to speak, no words come out. No matter how hard I try, nothing comes out. I don't know what that means, I just know that I can't speak no matter how much I try. I'm sure there's other recurring dreams, I just can't remember them right now and that's, I guess, the driving force for this movie. This little boy's dreams, who's gone from foster home to foster home after his mother's death, have the power to manifest itself in real life when he's asleep. From the good to the bad. When we get to the start of the film, we see his previous foster father point a gun at him and thinking, legitimately, about killing Cody. The reasons why are revealed later, naturally. Cody moves in with Jessie and Mark after they prove themselves to be capable of taking care of him. But, you see, Jessie and Mark had a son who happened to drown some time ago, how much time has passed between that point and the start of the film is never known. And, really, it's not particularly relevant. Both Mark and Jessie hope that taking Cody in will help with the grieving process and will allow them to, not necessarily move on from the death of their son, but come to terms with the fact that he is now gone. The dreams start out innocently enough, as Mark and Jessie start seeing butterflies in their living room while Cody sleeps, as he collects them. Though there's a bit of a caveat in that, as I already mentioned, the good and the bad both come to life when Cody sleeps. He mentions this Canker Man that haunts him whenever he sleeps, telling him, frighteningly, that he is always with him. This Canker Man, apparently, eats people by sort of, I don't know, merging with them. This starts happening later, though. This is why Cody tries to avoid sleeping as much as he can. After the butterflies appear, several days after that, upon Cody having seen a picture of Mark and Jessie's son, Cody starts dreaming him up. His parents, naturally, see him and are both perplexed and amazed at this sight. So I'm certain you can see where this is going. Jessie, who's been, understandably, struggling with the death of her own son, more than Mark, starts to manipulate Cody, showing him home video footage of their son hopeful that Cody will dream of him and she'll get to see him again. This is interesting in that it explores Jessie's desire to see her son, to the point that she's willing to put Cody's own life in danger as a result. Mark, rightfully, struggles with this, feeling that it's abuse just so she can have a live-version of her son from the home movies. The problem comes in the fact that Jessie isn't portrayed as a desperate mother hoping to get one last glimpse of her son to, maybe, help her heal. She's portrayed as someone who will put her foster son's life in danger just so she can have one last moment with her deceased son. She even slips him a sleeping pill for fuck's sake, which is when the 'horror' really kicks in and the Canker Man takes Mark with him...wherever he takes his victims. It's not that the movie shouldn't have gone down this path, it's just that they really struggled to make Jessie a sympathetic character in doing what she did. I think a huge part of this is Kate Bosworth's performance. Not only does she manage to be unlikable, but she also delivers a bland and uninteresting performance in a movie that, in my opinion, required much more than your typical horror performance. Again, the character of Jessie should have straddled that fine line between grieving mother and someone who might not be doing what's right for her foster son. Bosworth veers of the road completely into unlikable territory. Not that I found the movie to be bad, I just think a better and more nuanced performance from Bosworth would have made a huge difference in this movie. As far as the horror is concerned, there's nothing write home about. There's a few jump scares and they're not bad, I don't feel they're as lazy as, say, the last few Paranormal Activities were. They're not great, but it's serviceable enough and if you're jumpy then a few of them will get you. However, I must complain about the design of the Canker Man since it's not particularly...great. It's decent, at best, but it sort of came across as if Jack Skellington and the Creature from the Black Lagoon had a baby. Not to mention the fact that it looks like it's made out of clay, it doesn't even look computerized. Again, I'm not saying that it looked bad, but I just don't feel there's anything truly terrifying about it. I mean, it's obviously gonna be terrifying to a child of Cody's age, but not to anyone else watching. Jessie searches for a way to bring back her son, and maybe everyone else that was taken by the Canker Man, by talking to the previous foster parent. In all honesty, Jessie accomplishes nothing with this, because while she does put a stop to the Canker Man and his ways, she is unable to find a way to bring those that were taken back. So it feels like a bit of a moot point. I will say that the movie, in my opinion, rushes through its climax. Later, after all is said and done, you have the reveal of who (or what) the Canker Man was. I don't know how to feel about the reveal, part of me thinks it was good and it made sense within the context of this movie, but part of me also thinks it was used as a way to justify telling a sentimental story about Cody's mother. And, don't get me wrong, the story itself is actually really sad, but it still felt like a way to justify an emotional ending. I wish the movie had sort of left it up in the air a bit, like maybe there's no real straightforward answer. I think it would have worked because I, pretty much, figured out who it was. And the Canker part of the monster's name is easy to figure out. So the fact that the movie held your hand through the explanation was a little unsatisfying, even if I still felt that this was a good part of the movie. I just wish something had been left to the imagination. The movie gives you enough for you to put the pieces together. It's not a confusing movie, in the slightest. As far as I felt about this, I'd say that this was a mixed bag, there's definitely some good stuff in this movie, but there's something in the inconsistent acting, the scripting and the design of the monster that held this movie back to me. Can't even tell you what I thought what the best part of this would be. Thomas Jane's hair? Maybe, I don't know. Decent movie, but I can't say that this is something I will remember in a year's time.
Jesse Ortega
Super Reviewer
½
Good premise, good design. Bad lead performance, bad... amount... of dropped plot points? That was less concise than it sounded in my head. What I'm trying to say is that for every positive Before I Wake has on offer, there is an equal and opposite negative to bring it back down again.
½
This film deserved a wider showing and it was something I quite enjoyed. It plays a lot like Mama and visually it feels much the same, not a bad film. The only issues I had was the kids performance which was extremely dull and uninspired, why must he always be a zombie? He did sleep at certain points. The story was very interesting and that final scene is brilliant, emotional and very strong. I couldn't get why Bosworth's would attempt to save the kid after he did what he did, this ultimately dropped my score. Flanagan is a great talent behind the camera and I like to see where he goes next, I can't fault his visual storytelling and this atmospheric gem should find an audience through streaming. 28/04/2017.
Brendan Nicholls
Super Reviewer
Before I Wake Quotes
There are no approved quotes yet for this movie.