The Bigamist
(1953)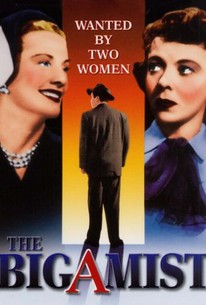 AUDIENCE SCORE
Critic Consensus: No consensus yet.
Movie Info
The title character is Edmond O'Brien, a lonely travelling salesman who ends up married to two women, Eve (Joan Fontaine)--and Phyllis (Ida Lupino). Eventually, of course, the truth comes out. Directed by costar Ida Lupino, The Bigamist manages to evoke a certain amount of sympathy for Edmond O'Brien, without in any way advocating or excusing his lifestyle. It's worth noting that an Italian film made around the same time, also titled The Bigamist, is a comedy.
Rating:
PG
Genre:
,
Directed By:
Written By:
In Theaters:
On DVD:
Runtime:
Studio:
Critic Reviews for The Bigamist
All Critics (4) | Fresh (3) | Rotten (1) | DVD (1)
New York Times
Top Critic
Poorly cast and plotted, but still weirdly interesting.

...he Bigamist offers an interesting look at several social issues through a 1950s lens, and the location shooting in San Francisco and Los Angeles alone is worth the price of admission.
Drags its all-star cast through soap-opera melodramatics of a very high order.

Audience Reviews for The Bigamist
A rather strange sort of melodrama. Edmond O Brien stars as Harry Graham, a freezer salesman from San Francisco who is trying to adopt a child with his wife and business partner Eve (Joan Fontaine.) In the vetting process, the head of the adoption agency, Mr. Jordan, uncovers Harry's dual life in LA where he also has a wife and a son to boot. The film is Harry explaining to Mr. Jordan how he came to be in such a predicament. The melodrama is at full pelt here, but for such a mix of damaged characters, you start to empathise with all of them. Ida Lupino stars as his LA wife Phyllis, but also directs the film. She was known as a poor man's Bette Davis and when the new wave of young starlets came into the studio system, she decided to step behind the camera and also write roles for herself. Good for her. The film culminates in a courtroom scene with the conclusion of how it will all pan out left up in the air with a series of silent expressions that tell a wealth more than the script ever could.
Graham Beilby
I think this movie could have been better with better casting, namely O'Brien who is intensely unlikeable, but maybe that was the intention. The only real talents that shine are Fontaine and Gwenn, the latter of which appears in too few scenes. UPDATE: I just saw this film again and I appreciated Lupino's acting and direction far more than I did three years ago, so I raised my rating from 40 to 60.
Luke W
How in the Name of God Did They Get This Past the Code? It has been pointed out, I guess correctly, that the shocking tale of this movie wouldn't exactly be shocking these days. And, indeed, it's said in the movie that things would have been different even then if only he hadn't married the second woman. (I don't feel as though I'm giving anything away here, given the title of the film!) He wouldn't be the first or last man to keep a mistress, even one who has his child (it's shown in about the first fifteen minutes), and it's only because he's a basically decent guy that things go terribly, terribly wrong. Even now, I think, the bigamy aspect of things wouldn't exactly be smiled upon, and given his standing, I won't say his job would be entirely unaffected. After all, how we (at least in the US) respond to this sort of thing varies a lot by standing and class, even though we like pretending that we don't have class divisions in the US. Harry (Edmond O'Brien) and Eve (Joan Fontaine) Graham are trying to adopt a child. She cannot have children of her own, though the reason behind that is pretty much unknown. (Well, it was the '50s, and medicine wasn't in the state then that it is now.) She very much wants a child, and though she held out against the idea of adoption for a long time, she has resigned herself. She and Harry go to see kindly adoption agent Mr. Jordan (Edmund Gwenn), who tells them that he must dig into their lives to ensure that they're worthy parents. He happens to be in Los Angeles, where Harry goes all the time for work, and discovers Harry living, as Harrison, with Phyllis (Ida Lupino)--and their son. It turns out that he has married both women. He then tells Mr. Jordan the whole story, from his marital difficulties with Eve to his meeting Phyllis to his discovery of Phyllis's pregnancy. He is completely honest with Mr. Jordan, even though he is completely aware that he's dashing Eve's hopes as he does so. After all, it's the '50s--a single mother could not hope to adopt a child. As is often the case in movies where we're supposed to sympathize with a main character doing a horrible thing, Harry is made pretty saintly. When he first encounters Phyllis and takes her out to dinner, he then calls his wife and tells her all about it. He is surprised at how calm she is; I just don't think she believes him. He wants to tell Eve about Phyllis and vice versa, but every time he's building up to it, something happens so that he can't. Eve's father becomes ill and then dies. Phyllis gets pregnant. He wants to tell them--and, later, to leave Eve for Phyllis and the baby--but he cannot. And, indeed, Phyllis tells him early in their relationship that she doesn't want to know anything about him. We are supposed to believe that nothing is his fault, which is of course silly. We're supposed to believe that he just kind of stumbles into the life he's now leading, but there was, just about the whole way along, somewhere he could have turned back, and he doesn't. The thing is, he should have expected it all to be revealed during the background check. The regulations for what adoptive parents should be like, well, exist. Adoption agencies are very careful about what household a child goes into. Oh, yes, it was a total coincidence that Mr. Jordan happened to be in Los Angeles and decided to spend some of his spare time looking Harry up and poking into his life down there. It's also true that Harry kept his LA life private from everyone except Phyllis herself and the people in her social circle. No one at the LA office of the company for which he works even knew that he wasn't living in hotels anymore. Phyllis might as well not exist as far as anyone he knows is aware of, but the fact is, there is no reason to feel complacent about that. When someone is looking into your life with the seriousness an adoption agent would be, there's no reason to assume that such a major secret can be kept. To be honest, I could have done without a few things. There are a couple of gratuitous jokes about Gwenn, who had done [i]Miracle on 34th Street[/i] not long before--Eve comments that he is like Santa Claus, giving out babies to the deserving, and on the bus tour where Harry and Phyllis meet, one of the celebrity homes is Gwenn's. Okay, we get it. You have a big name in kind of a minor role, and you don't want us to forget that. If I promise I won't, can we move on? And O'Brien is trying to be awful saintly, for all I think he screws up a lot himself. Some may think Gwenn puts more into finding out about Harry and Eve than he necessarily ought, but that rings true to me. I'm just noting that Phyllis's friends are awfully calm about her illegitimate child--and I don't see how they can assume, given that she and Harry have never lived together, that it's anything else. It's not a terrible movie; it just adds together into something that isn't very good.
Edith Nelson