The Birds II: Land's End
(1994)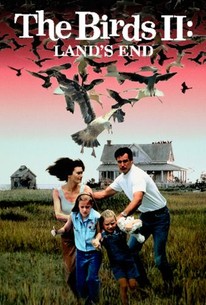 AUDIENCE SCORE
Critic Consensus: No consensus yet.
The Birds II: Land's End Videos
The Birds II: Land's End Photos
Movie Info
The avian crusaders for ecological harmony return in this made-for-cable sequel to Alfred Hitchcock's chilling The Birds. This time the terror takes place on Gull Island (the first film was set on Bodega Bay). High school teacher/doctoral candidate Ted Hocken suffers from writer's block and cannot finish his dissertation. He hopes that a summer-long vacation to Gull Island with his wife May and their two daughters will inspire him. The house they rent is near Land's End, a quaint fishing community. Ted and May have a somewhat dysfunctional relationship that is only worsened by a flirtation between her and the local newspaper editor. The family is not there long before the town's birds, most of them gulls, begin acting unusually aggressive towards their human neighbors. Ted immediately senses that something is out of whack and wants the locals to be prepared. Fearing it will ruin the tourist industry that is so vital for the town's survival, the town mayor pays no attention, and the beaked invaders finally launch their terrifying attacks.
Critic Reviews for The Birds II: Land's End
There are no critic reviews yet for The Birds II: Land's End. Keep checking Rotten Tomatoes for updates!
Audience Reviews for The Birds II: Land's End
A horrible sequel that director Rick Rosenthol hated SO much that he used the generic name Alan Smithee instead of his own!!
Bill Cox
½
For some crazy, fucked up reason, someone thought it would be a great idea to make a sequel to one of Alfred Hitchcock's most infamous and classic films. The Birds II: Land's End plays more like a remake, as a family of 4 (featuring B-movie actors Brad Johnson and Chelsea Field) move to the titular spot in an effort to get away from the main land and forget about the death of their son. The unlikable wife spends her time getting hit on and flirting with her new boss, while heroic dad stars to notice that something's not right with the particularly nasty birds at Land's End. Sure enough, there's an attack here and there, culminating into a wild and gory climax involving the entire town. There's plenty of blood and animal violence thrown around, but not much of an interesting story, which is pretty by the book. To be fair, this film isn't THAT bad, but it certainly would have fared better posing as another killer bird movie rather than a sequel to a classic. Director Rick Rosenthal also must've felt this way too, as he had his named completely removed from the credits and the popular getaway pseudonym Alan Smithee was installed. No luck though, Rick, us knowledgeable folks still know you made this ridiculously silly film. Actress Tippi Hedren (from the original) makes a pointless and wasted appearance in the film, but other than that, no connection between the two. For what its worth, this film is slightly entertaining in a dumb and silly way. I'll be surprised if this EVER makes it to DVD, so if you happen upon the film by chance (on VHS more than likely), you should watch it and judge it for yourself.
Jason Duron
They kept saying their was no reported incedents of anything like this with birds ever happening...correct me if I am wrong but this is a sequal so why did they act like the first movie was never made? Because they had Tippi Hedren play a completely different character?
Jonathan Deahl
The Birds II: Land's End Quotes
There are no approved quotes yet for this movie.
Discussion Forum
Discuss The Birds II: Land's End on our Movie forum!