Day of the Falcon
(2013)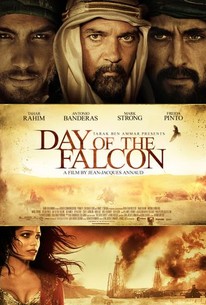 Movie Info
Starring Antonio Banderas (Desperado), Mark Strong (Zero Dark Thirty), Freida Pinto (Slumdog Millionaire) and Tahar Rahim (The Eagle), Day of the Falcon is a soaring epic of honor, greed, betrayal and love from award-winning director Jean-Jacques Annaud (Enemy at the Gates). After years of bloody conflict, the leaders of two rival kingdoms reluctantly agree to end the fighting. But when oil is discovered between their territories, the war is re-ignited. Now it is up to their children - young lovers who have married in hopes of bringing the families together - to find a way to end the violence and bring peace to the land. -- (C) Official Site
Critic Reviews for Day of the Falcon
Audience Reviews for Day of the Falcon
½
In "Day of the Falcon," Thurkette(Corey Johnson), an oil company scout, finds oil in the otherwise barren Arabian Desert. That comes as news to Emir Nesib(Antonio Banderas) who at first does not see what the big deal is. But once he does see the possibilities for modernization, he comes around. The only problem is the oil is in a no-man's land that Nesib agreed with Sultan Amar(Mark Strong) not to go near some years before. As historical fiction, "Day of the Falcon" fares pretty well in displaying an example of nation building with the help of a neat montage while also demonstrating how true it is that any new technology is applied first towards military and sex. But as drama, not so much. Not only is the movie heavily contrived but it seeks to use paper thin characters to desperately search for a middle way between rampant materialism and fanatic beliefs. It's sad because there might be a fourth way in taking a more environmental stance. When Nesib says all he needs is the air and the sun, he does have a point.
Not great, not horrible. I can't say it is a must see, but it will entertain. Those that gave the rave reviews must really love "the boy that becomes a hero" theme, despite a lack of deep character development that one would want from a movie like this. Mark Strong was good, as usual, though...
Cynthia S.
Super Reviewer
½
There's a title card near the beginning that states the story takes place in the early 20th century. Since it is no more specific than that, it is difficult to tell if it takes place in the 1920s or 1930s. I'm also not sure if any of it is based on historical events or if it is completely fictionalized. A bit more context could have helped. The various Arabic tribes are still not united, but how much time has passed since Lawrence and WWI? Annaud oversees a production with an international cast and crew. In the tradition of Lawrence of Arabia, Banderas, who is originally of Spanish decent, and Strong, who is English, play two Arabic sultans. Strong's Amar is religious and holds on to the traditional ways. Banderas's Nesib is willing to modernize with technology and is interested in becoming wealthy from recently discovered oil in a contested part of the desert. Let's back up. Amar's two sons are given to Nesib about a decade earlier as a kind of peace offering. The older son trying to escape once he has reached maturity and being killed in the process sets a renewed conflict in motion. Tahar Rahim as Prince Auda, the younger son, is really the main character. The movie is filled with characters and events, which are quite cliched, such as Auda wearing glasses to show he is a nerdy librarian and not a warrior, as well as Auda's star-crossed love of Princess Leyla (Pinto). Whenever Auda has a scene with his half-brother Ali though, their interactions are fascinating. Ali, a bastard son of Amar whose modern medical practices are at odds with orthodox Islam is excellently played by Riz Ahmed. Rahim plays the rare sympathetic and introspective character at the center of this war movie fairly well. It is a coming of age story with a few thrilling desert battles as Auda finds he has the skills to lead. Annaud continues to make these international co-productions with English dialog to hopefully benefit from English speaking film markets, however there are several lines, especially at the conclusion, which sound awkward. Between one Dutch and two French writers perhaps something is lost in translation.
Byron Brubaker
Super Reviewer
Day of the Falcon Quotes
| | |
| --- | --- |
| Prince Auda: | I came here as an Emissary |
| Prince Auda: | I came here as an Emissary. |
| Sultan Amar: | Who's Emissary of peace ? |
| Sultan Amar: | Who's Emissary of peace? |
| Sultan Amar: | Is that why you come with Nesiby solders ? |
| Sultan Amar: | Is that why you come with Nesiby solders? |