Blood Glacier
(2014)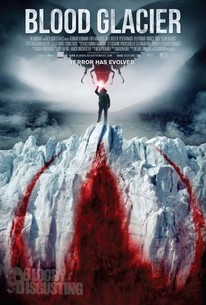 Movie Info
Janek is a technician on a climate observation station high up in the German Alps, one of a team of scientists preparing their outpost for visit from the Environment Minister. Their routine is interrupted by a strange discovery; a red liquid pouring from a nearby glacier, melted free from the ice crust that is shrinking with climate change. When the 'glacier blood' comes in contact with the local wildlife, it causes changes that are at first curious, then horrifying. Soon Janek and his team have their hands full defending themselves and the station against a growing horde of biological monstrosities. Using every tool at their disposal they must learn to work together to survive the onslaught. Harking back to classic creature features, director Marvin Kren combines classical filmmaking techniques with imaginative practical effects to produce a rollercoaster ride of laughs and jolts. (C) IFC Films
Rating:
NR
Genre:
,
Directed By:
Written By:
In Theaters:
On DVD:
Runtime:
Studio:
News & Interviews for Blood Glacier
Critic Reviews for Blood Glacier
Audience Reviews for Blood Glacier
While this film certainly has a pretty good concept, somewhat reminds me of Splice, except much more of a creature feature horror film than an 'intellectual' one about the ethics of splicing together DNA from two completely different species. And I will admit that the film does have some decent gore and some pretty interesting creature effects, but it's just a movie that doesn't really come together as well as it probably came across on the script. I do think that, surprisingly, there's some decent character development with Janek and Tanja, involving their relationship, their break-up, their dog, etc. It does lead to some interesting moments. There's also the badass Minister, who isn't really that interesting of a character, but she does a lot of entertaining things in the film. I did find this to be watchable and the locations themselves make a perfect setting for this type of movie, sort of reminds me of The Thing, in fact, so at least there's that. Of course, the comparisons to Carpenter's The Thing are strictly location-wise and not quality-wise. The Thing is one of my favorite horror movies and this, as you may have guessed, is not. The locations also reminded of the first Dead Snow. Again, Dead Snow is pretty good. This is not. The acting is pretty decent and the ending itself is pretty good, but the movie never really clicked for me. I have no idea what it was, because it's not like there's anything awful about the film. It's all decent at best, at worst it's slightly below average, but there's nothing too offensive or annoying. You know the saying: the whole is greater than the sum of its parts, well this movie would be the exact reverse of that. Taken out of context, this film might actually look pretty good. Upon watching it, you realize that that's not the case. I can't exactly pinpoint where this film 'fell' apart, if that's an appropriate term for it, but it's not particularly entertaining, in spite of it having a recipe for it. Could be worse, but I wouldn't find this worth watching or recommending.
Jesse Ortega
Super Reviewer
½
Way too unbelievable even in the fictional sense. There is no scientific knowledge here whatsoever. All I can do is shake my head in disgust. Taking home a half human, half dog baby to satisfy the guilt for getting an abortion is appalling.
Josh Moquin
½
I loved most of the cinematography in this movie, whoever was in charge of the voice over needs to be fired because it sucked. If I have the option to watch subtitled and original language I will but there was none for this. There were a few plot holes and all in all it fits nicely into a B movie that is enjoyable that has a bit of homage to The Thing.
Bill Regan