Bone Sickness
(2004)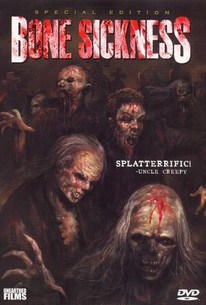 AUDIENCE SCORE
Critic Consensus: No consensus yet.
Movie Info
Her husband's health suddenly devastated by a terminal bone disease, a desperate young wife finds her search for alternative treatment leading to unexpectedly grave consequences. Medical science may have failed her husband, but determined wife Kristin isn't willing to let her spouse go without a fight. Though her bid to find an effective alternative treatment at first yields encouraging results, the sudden onset of rotting flesh and a proclivity towards cannibalism in her once docile husband signals that things might not be going as smoothly as she had hoped.
Critic Reviews for Bone Sickness
All Critics (1) | Fresh (0) | Rotten (1) | DVD (1)
Genre fans will appreciate the naked hooters and the frequent gore-geysers, but you'll have to lean pretty heavily on the FF button if you want to get through the whole thing.
Audience Reviews for Bone Sickness
½
Ultra low budget, putrid gore filth. Logic and sense are pretty much thrown out the window, but what you get instead is a pretty entertaining, and extremely gory zombie flick, that is a refreshing change from what most zombie movies are nowadays. I suspect this was inspired more from Fulci than Romero, and Im not complaining. The plot and a lot of the acting and dialouge are sketchy and this is very amateurish, but what they managed to create with little to no budget is actually really impressive. Worms and maggots and shit are gross for sure, and no there presence here doesn't make any real sense, but that was the case in Mermaid in the Manhole as well, and they got away with it so why not. I would argue that the film is over long and 20 or so minutes cut could have made the movie a lot less meandering and more direct, but all in all this was pretty good for what it was. Not exactly anything special either, but a gorefest, made by gorehounds for gorehounds.
Ed Fucking Harris
Super Reviewer
½
Kristen is careing for her very ill husband that seems to be dieing for a degenerative bone disease now with no cure insight she turns to a friend for help to find a much different cure and this one is eating the bones of dead or alive people alike but in the end this treatment has some very unimaginable side effects. Very low budget horror movie has a good story and could have done with more money overall i would recommend checking this out as its packed with gore to make up for what its missing.
This film is for gore fans only! Let me just say that this film was an exercise in criminal illogicalness and nonsensicality. The plot is ridiculously convoluted and you spent most of the film wondering things like: "how is this guy puking worms when he hasn't eaten any" or "how did a scorpion get loose in this house" even "how did this guy grow his hair past his shoulders in one afternoon" and the list goes on. The zombies in the film look like rejects from the Fulci rip-off Burial Ground, and some how have spiderwebs on them after coming out of the ground. The film is also poorly directed and edited, and the sound and music is quite bad, this being one of the main reasons for the low rating as it could have been alot better with some care and effort. The dialogue and acting was laughable at best. And I felt it was quite misogynist the nudity was senseless really, I'm all for as much nudity as you can cram in a picture but only if it pertains to the plot, I felt this was just thrown in for kicks, even one scene where a girl seems to be writhing in lust as she imagined decaying bodies fucking....yah, It makes less sense it you watch the film. What I will say about this film is that the special make up effects are jaw dropping. Clearly the filmmaker did not care about the things I have criticized above as this film is essentially a gore fest, and I mean like mass amount of blood and guts slatter the screen. There are some key gross out parts, even for me, a seasoned horror fan. What's incredible is how well they are done on such a low budget and although owing about to 70s exploitation and Romero in particular still retains an imagination to disgust. If this Brian Paulin character makes another film I hope it's in the sfx department as a good script and good director could have really made this film something. Bottom line: If you just wanna see crazy gore, and I mean fucking insane, watch this. If you want some plot and meaning, avoid at all costs.
Patrick Dolan
Super Reviewer
Bone Sickness Quotes
There are no approved quotes yet for this movie.