The Bothersome Man (Den Brysomme mannen)
(2007)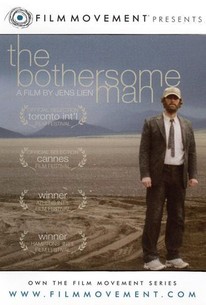 Movie Info
A 40-year-old man arrives in a mysteriously idyllic city with no memory of having traveled there, only to realize that there is something decidedly sinister about his emotionally sterile new home in director Jens Lien's surreal, genre-jumping mystery. Shortly after arriving in the curiously colorless city, Andreas (Trond Fausa Aurvag) is presented with a new apartment and told to report to the office where his amiable new boss, Håvard (Johannes Joner), will provide him with all the details of his new accounting job. Friendship seems to come fast and flavorless in this new town, and no one ever seems to get too upset or too happy. It isn't long before Andreas marries an attractive interior designer named Anne-Britt (Petronella Barker), and as the pair settle into a comfortable routine of emotionally vacant dinner parties, never-ending home improvement, and mechanical sex, the newly arrived citizen gradually begins to question why everyone seems so superficial, the food has no taste, and excessive alcohol intake fails to induce inebriation. As the ubiquitous "Caretakers" who preside over the city take note that their latest arrival just doesn't seem to fit in, Andreas attempts a daring but failed escape. When Andreas meets the like-minded Hugo, who reveals that beautiful music streams out of a crack in the wall of his cellar, the pair quickly concoct a foolproof escape plan that is sure to succeed. ~ Jason Buchanan, Rovi
Critic Reviews for The Bothersome Man (Den Brysomme mannen)
Audience Reviews for The Bothersome Man (Den Brysomme mannen)
The Bothersome Man is an unusual movie that defies genre categorization to a certain degree, although it's closest to just being a drama. Unfortunately, despite its interesting premise of a man thrust into a bizarre city that could be either heaven or hell, The Bothersome Man doesn't really seem to go anywhere over the course of its runtime, and just when you expect it to end on some extraordinary revelatory note, the ending is just sort of a letdown that leaves the events of the plot completely ambiguous. The Bothersome Man is without a doubt the kind of movie that will divide viewers, thanks largely to its very surreal and thoughtful nature, but I didn't find it to be a worthwhile movie.
Joey Shapiro
Super Reviewer
½
I liked this movie, probably not as much as I expected but I definitely enjoyed the surreal humor and the satire. I think the movie is perfectly paced, I think it always manages to hold your attention and you're invested in trying to figure out what the hell is going on in this place. It's definitely cool that the story didn't really reveal a lot of details of how Andreas got to this place, what this place really is, and why it's so colorless yet so perfect in some ways. It's definitely open to interpretation. For example you could argue that the world Andreas is in purgatory since, at the end *SPOILERS*, he got sent to a FAR worse place than he was for causing too much trouble. Therefore it's another level of purgatory. Of course, and again, the movie open to interpretation. So yea I liked this movie, it's unique and fresh with some interesting ideas on the emptiness of life. While I felt it could've been better, it's still worth watching.
Jesse Ortega
Super Reviewer
½
This film depicts what I think we will have to face when we pass on, plain and simple boredom. forceful, twisted, bleak, funny and discouraging surrealism.
Pierluigi Puccini
Super Reviewer
The Bothersome Man (Den Brysomme mannen) Quotes
There are no approved quotes yet for this movie.