Bridge to Terabithia
(2007)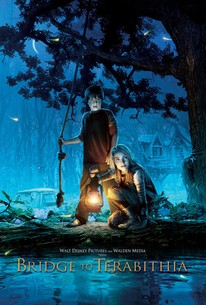 TOMATOMETER
AUDIENCE SCORE
Critic Consensus: Bridge to Terabithia is a faithful adaptation of a beloved children's novel and a powerful portrayal of love, loss, and imagination through children's eyes.
Bridge to Terabithia Photos
Movie Info
"Bridge to Terabithia" is a fantasy/adventure story of friendship, family and the power of imagination Jess Aarons is an outsider at school and even in his own family. Jess has trained all summer to become the fastest kid in his middle school class but his goal is unexpectedly thwarted by the new girl in school, Leslie Burke who competes in the "boys only" race and wins. Despite their awkward introduction, the two outsiders quickly become best friends. Leslie loves to tell stories of fantasy and magic. Jess loves to draw, but until he met Leslie, it was something he kept to himself. Leslie opens a new world of imagination for Jess. Together they create the secret kingdom of Terabithia, a magical place only accessible by swinging on an old rope over a stream in the woods near their homes. There, the friends rule the kingdom, fight the Dark Master and his creatures and plot against the school bullies. Thanks to his friendship with Leslie, Jess is changed for good. Brimming with fantastical creatures, palaces and beautiful forests, the world of Terabithia is brought to life.
People Who Like this movie also like
News & Interviews for Bridge to Terabithia
Critic Reviews for Bridge to Terabithia
Audience Reviews for Bridge to Terabithia
Bridge to Terabithia is one of the worst films that I've seen. I felt that this film was terrible because everything about the film was overdone. The acting and story seemed way too over the top for my taste. I felt that the story was pretty cheesy and overall pretty dumb. The acting was so bad and the film was pretty boring. This film lacks anything engaging and really is a waste of time. Until I saw Passchendaele, this was the worst film I had seen. Bridge to Terabithia is a wasted opportunity and the film fails to entertain. At least, it failed to entertain me. The film was very laughable. This is a film that is plainly a waste of time. I felt that the filmmakers missed the mark with this one, and it really didn't deliver anything entertaining or interesting for that matter. There's absolutely nothing good about this. The story was terrible, and the actors over did it. Bridge to Terabithia is a family film that really doesn't work, and is just pointless to watch. I really didn't enjoy this film, and I think it should've never been made in the first place. This film joins select unfortunate family films that really don't do anything to appeal to anyone. I'm trying to understand why this film is so "good" because it's not. The film is a dud, and I found it to be very boring and dull.
½
I must say I did not see the second half of the film coming at all, it blew my emotional feelings in. It is not a film for children if you ask me. It is a charming, loving, and magical tale about a boy and girl who become friends and each is a little different, and they find a forest and make it there magical world, but then tragedy occurs. The young actors are amazing, they truly capture the drama and happiness. Don't show them this movie expecting the next Narnia, there is something much more dramatic in this movie, but I didn't like how Disney was advertising this as a sweet fantasy, when its not really. It was a great drama but dont take your kids to this.
Jim Careter
Super Reviewer
Not as much fun as it could have been but packs a bit of a punch with the ending. Full review later.
Thomas Bowler
Super Reviewer
Bridge to Terabithia Quotes
| | |
| --- | --- |
| Jack Aarons: | Your friend Leslie is dead |
| Jack Aarons: | Your friend Leslie is dead. |
| | |
| --- | --- |
| Leslie Burke: | I seriously do not think God goes around dumping people to hell, cause He's too busy running all this |
| Leslie Burke: | I seriously do not think God goes around damning people to hell. He's too busy running all this! |
| | |
| --- | --- |
| Jess Aarons: | Is it like the Bible says? Is she going to Hell? |
| Jack Aarons: | I don't know everything about God, but I do know he's not going to send that little girl to Hell. |
| Jess Aarons: | Then I'm going to Hell, because it's all my fault! |
| Jack Aarons: | Don't you think that even for a minute. |
| Jess Aarons: | But it is. I didn't invite her to go to the museum with me I didn't wanna invite her. I wasn't there to go with her. It's my fault. |
| Jack Aarons: | No, no, no, no. It's not your fault. None of that makes it so. It's a terrible thing. It doesn't make any sense, but it's not your fault, Jess. She brought you something special when she came here, didn't she? That's what you hold on to. That's how you keep her alive. |