Brooklyn Castle
(2012)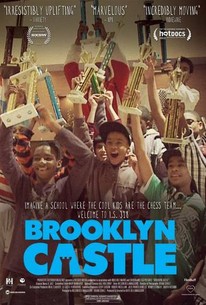 Movie Info
Brooklyn Castle is the remarkable and improbable true story of I.S. 318 in Brooklyn. The school, where 65% of students live below the federal poverty level, has the highest ranked junior high chess team in the nation. The heart of the film is the engaging young students who populate the team: Rochelle, who has the goal of becoming the first female African-American chess master; Pobo, the team's charismatic leader; Justus, an entering student who must manage the high expectations that come with achieving master status at an early age; Alexis, who feels the pressure of his immigrant parents' desire for him to realize the American dream; Patrick, who uses chess to help overcome his ADHD; and James, the young rapping maestro and budding chess talent; among several others. -- (C) Official Site
News & Interviews for Brooklyn Castle
Critic Reviews for Brooklyn Castle
Audience Reviews for Brooklyn Castle
One one level, "Brooklyn Castle" is an occasionally suspenseful documentary that also makes unfortunate use of stop motion effects about the dynasty of championships won by the chess teams at I.S. 318 in Williamsburg, Brooklyn. That winning streak continues even though players like Rochelle graduate and seek to continue their study of the game at a higher level, because new players like Justus enter the school, even though he has to travel all the way from the Bronx on a daily basis. On a much wider and more important level, "Brooklyn Castle" makes a great case for why such extracurricular activities are important, and not just because they might keep kids off the street. What this extremely successful program also does is allow the students to travel outside New York City for tournaments, while chess exercises their brains and is an activity that prizes sportmanship.(I love the handshake before and after matches, by the way.) So while they think six moves ahead in the game, they also become prepared to do so in real life, as the documentary also provides insight into the structure of the New York City school system. All of which is threatened is by severe budget cuts after the 2008 recession. As one student says, the last thing that should be cut from any budget is education.
Brooklyn Castle Quotes
There are no approved quotes yet for this movie.