Burmese Harp
(1956)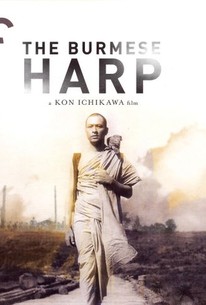 Movie Info
Kon Ichikawa's Harp of Burma is an anti-war film about a Japanese soldier who decides to reject his superiors and bury the bodies of his slain comrades. The film is also known as Burmese Harp.
News & Interviews for Burmese Harp
Critic Reviews for Burmese Harp
Audience Reviews for Burmese Harp
A beautiful and moving film, Biruma no Tategoto (The Burmese Harp) is a terrific work by Mr. Ichikawa. With unforgettable actings, just like the screenplay and photography, the movie is an obligatory art film, that presents a powerful antiwar message. Fresh.
Lucas Martins
Super Reviewer
½
A Kon Ichikawa work charged with sincerity and depth, The Burmese Harp explores the fraternal relationship in a brethren of World War II Japanese soldiers. Passionate. Melodious. Spiritual. Powerful. Enlightened.
Jan Marc Macababayao
Super Reviewer
In order to wage war, in order for human beings to kill other human beings on a massive scale, there must be some rationalization. Historically, we, as warriors, create in our minds a caricature of those we call our enemies. It's a phenomenon that's universal and cross-cultural. We see those who oppose us as less than human, as men who don't laugh, men who don't shed tears, men who are essentially evil. In this manner they become non-people. In this manner we need not have sympathy or guilt when we destroy them. The Burmese Harp, a product of post-war Japan released in 1956, breaks down this wall of propaganda and reminds us of the toll that war takes on the souls of men. Its been called an "anti-war" film but I'm not so sure that was foremost in the minds of those who brought this story to the screen. It seems, in retrospect, to be more of a soldier's portrait that has been stripped of its patriotic facade. Whatever their intent, the film makers have given us an under-rated gem that should not be missed.
Randy Tippy
Super Reviewer
Burmese Harp Quotes
There are no approved quotes yet for this movie.