Cars 3
(2017)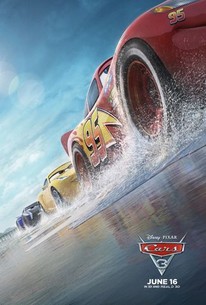 TOMATOMETER
AUDIENCE SCORE
Critic Consensus: Cars 3 has an unexpectedly poignant story to go with its dazzling animation, suggesting Pixar's most middle-of-the-road franchise may have a surprising amount of tread left.
Movie Info
Blindsided by a new generation of blazing-fast racers, the legendary Lightning McQueen (voice of Owen Wilson) is suddenly pushed out of the sport he loves. To get back in the game, he will need the help of an eager young race technician, Cruz Ramirez (voice of Cristela Alonzo), with her own plan to win, plus inspiration from the late Fabulous Hudson Hornet and a few unexpected turns. Proving that #95 isn't through yet will test the heart of a champion on Piston Cup Racing's biggest stage!
News & Interviews for Cars 3
Critic Reviews for Cars 3
Audience Reviews for Cars 3
Lighting McQueen takes one last lap in Pixar's Cars 3. When new next-gen race cars start taking over the racing circuit Lighting Queen decides to update his training program in order to get the speed needed to continue to compete. The plot is pretty formulaic and predictable, and is constantly hitting the audience over the head with its theme of letting go in order to move forward. Still, the animation is really good and delivers some fun races. And there are some nice bits of humor. Cars 3 isn't the best of the series, but it's not a bad one to go out on.
Dann Michalski
Super Reviewer
I'm starting this review less than 30 minutes after I just finished watching this, so you know I got some shit to say. I don't think a review of this film can start off without addressing the elephant in the room. That elephant in the room, obviously, is Cars 2. There's can't be a Cars 3 with a second installment, right? That's how sequels work. I guess you could make the argument that, prior to Cars 2, I was something of a Pixar apologist. Perhaps I don't think that's fair to say, but you could make the argument. If I saw something I didn't like, I was gonna point it out. It just turned out that, for the most part, Pixar's level of quality was above and beyond what anyone else was doing at the time. You could make the argument that they're still above and beyond what anyone else is doing right now. They've won like a gajillion Academy Awards for Best Animated Movie. Part of me also thinks that's because the Academy, apparently, refuses to even consider any films by non-American studio. The year Ratatouille won was also the year Persepolis came out. Both excellent films, but Persepolis, in my opinion, might have slightly edged out Ratatouille. Out of 17 years Best Animated Feature has been a category at the Oscars, only TWICE has a non-American studio won. Ghibli won one for Spirited Away and Aardman for Wallace and Gromit: Curse of the Were-Rabbit. That's neither here nor there. The point is that Cars 2 changed everything, in my mind for Pixar. Here was a cynical movie produced for cynical reasons. Disney saw a cash cow in the Cars franchise, given the popularity of the merchandise for the original movie. Cars 2 reflected that cynicism with an awful story with terrible characters. The thing about Pixar movies is that they are uncommonly smart. They don't treat your children like they're morons, even though they may be. Cars 2 was a movie that did talk down to its audience and assumed that they were as stupid as the characters that inhabited its world. At the time I stated that John Lasseter, who directed the film, should never have any direct involvement in the creating process of an animated film ever again, or at least ever again for Pixar. He can do what he wants for Disney Animation Studios. He was the one who conceptualized the idea of Mater taking the lead role. Mater can be an entertaining enough character in small doses, but when he's absolutely insufferable when he's pushed to lead character status. He just wasn't meant for that, he's a diversion, not the lead. Lasseter traveled around the world and he wondered what Mater would do in those situations. Driving on the wrong side of the road, figuring out road signs in Japan, the autobahn in Germany. So, essentially, the idea was a giant culture clash and how a country bumpkin would react to being a fish out of water. Because...comedy. Oh and did I mention that everyone else around Mater thinks he's a super secret spy when he's clearly not. He denies it throughout the entire film. Just awful. Ever since then, I've been wary of Pixar. I haven't truly forgiven them yet for Cars 2. Everything they've made since then has ranged from good (The Good Dinosaur) to very good (Brave, Monsters University) to great (Finding Dory and Inside Out). To me, and I haven't seen Coco yet, they haven't reached their previous levels of legendary quality ever since then. And, let's be real, this sequel was never gonna reach those heights anyway. It just wasn't. The Cars franchise is Pixar B-team through and through. It's sort of obvious that, as much as they may say otherwise, their not as fully invested in this franchise as they are in their other, more original works. There's a reason why, outside of the Toy Story trilogy and maybe Finding Dory, sequels have never really had the same effort put into them as their standalone stories. You can just notice that, for this movie, they took a smaller team aside and put them to work on this. There's just not that usual stellar quality and attention to the smaller details that make Pixar standalone movies such a joy to watch purely on a visual level. Having said all I have said and I still do think this was a cynical movie produced for cynical purposes (to cash in on what's left of the Cars franchise), I do think they produced a considerably better movie than Cars 2. I think the hints are there that there's something more at play here than just Pixar deciding, on their own, and not Disney as a corporation, that this franchise needed another sequel. The hints being Sterling, a rich business car (I hate typing that out), who buys out Lightning's sponsors and has him move to his advanced training center, wants to make Lighting McQueen into a brand with merchandising up the ass. He gets to decide Lightning's fate, which is like Disney deciding Pixar's fate in what movies they produce. I know some of you will say that I'm reading too much into it, but I don't think I am, honestly. Hell, even the climax with ***SPOILERS*** Lightning stepping down and letting Cruz Ramirez take over the last race for him feels like Pixar telling Disney to let them move on with new and fresh stories instead of rehashing characters and universes that don't need any more rehashing. It's so fucking obvious. Seriously though, in spite of all patently obvious allegory to Pixar's current state, I felt that this was still a good movie. Just a good movie, nothing more than that. But when you have to follow Cars 2, a good sequel would end up feeling like Citizen Kane. I think the story does feel kind of timely in that Lightning McQueen is outdated as a racing car, there's these new models of Cars (TM) that are more efficient, faster, aerodynamic and whatever other fucking technical car terms you can come up with. The movie deals with McQueen's training in order to find a way to be competitive with this new breed of racing cars. He'll never be faster than these modern cars, but he can be smarter and use their advances against them. Oh, and of course, there's a major crash at the beginning that puts Lightning's career in jeopardy. Yes, the car crash from the trailers that made this movie look like a gritty reboot of the franchise. This crash is what drives the film's events. Does Lightning have what it takes to stay competitive in a rapidly changing racing world? It's a simple story, but it is effective in that it simplifies the approach from the first sequel and just looks at a more down-to-earth story. Lightning pleads with Sterling to allow him to win one race, if he doesn't he'll retire like Sterling wants him to after he destroys the racing simulator. Lightning wants to train his own way, getting his tires dirty, blah, blah. Sterling makes him take Cruz (the trainer at the center) to help him out. And that's when the movie really begins. I will say that while Cruz and Lightning's interactions are the emotional core of the film, particularly once Cruz tells Lightning that she wanted to be a racer like him but she just couldn't compete, parts of it feel just a little forced. Like Pixar movies are known for their pathos and they had inject some of it here just because they had to, not because the story demanded it. At least with Finding Dory, Dory's journey to find her parents was the driving force of the film and it ended up working as an emotionally satisfying journey. This, on the other hand, while having a surprisingly sweet climax where Lightning realizes that he's trying to hold on to past glories when he could open the door for new talent, just doesn't feel as satisfying. Again, it just feels like it's there because it's what's expected of a Pixar movie, not because the story required it. I will say, however, that Cruz Ramirez is a great addition to this franchise. I don't think this is a franchise known for its quality characters. Nope, Mater does not and will never count. They're mostly reliant on stereotypes. Not saying that Cruz is an incredible character, but she is very good and definitely the highlight of the entire film. She is very entertaining. The animation is very good, but not truly Pixar elite. There's just not much you can do in a film that's centered around cars, so the animation, while still very good, has never stood out in this franchise. Again, Pixar always seems to put in more of an effort in creating beautiful worlds when it comes to new stories and characters. Not saying they don't work hard at what they do, whether it's a B-team movie or not, but it's clear there's not as much shine in this as, say, in Coco. I think the reception to Cars 2 must have taken a toll on Cars 3 as it made $200 million less than Cars 2. I don't think there's any other way to explain that other than the Cars 2 was seen as inferior in quality, so why would people spend their money on an inferior Pixar franchise? Maybe I'm reading too much into it, but it's possible. Maybe the fucking Minions overtook the Cars franchise in that respect. And it's a shame, because the Minions are fucking insufferable. What else can I say? Voice acting is good, but other than Cristela Alonzo, who plays Cruz, no one else really sounds that inspired. I mean Owen Wilson does a good job, but he doesn't excel in way, shape or form. There's not much else to say about this. If you were expecting Cars 2 level of badness, then you would be wrong. How glad to say that I was wrong about my own expectations as well. They were very low. My expectations were definitely surpassed, but this would still rank at the bottom of Pixar's films. It might be a good movie, but it's nothing more than that. And, from a company like Pixar, one always expects much, much better than this. I still enjoyed it and I'd recommend it if you have Netflix and want to watch something harmless with your children, but an animation classic this is not.
Jesse Ortega
Super Reviewer
The Cars franchise will probably always be known as the weakest films to ever come from Pixar, unless they really drop the ball. Personally, I really enjoyed the first instalment in this trilogy, so naturally I was looking forward to the sequel, which turned out to be a complete train-wreck of stupidity. For that reason, I had lost all interest in seeing this latest instalment, but remained optimistic in that it couldn't be any worse than its predecessor. Surprisingly, Cars 3 is just as good as the first, if not better. Yes, this film was able to pull this trilogy out of the dirt for one last ride, and it's a really solid one at that. With elements of countless comeback stories from classic rivalry films, Cars 3 embraces the cliches and elevates this third instalment to heights I never thought it would reach. Here is why this is the best possible way they could've ended this trilogy, even though nobody really asked for it. It was very clear that the response from the previous film had left audiences cold on this franchise. They would have to pull of a great hook to get the older audience members back into the theatre, and I believe this premise will do exactly that. Beginning the same way the original did, Lightning McQueen is on the race track, only this time he is racing as the reigning champ. With some new blood on the rise in Jackson Storm, McQueen is beaten badly and must recuperate and adapt to the new-age technology that these drivers are using. At its core, this really is just a comeback story involving a character you've come to love (if you liked the original that is), along with some very likeable side characters this time around. Without giving anything away about this film, my favourite aspect about the original was the growing relationship between Lightning and Doc. Hudson. Although that character passed away in the second film, they do find a way of utilizing him here and the are arc that Lightning is given made the movie as good as it is. In many ways, this is an actual improvement over the first film, but it ends up on par with it, as many of the great elements of Cars 3 harkens back to the first, so it wouldn't even be able to do certain things without the weight of the original. The portion of the film that I can discuss without spoiling anything would have to be the relationship between Lightning and his new trainer Cruze. Helping him adapt in order to be able to race the new competition, their chemistry is by far what carries this film from start to finish, which also leads me to my final point. What really put this film over the edge for me was the way the third act sells the film to kids and adults. Sure, the kids come for the comedy and the racing, which are both very much present here, but the comedy does take a back seat many times in order to serve the emotional core, which is what I enjoyed so much about the first film. There is a nice twist at the end of this film that really wraps a nice little bow around this trilogy, but too bad the second film is so bad. If you're not a fan of the original film, don't remember much about the original film, or are viewing this movie as your first experience in the world of Cars, then this twist won't have much of an impact on you, but for fans like myself, the payoff is well worth it. In the end, Cars 3 definitely won't win anyone over who wasn't a fan to begin with, but if you've sat through the last two films then I can see where some may agree that it has a very satisfying conclusion. The premise is cliched and most of the film is fairly predictable, but the twists more than make up for that and the relationships between characters are really well-done here. Cars 3's animation is some of Pixar's best yet, looking photo-realistic at times, and score for the race sequences got my adrenaline pumping, just like it did in the first. This is a great example of a movie that works equally for kids and adults. There is a much more mature story under the surface, while the kids still get the beautiful imagery and their favourite characters to gawk at on-screen. It doesn't break any new ground, but Cars 3 is far better than I was expecting it to be. Great conclusion to a very uneven trilogy.
Cars 3 Quotes
There are no approved quotes yet for this movie.