Caterpillar
(2011)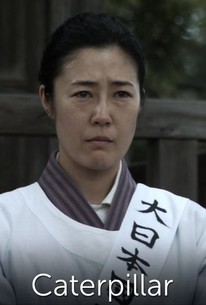 Movie Info
Taking place during the Second Sino-Japanese War and based on a banned short story by writer Edogawa Rampo, Wakamatsu's latest film is both a powerful indictment of right-wing militarist-nationalism and a deeply affecting reminder of the pressures put on Japanese women during war and peacetime. Part of a series of works that re-visit the country's fascist past, Caterpillar satirically deploys Japanese propaganda and successfully demystifies the glorification of the country's wartime past. -- (C) Lorber
News & Interviews for Caterpillar
Critic Reviews for Caterpillar
Audience Reviews for Caterpillar
One line summary: Traditional horror with zero supernatural elements; war is more terrible than fake gore. ------------------------------------------------ The film is full of flashbacks, and one of the early ones was of Kyuzo and all the village dressing up for his departure from the village into the military. Most of the film takes place after Kyuzo is a veteran of the war between China and Japan around the time of World War II. He lost both legs and both arms in combat, his head ss about 40% burned, and he is deaf. His speech is adversely affected by the lack of hearing. His wife Shigeko is horrified with this from the start. She tries to strangle him, but does not have the strength. The villagers honor Kyuzo and his achievements, such as they were, in China. They encourage Shigeko strongly to take care of the hero, the War God. Shigeko learns to deal with his eating, waste, bathing, and sexual functions. She takes care of him, which is an large daily effort, an enormous effort over an interval of years. She also works in the rice fields with the other villagers during the day. He tries to learn to write/draw with his mouth and pencil, starting with 'I want to do it.' She parades him around the village dress in uniform and medals. Sometimes she leaves him in the cart to watch her work in the rice fields. About half way through the film, she really gets into being the put-upon wife, and insists on his performing his responsibilities as well. She gets lots of attention for this, and he gets a taste of all the work (done by others) that he generates. Also, she becomes very conscious of the fact that he can no longer beat her. After some time in this steady state, Kyuzo starts having bad memories of what he did in China. Plus his obligations as War God never seem to go away. By 1945, the war started to come to Japanese soil. The radio in Japan reports something entirely different. Shigeko starts getting inwardly discouraged with the horrible things that have happened. Kyuzo has more flashbacks of his bad deeds in China. Toward the end of the war, she needs satisfaction, but he has trouble even being aroused, since he's too obsessed with the bad memories. She slings back in his face the horrible things he said to her before he left for war. At one point, just seeing the flame in their evening lantern brings back the memories of rotten things he did, and how he lost his limbs. This is when she sings a song about a caterpillar, which is what her husband reminds her of. -------Scores------- Cinematography: 7/10 Archival footage was in out of focus sepia; in other words, it sucked rocks. Sound: 8/10 OK, but not great. Acting: 9/10 Fine. Screenplay: 8/10 The story hangs together well. More cohesion about the flashbacks would have been nice.
Ed Collins
In "Caterpillar," the good news is that Kyuzo(Shima Ohnishi) returns alive from the war and a hero to boot. The bad news is he is not exactly in one piece, with all of his limbs having been amputated and communication with other people at best rudimentary. After his wife Shigeko(Shinobu Terajima) calms down sufficiently enough, she considers putting him out of his misery but then thinks twice about it, settling down into the routine of taking care of him for the long haul which also includes an itch he needs to scratch... To its credit, "Caterpillar" is not just an empty provocation, as it is very much anti-war, and not just in the ironic way it uses music. The first time we see Kyuzo is when he is raping a Chinese woman which makes him a war criminal more than anything else. That alone questions what the entire Japanese war effort was all about. Or maybe karma can just be incredibly nasty. In any case, all of which is established very early on which leaves the movie, as repetitive as it is and as shoddy as the production is, little room to go anywhere, except to explore the evolving power structure of the couple which has its moments.
½
A village woman is forced to care for her invalid husband when the Emperor declares him a "Living War God" after he loses all four limbs and his ability to talk in the Second Sino-Japanese war. A bizarre premise sparks this intense drama about duty; it's minimally exploitative, but there IS plenty of caterpillar/wife sex.
Caterpillar Quotes
There are no approved quotes yet for this movie.
Discussion Forum
Discuss Caterpillar on our Movie forum!