Cellmates
(2012)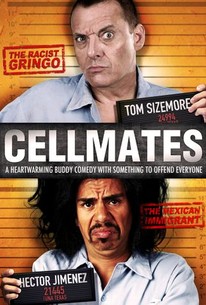 Movie Info
Worlds collide when hardened Ku Klux Klansman Leroy Lowe (Tom Sizemore) and Mexican field laborer Emilio (Hector Jimenez) are forced to share a prison cell. The unlikely relationship takes an unexpected turn when the chatty Emilio slowly chips away at Leroy's gruff exterior in writer/director Jesse Baget's offbeat buddy comedy which also stars Stacy Keach, Kevin Farley and Olga Segura. -- (C) Official Site
News & Interviews for Cellmates
Critic Reviews for Cellmates
Audience Reviews for Cellmates
I quite enjoyed this movie, even if it got a little schmaltzy by the end, its heart is most definitely in the right place, so I can't complain too much. You can definitely tell the movie had a non-existent budget, but they made the most of it. And, really, the cast definitely elevates the movie several notches. It's not like you're getting all time great comedy performances but they're solid and fun. The story itself is typical, you've seen it before and will see it again, but, again, the movie's heart was in the right place so and at least it was an effectively told story of this character learning the error of his ways. Not perfect but effective. So yea I enjoyed this movie a lot in spite of the rating. A good movie and I'd definitely watch again if the opportunity came up.
Jesse Ortega
Super Reviewer
Browsing through Amazon's new VOD section I found this little hidden gem. What first caught my eye was a goofy-looking Tom Sizemore on the cover. When did he get out of jail/rehab? Anyway, I also recognized the guy that played opposite of Jack Black in Nacho Libre, Hector Jimenez. Not expecting much but an hour or two of distraction from this likely mediocre movie I was delighted to have found a well-made and very funny film! Cellmates stars Tom Sizemore who plays Leroy Lowe, a KKK leader sent to prison for tax evasion. He is first put into a cell with a fellow KKK member played by Kevin Farley, who is hilarious as the simpleton, Bubba. They get along "like two peas in a pod," but a sudden change of events pairs Leroy in a cell with immigrant farm laborer Emilio (a lovable and funny Hector Jimenez) who instantly riles Leroy's racial prejudices. Leroy complains to the Warden (an impeccable Stacey Keach) but the Warden won't listen to Leroy's complaints. All he cares about are his prize-winning potatoes that are cultivated by his inmates. After much (hilarious) conflict and fighting, Leroy and Emilio learn to get along and eventually become friends as Emilio helps Leroy win the love of the Warden's maid and Leroy helps Emilio write to the U.S. Justice Department for his wrongful imprisonment. Everything from the acting to the directing and writing to the cinematography were excellent and were beyond what I was expecting from just seeing the cover. This is a genuinely funny and heartwarming movie that has intelligence, and bravely takes the taboo issues of race and immigration in the U.S. and makes them okay to acknowledge and even laugh at!
Tomas Hill
Glad to see Tom Sizemore is back! Was a delightful indie film, that was surprisingly heartfelt. Hope to see more from this director!
Francis Copolla
Cellmates Quotes
There are no approved quotes yet for this movie.
Discussion Forum
Discuss Cellmates on our Movie forum!