Cesar and Rosalie
(1972)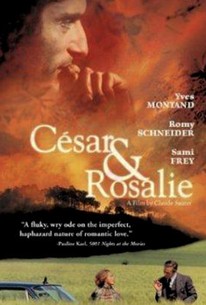 AUDIENCE SCORE
Critic Consensus: No consensus yet.
Movie Info
Claude Sautet's romantic drama César et Rosalie (Cesar and Rosalie) stars Romy Schneider as Rosalie, a beautiful young woman involved with successful businessman Cesar (Yves Montand). One day, Rosalie's former flame David (Sami Frey) appears and attempts to win her back. Cesar reacts with a jealous intensity never before seen by Rosalie, and because of that, she returns to David. She remains conflicted regarding her choice of partner, but eventually, one of the men does something which resolves the situation. César et Rosalie contains one of the first screen appearances of French actress Isabelle Huppert.
Rating:
R
Genre:
, , ,
Directed By:
Written By:
In Theaters:
On DVD:
Runtime:
Studio:
Rialto Pictures
Critic Reviews for Cesar and Rosalie
Audience Reviews for Cesar and Rosalie
A French film about a love triangle - imagine that! A middle-aged suit & tie type of man (Montand) and his attractive and slightly younger lover (Schneider) seem content in their bourgeois Paris lifestyle, built off the buying and selling of salvage. In fact, five years earlier, Montand picked up Schneider for a bargain price off the scrap heap when her Bohemian artist boy friend (Frey) dumped her and skipped town. Now Frey's back and Schneider's all too ready to forgo Montand and the wonderful life he's provided. Montand becomes morose, lost, confused and prone to fits of rage and violence. Something's got to give - and director Sautet reels off about 90 minutes of film teasing the viewer along regarding what that something will be. If this plotline set-up sounds just too similar to Adrian Lynn's "Unfaithful" (2002) to be coincidence, there's good reason. "Unfaithful" is based on Chabrol's "La Femme Infidele" (1969), a film only three years younger than this one - and one that Sautet surely knew all too well. The difference is that Chabrol, as most of the French New Wave directors, criticized the French bourgeois as shallow, complacent and hypocritical, while Sautet was far more sympathetic to their plight. So this film is essentially Sautet's rejoinder to "Unfaithful." This film is not anywhere near as engaging as Sautet's excellent, highly recommended later works "Un Coeur en Hiver" and "Nelly and Monsieur Arnaud." Here in this film, the viewer is forced to watch Schneider callously "try on" first one of the two men for fit, then the other, over and over, as though she were at a Macy's shoe sale. There's not much cause for sympathy in that. RECOMMENDATION: Only for genre completists.
TonyPolito Polito
[font=Century Gothic]"Cesar and Rosalie" starts out with comic book artist David(Sami Frey) returning to France after a five year absence.(One slight flaw of the movie is that the absence is never explained.) He has found out from a mutual acquaintance that his true love, Rosalie(Romy Schneider), has in the interim, married, had a child, divorced, and is now seriously involved with a very wealthy, older, but none too slick scrap dealer, Cesar(Yves Montand). David has been invited to the wedding of Rosalie's mother, thus complicating matters for everyone within a thirty-mile radius.[/font] [font=Century Gothic][/font] [font=Century Gothic]"Cesar and Rosalie" is a very clever movie about a love triangle that also has much to say about that everylasting battle between money and happiness. The movie is quite philosophical about when it is right to let go of a person, if at all and how none of us are possessions. Through Rosalie, we get a first hand view of a woman's battle for equality.(She is a translator, quite well educated and can handle Cesar's business affairs in his absence.) The audience has sympathy for all the characters which is always a good sign. The finale is especially well-done. The performances of the lead actors are all top-notch.[/font]
Cesar and Rosalie Quotes
There are no approved quotes yet for this movie.