Chicago Massacre: Richard Speck
(2007)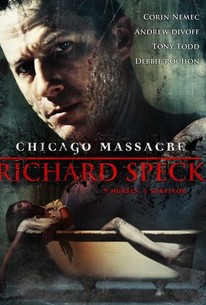 AUDIENCE SCORE
Critic Consensus: No consensus yet.
Movie Info
One of the most brutal killing sprees in the annals of American history becomes the feature film that's sure to keep viewers sleeping with the lights on as director Ed Gein: The Butcher of Plainfield Michael Feifer recounts the horrific atrocities committed by the notorious Richard Speck. It was the crime that shocked a nation; nine selfless Chicago nurses brutalized, raped, and murdered without mercy or remorse. The man responsible for the crimes - a lifelong criminal and high-school dropout whose petty early crimes would become increasingly ominous as the years went by. Parker Lewis Can't Lose and Stargate SG-1 star Corin Nemec portrays the notorious serial killer in a relentless account of real life events co-starring horror icons Andrew Divoff, Tony Todd, and Debbie Rochon.
Critic Reviews for Chicago Massacre: Richard Speck
There are no critic reviews yet for Chicago Massacre: Richard Speck. Keep checking Rotten Tomatoes for updates!
Audience Reviews for Chicago Massacre: Richard Speck
Terrible, Corin Nemec is decent as Speck but it's not enough. The dialogue is just the worst dialogue I've heard in a while. It would have been nice had the director chosen to explore more about Speck's past and his motives for the murders. Other than Nemic's performance (which is decent at best) the acting is terrible and the women playing the nurses were annoying as all fucking hell, especially Sondra. She looked like she was reading from a cue card, she had absolutely no emotion at all and her lines are the worst and so is her acting. I did not feel sorry for the nurses at all, which is why they are there, to create some sort of sympathy. Overall a terrible film, it's a shame that most mass murderer/serial killer movies suck. The plot basically writes itself so I don't know why 85% of the movies suck, I'm looking at you Ulli Lommel...you prick. Anyway don't watch it go watch Zodiac.
Jesse Ortega
Super Reviewer
Chicago Massacre: Richard Speck Quotes
There are no approved quotes yet for this movie.