Circle of Two
(1980)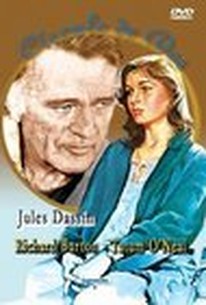 AUDIENCE SCORE
Critic Consensus: No consensus yet.
Movie Info
Director Jules Dassin, once shunned by Hollywood for being accused of "un-American activities," had already worked for nearly thirty years in Europe before making this Canadian drama about an elderly painter and a sixteen-year-old teen. Richard Burton delivers as a convincingly up-tight artist abandoned by his muse for the last ten years. After he meets Sarah (Tatum O'Neal on the wan from her 1973 Oscar as "Best Supporting Actress"), the muse begins to stir once more. The two disparate souls meet at a soft-core film (Sarah's friends dared her into seeing the flic), and an uneasy, non-sexual relationship starts. But even though the artist discovers that his muse is not totally defunct, that is a difficult trade-off for dealing with Sarah's romantic inclinations. ~ Eleanor Mannikka, Rovi
Rating:
PG
Genre:
, ,
Directed By:
Runtime:
News & Interviews for Circle of Two
Audience Reviews for Circle of Two
Why do fools fall in love? Why do birds sing in May? Why do young girls become infatuated with artists? So is the tale of this improbable relationship. Burton knows this is crazy. Tatum O'Neal is love struck. There is another, older woman however and this eventually complicates things enormously for Burton. [img]http://t1.gstatic.com/images?q=tbn:ANd9GcRmn_mPXWISTCE23UQV8FyPxPYVmxl81P7dwV16Vevndo0uecIyYQ[/img] The chance meeting of these two For a clip from the film showing the serious issue at hand, SEE this: http://www.youtube.com/watch?v=34Qw50VXYgo SEE the entire film here: http://www.youtube.com/watch?v=HEPF7wr2RA8 The film pays much homage to a popular television series of the time, "Columbo". The girl adores and recites lines from Lt. Columbo (Peter Falk) frequently. A picture of the fumbling detective Columbo hangs in her room. Movies of this genre are many. The spring-fall romance is not new. But 16 and 60? If I were 60 year old Burton I would be seen in public ALL the time with his newfound admirer. But not is the case in this film. He has the girl to his barn "studio" and they share champagne in the first half hour of the film. Now this is what I call not a talkie, but a quickie! The anquish bound relationship gets going soon in the film. Elder Richard Burton plays the artist who was famous but gave up painting for a decade. Until his, by chance, relationship with a girl 16 years old, he 60, begins. He knows it's crazy... she finds the relationship stimulating, far more than her drab home and school life. [img]http://t1.gstatic.com/images?q=tbn:ANd9GcTO_m1TtcNyzzmdSJadzCSYOmCnCYLul5AqKZ4_GkwyGt7iVFjI[/img] Improbable relationship but I suppose it could be Today (this was in the early 80's mind you) this relationship would be a scandal and likely a jail term for Burton. But poetic license takes over and we are asked to believe the relationship can not only happen but survive. Their early encounter begins, strangely, in a porno movie theatre. Burton sleeps through much of it while the girl, only 16, naturally is interested but is surrounded by "dirty old men". (Of course, anyone over 30 is an old man) I had real issues watching this film from the start. But it sort of grows on you with the presence of screen legend Richard Burton being so eloquent with his dialog. He IS the movie for me. Tatum O'Neal is great as well, far advanced in acting for her years since Paper Moon with her father, Ryan O'Neal. [img]http://cdn100.iofferphoto.com/img/item/518/104/415/circle-of-two-dvd-1981-richard-burton-tatum-o-neal-6186.jpg[/img] The painting that brings our artist back to painting So I guess I can encourage all young girls and older men to watch this film and take heed of it. It may serve you well, positively or otherwise. I myself found just a 5 year difference in ages intolerable, but hey that's just me and that was back then when grass was green and the future endless. [img]http://upload.wikimedia.org/wikipedia/en/thumb/0/06/Circle_of_Two_DVD_cover.jpg/220px-Circle_of_Two_DVD_cover.jpg[/img] REVIEWS 60% Certainly far from Burton's best but he puts in a solid performance despite the flimsy script. 90% This was a sad movie... not gonna lie. It was very thoughtful though... NOTES: 1 Circle of Two is a 1980 Canadian film. It starred Richard Burton as a 60-year old artist who falls in love with a sixteen-year-old played by Tatum O'Neal. 2 The last film directed by acclaimed film noir director Jules Dassin (shunned by 50's Hollywood during the anti-Communist scare of the McCarthy era). 3 Controversially, Tatum O'Neal - sixteen at the time of filming - posed for a topless scene and totally nude were it not for a chair. Directed by Jules Dassin Produced by Film Consortium of Canada Written by Thomas Hedley from the novel Lessons in Love by Marie Terese Baird Starring Richard Burton Tatum O'Neal Music by Paul Hoffert Cinematography Lazlo George Editing by David Nicholson Distributed by United Artists Release date(s) 1980 Running time 106 min. [img]http://www.majesticmovieshop.com/7701-2303-thickbox/circle-of-two-1981.jpg[/img]
monsieur rick
Dassin directed this?! 2nd half is shot well. It's like an illicit TV movie, set in Toronto, with only one cool scene (not the topless scene--sorry, Tatum)
Adam Mahler
Super Reviewer
Circle of Two Quotes
There are no approved quotes yet for this movie.
Discussion Forum
Discuss Circle of Two on our Movie forum!