Cleopatra Jones
(1973)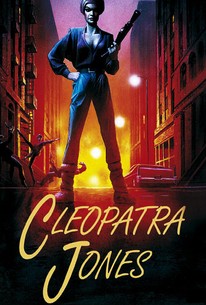 Movie Info
Tamara Dobson stars as Cleopatra Jones in Jack Starrett's blaxploitation programmer that, in its own way, deals effectively with the ravages of drugs in inner-city black communities. Cleopatra Jones is a jive female James Bond, a special drug agent for the United States government who wears sleek and hip clothes, drives a fancy car with a submachine-gun compartment in the front door, and travels all over the world to stomp out drugs at their source. Cleopatra has a loving relationship with Ruben (Bernie Casey), the well-meaning head of a drug rehabilitation clinic in Los Angeles. When Cleopatra travels to Turkey to oversee the destruction of poppy fields owned by Mommy (Shelley Winters) -- a lesbian drug dealer -- Mommy becomes upset. She exacts her revenge on Cleopatra by having the police close down Ruben's drug clinic. Nevertheless, Cleopatra continues to wreak havoc upon Mommy's drug business, and Mommy continues to try to do Cleopatra in, until finally there is a major confrontation between Cleopatra and Mommy and her minions.
Critic Reviews for Cleopatra Jones
Audience Reviews for Cleopatra Jones
Typical blaxplotation flick of the '70's. Dobson is striking in the lead. Shelley Winters has her acting dial turned up to maximum consuming scenery at every turn.
This one's surprisingly solid as both campy fun and a decent actioner in general. Of course, I'm also meaning decent on the B-Movie scale, but still, some fine work. Tamara Dobson is fine in the lead, and she comes off as more Afrocentric than her contemporary Pam Grier, if you're into subtext sorts of things. The film addresses urban poverty, crime, drugs, THE MAN, and has some hilarious political incorrect giggle moments (well, especially for me given my age, race, and the fact that I've never watched this film without alcohol in my system. So yeah, it might be cheap, and a bit of a mess, but it's blaxploitation, so it's not boring, and quite a lot of fun. This is basically one of the required watches of that wonderful subgenre, so definitely give it a watch if this is your sort of thing.
Chris Weber
Super Reviewer
½
Back in the Seventies, mainstream audiences still reeling from the one-two punch of Shaft and Superfly were subjected to a barrage of ghetto avengers - Black Caesar, Willie Dynamite, The Candy Tangerine Man and the rest - all covering depressingly familiar terrain. Black writer Max Julien (also an actor, playing the lead role in the pimpsploitation classic The Mack) offered AiP his script for a female alternative but passed. Warner was quick to snatch up the rights, and in 1973 foisted the first black superchick onto the American public: Cleopatra Jones. The film opens with a blazing opium field somewhere in Turkey. Cleo Jones, hap-ki-do expert and international do-gooder, returns to America to report on her success as a 'special agent' in her one-woman war on dope. Lesbian drug baroness Mommy (Shelley Winters, fresh from Corman's Bloody Mama) is furious her poppy fields were torched, and threatens an all-out war between the Brothers and the Mothers. One of Mommy's uppity underlings, Doodlebug (Antonio Fargas, best remembered as Huggy Bear in Starsky And Hutch) is getting rich off stealing Mommy's coke, and provides a cautionary moral aside warning against living as a White Man's flunky (Cleo points to Doodlebug's white chauffeur, and asks "What next - two white jockeys on the lawn?"). With a "whacka-whacka" superfunk guitar in the background, Cleo does her chop-sockey routine on the coke dealers and crooked cops, and kicks Shelley Winters' portly ass for her wild overacting in the final showdown. Tamara Dobson as Cleo Jones reportedly stood 6"2, and that doesn't include what must've been the BIGGEST afro in the business! Despite her physical prowess, the script doesn't give Cleo any real motive for her cartoon crusade (unlike the later Coffy and Foxy Brown) and reduces her to a smug self-satisfied cardboard cutout. Add the sloppy direction by Jack Starrett and you get a surprisingly poor release by a major studio.
Cassandra Maples
Super Reviewer
Cleopatra Jones Quotes
There are no approved quotes yet for this movie.