Clownhouse
(1989)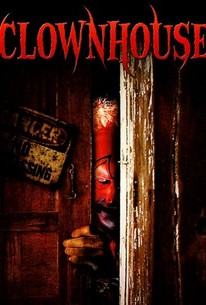 Movie Info
After escaping from a mental institution, three men don clown outfits to terrorize three brothers around their own house.
Critic Reviews for Clownhouse
Audience Reviews for Clownhouse
It is much more irritating than scary with those irritating characters, but nothing can be more disturbing (or disgusting) than knowing that the character's fear is actually real, since the young actor playing it was being molested by director Victor Salva during the making of the movie.
Carlos Magalhães
Super Reviewer
Clownhouse might have been an interesting idea for a Slasher film, and it is. I had heard much praise on this film. When I got around to seeing the film, I was stunned at how bad it was. The film turned out to be one of the dumbest films in the 80's horror, and that says a lot. Clownhouse takes a unique idea for a Slasher film and dumbs it down. For me, I think that Clownhouse was simply an excuse for director Victor Salva to watch young boys prance around in their underwear. That scene was really disturbing and made you feel uncomfortable. Clownhouse is a film that is probably most famous for being the film where director Victor Salva molested lead actor Nathan Forrest Winters. Aside from that, the whole voyeuristic, creepy vibe that Salva put into this film really throws you off and makes uninterested, along with a bland script that can't seem to use any effective ideas despite an interesting idea for its plot. The film is disturbing, but not in a terror inducing way. The film is disturbing for two scenes, one where you see a child's bare ass and another scene where you see three brothers dancing around in their underwear. The film started off good, but after these two scenes, I didn't feel comfortable, and I hated the film because of it. Aside from that, the acting was terrible, the characters were bad, and the film dragged on too long. In the end, Clownhouse is just an excuse for one man to get his sickest fantasies realized. Clownhouse is a poorly constructed horror film that doesn't deliver genuine scares. What started off as a promising film, ended up being an awful film that should be avoided by any serious horror fan.
If you're afraid of clowns, this movie is guaranteed to ruin your Saturday Night. However what's more disturbing than the film, is the story of the director. Francis Ford Coppola saw Victor Salva's low budget horror film "Something in the Basement" and was so impressed he decided to give him a shot at directing his first legit feature. Salva returned the favor by orally molesting on of the young stars of the film and video taping it. Shortly after the film Salva was convicted and served 15 months in prison before being paroled. Then DISNEY came knocking and had Salva direct Powder. Needless to say there was some uproar over the Mouse House hiring a convicted child molester, and Salva found himself out of work once again. Coppola, apparently not having a problem with child molesters, hired Salva a few years later to helm the Jeepers Creepers franchise. Way to go Francis. Way to go.
Ken Stachnik
Super Reviewer
Clownhouse Quotes
| | |
| --- | --- |
| Randy: | You want to prove where you really got some hair? |
| | |
| --- | --- |
| Randy: | Oh, you're sleeping bare ass now. Mom's gonna love that. |
| | |
| --- | --- |
| Casey: | You never know who they really are. |
| | |
| --- | --- |
| Casey: | You guys want to take a bath together? |