Colombiana
(2011)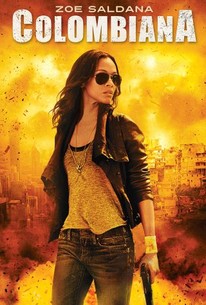 Movie Info
In the action film Colombiana, Zoe Saldana plays Cataleya, a young woman who has grown up to be an assassin after witnessing the murder of her parents as a child. Turning herself into a professional killer and working for her uncle, she remains focused on her ultimate goal: to hunt down and get revenge on the mobster responsible for her parents' deaths. -- (C) Sony Pictures
People Who Like this movie also like
News & Interviews for Colombiana
Critic Reviews for Colombiana
Audience Reviews for Colombiana
Zoe Saldana is slinky, sexy, and mad as hell as Cataleya, a contract killer bent on avenging her family who was killed..."in front of [her]"...a line from the trailer that I thought was delivered a little too emphatically. Saldana's dancer physicality is evident when Cataleya snakes through air ducts, swims with the sharks, and pratwaddles in a drunken ruse. The action is gripping enough, but Michael Vartan is forever contractually obligated to play Michael Vartan - the handsome, oblivious beau with a gracious smile and twinkling eyes.
Alice Shen
Super Reviewer
The lone-wolf-getting-revenge type of movie. I liked it - sure it has no redeeming social message, but it is always fun to see the underdog get her revenge.
Trying not to compare too much to the classic hitman flick 'Leon' this female assassin flick tries too hard for its own good to raise emotion and thrills. Its not that its a bad film, far from it, its a solid action film and you must give the director and cast credit for making the film much better than it deserves to be but at the end of the day the film is very predictable and simply nothing new. The cast are very good in this film with a strong brooding presence from Saldana who does actually come across as a capable killer but the Colombian bad guys are all pretty cliched with their stubble and shades. Performances from Curtis as the mentor/uncle, James as the 'always one step behind' FBI and a decent small role for McTavish as a Marshall with a very good US accent all add to a well rounded and understated cast that really do make the film quite believeable...at times. I wonder who is the better young innocent pre-hitgirl? the young Stenberg or the young Portman? hard to decide really, the young 'Cataleya' is slightly unbelievable as she leaps and bounds over rooftops like a pro gymnast when the baddies go after her, after she sticks a henchman with a blade!. Not really how a young child would behave methinks but I guess she is suppose to be gifted, its just less realistic when watching. One problem with the film is the forced emotional aspects which I found hard to accept, 'Emilio' the uncle and mentor of Cataleya is some kind of underground thug or mafia type who gunned down an innocent person in their car to prove a point to a young Cataleya and Cataleya's family from Columbia were all involved with drug trafficking, they had guns stashed around the house!! so really its kinda hard to feel for Cataleya and what she's doing as everyone she knows/has known is a criminal. Also you wonder how she becomes an elite killer, who trained her? Emilio the uncle? was he some kind of super killer too? he merely comes across as a Colombian goodfella type. The film can't quite capture the close emotion of a certain Besson classic and like with all modern films ends up relying on flashy action set pieces to make up for it when a more subdued approach would have worked wonders, the final curtain for the main bad guy is also quite stupid. Solid but nothing new to offer over other good female assassin flicks such as 'Nikita' and remake 'Point of No Return' aka 'The Assassin', but you have to wonder why Besson is so obsessed with assassin films that he keeps remaking the same thing over and over.
Phil Hubbs
Super Reviewer
Colombiana Quotes
| | |
| --- | --- |
| Danny Delanay: | How was your trip? |
| Cataleya: | Hot. |
| | |
| --- | --- |
| Cat - Age 10: | I want to be a killer. Can you help me? |
| Emilio Restrepo: | Sure. |
| | |
| --- | --- |
| Cataleya: | Eat |
| Cataleya: | Eat. |
| | |
| --- | --- |
| Emilio Restrepo: | You want me to teach you how to be a killer? No problem. I teach you. But you'll be dead in five years.If you want to be a killer and survive, you got to be a smart one. Have to know things besides how to pull a trigger. You have to know how people think. You got to learn how to be psychological. I cannot teach you that unless you learn the basics at a school. You got that? Hm? Come on, what's it going to be? Cataleya, you choose. |
Discussion Forum
Discuss Colombiana on our Movie forum!