Colour from the Dark
(2008)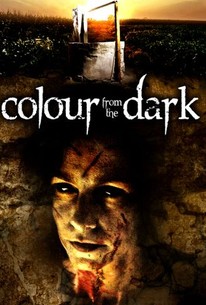 AUDIENCE SCORE
Critic Consensus: No consensus yet.
Colour from the Dark Videos
Colour from the Dark Photos
Movie Info
The next generation of Italian horror arrives with Bad Brains director Ivan Zuccon's adaptation of the classic H.P. Lovecraft story The Colour Out of Space. It's the 1940s. The entire planet is at war, yet Pietro and Lucia live on a peaceful, isolated farm with Lucia's fifteen year old sister Alice, who suffers from severe mental problems. Unlike his three brothers, Pietro has been spared from fighting due to a deformed knee. But even despite Pietro's crippling malady, the poor farmer works tirelessly to till the soil and care for his crops so that his family will be able to eat. Then, one day, as Pietro and Alice attempt to draw water from their well, they inadvertently release something from deep within the Earth's womb. Entranced, the couple peers down the well to see an otherworldly color flutter beneath the water before disappearing without a trace. In the following days, the entire farm is beset by a series of inexplicable occurrences. When the sun falls over the horizon, the surrounding vegetation begins to glow with a sinister light that seems not of this Earth. As the color continues to spread throughout the farm, into the family home, and ultimately into the very minds of Pietro and his family, they are gradually drawn into a sickening world of suffering, blood, and death.
Rating:
R
Genre:
Directed By:
Written By:
In Theaters:
On DVD:
Runtime:
Studio:
Vanguard
Critic Reviews for Colour from the Dark
There are no critic reviews yet for Colour from the Dark. Keep checking Rotten Tomatoes for updates!
Audience Reviews for Colour from the Dark
½
Somewhat interesting, yet very slow and filled with bland parts. The characters are kind of dull, and the overall plot gets a bit stale. Confusing moments and annoying scenes. It was almost decent, but failed to deliver.
Wes Shad
HP Lovecraft fans, rejoice! "Colour from the Dark" is a solid and intelligent take on Lovecraft's short story, "The Color Out of Space." While purists may not like the film for its taking liberties with setting and the addition of scenes that bridge the gap between short story and feature-length film, those willing to give director Ivan Zuccon a little artistic leeway will find this to be among the best adaptations of Lovecraft's work for the screen. Set in Italy during World War II, the film begins when a farmer breaks through the bottom of a well. This releases a never-defined intelligent force that permeates both land and family, first filling them with vitality and then accelerating their decay. In scenes taken straight from the original tale, crops ripen overnight. The farmer reaps a harvest of giant tomatoes and squash that look just a little strange at first. At the same time, the farmer's injured knee is instantly healed, his mute and mentally challenged daughter gains the ability to speak, and his wife (played admirably by veteran scream queen Debbie Rochon) is overwhelmed with sexual desire. It's only a matter of days, though, before the horror starts. Those vegetables were poisonous and start rotting away, gathering swarms of flies and maggots. The daughter sets to stabbing her doll. Wife Lucia gets the worst of it fastest, though, as both her body and mind warp in terrible ways, surrounded by a strange glow and sounds that could only be loosely termed a voice. The addition of a local priest called in to perform an exorcism yields an extra payoff not found in Lovecraft's tale. What happens when the water isn't so holy during an exorcism? In one of the films most memorable scenes, the possessed Lucia turns the table of the hapless village cleric, sprinkling him with the tainted water while admonishing him about which gods are real and which ones aren't. I haven't seen a scene like this in a horror film before, and Zuccon is to be commended for putting it into his movie. Rochon's Lucia is perfect for the scene, and is played throughout with spasmodic menace. Michael Segal is likewise very good as the bemused farmer who first resists and then succumbs to the poisonous entity in the water supply. There are a few rough spots in "Colour from the Dark." Many of them come from Gerry Shanahan; his thick Irish accent is offputting in his role as the farmer's father and at times he seems to be reading lines rather than performing. There's a subplot involving a Jewish refugee hidden at Shanahan's house and executed by Nazis that never seems to go anywhere, although farmer's daughter Alice (Marysia Kay) spends some time talking to the bloating corpse. All of that could have been left on the cutting room floor without taking anything away from the rest of the film. Despite those shortcomings, the story, acting, and production values of "Colour from the Dark" make it worthwhile for supernatural horror fans, whether or not they've read Lovecraft's story -- which you should do, by the way. It's one of his best; there's a reason that there have been at least three films based on it now, starting with "Die Monster Die" (starring Boris Karloff) and then "The Curse" (Claude Akins). "Colour from the Dark" is the best of the bunch, though. It balances mood and shock and does scary justice to HPL's vision while not becoming enslaved to the details, as do so many films based on Lovecraft's literature. And next time someone tells you not to drink the water, YOU WON'T!
Brian Seitzman
½
With the cast all performing well (though one or two accents seem out of place at times), and its terrors convincing and unnerving COLOUR FROM THE DARK cements Zuccon's position as one of the leading Italian filmmakers working within the supernatural tradition.
Lee Mayo
Colour from the Dark Quotes
There are no approved quotes yet for this movie.
Discussion Forum
Discuss Colour from the Dark on our Movie forum!