Creeping Flesh
(1973)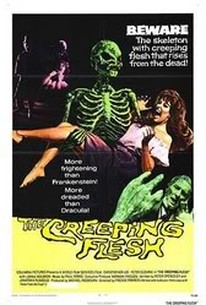 Movie Info
Peter Cushing delivers one of his finest hand-wringing performances as Emmanuel Hildern, a Victorian man of science who relates a mad tale of horror to his half-brother and professional rival James (Christopher Lee). His tale begins with the discovery of the weird skeletal remains of a large unknown humanoid in Papua, new Guinea, which he carts back to England for study. Even more unusual than the skeleton's ghastly appearance is its ability to grow new flesh when moistened with water. Further research reveals that the creature may actually be instilled with the very essence of malevolence (basically freeze-dried, instant evil), indicating that it would be best kept out of the rain. Despite an incongruous subplot involving the doctor's insane daughter, whom he believes can be cured by injections of serum derived from the creature's reanimated tissue, this is an effectively creepy period piece with heady Gothic atmosphere (and a neat twist ending) that ranks among director Freddie Francis's finest work. ~ Cavett Binion, Rovi
Critic Reviews for Creeping Flesh
All Critics (5) | Fresh (4) | Rotten (1) | DVD (3)
This 'Flesh' has little a-peel.

Tepid horror with two British icons as its only draw.

Mountain Xpress (Asheville, NC)
Peter Cushing in a hand-wringing performance is Professor Emmanuel Hildern.

Ozus' World Movie Reviews
Audience Reviews for Creeping Flesh
In the late 19th century, scientist Emmanuel Hildern (Peter Cushing) returns home to London with a prehistoric skeleton that he acquired in Papua New Guinea. While cleaning the skeleton, he learns that water triggers a horrific reaction - reanimation. He slices off the finger, now covered in flesh, and preserves it for later experiments. While having breakfast with his daughter, Penelope (the breathtaking Lorna Heilbron), Emmanuel reads a letter informing him of his wife's death. Unbeknowst to Penelope, her mother has been in an insane asylum since she was a little girl. Fearful that his wife's mental illness may be hereditary, Emmanuel has sheltered his daughter at their estate with only the servants to keep her company. She's not allowed outside, except for short walks within the gated premises. Emmanuel travels to the institution where his wife died. He meets up with his half-brother, James (Christopher Lee), who happens to be the insane asylum's director and a competing scientist. Emmanuel was always the favorite of the two siblings, the one destined to achieve greatness, so it's with great pleasure that James tells him that he is in the running for the prestigious Richter Award. In addition, he will no longer fund Emmanuel's transcontinental trips. I'm not familiar with most horror predating 1980. I rate this somewhere between 60%-70% (about a 6.5/10). I've never watched a movie, horror or other genre, with so much anticipation and dread for what may come. The climax is truly a frightening one. The suspense is nail-biting! Lee and Cushing are great but it's the beautiful Heilbron who steals the show. I want to watch more films she stars in. I recommend this to horror fans who want to explore the classics. No gore, torture, or loud music cues to instill a false sense of fear. I liked it! [url="http://rottentomatoes.com/member/scarletheels"]Rotten Tomatoes Profile[/url] / [url="http://scarletheels.com/archives/category/moviestv/reviews_movies"]My Movie Reviews[/url]
MiYon Richardson
Under rated Hammer horror, with a nice twist at the end.
Anthony Valletta
Super Reviewer
A 19th century paeleontologist (Cushing) uncovers what he first believes is the missing evolutionary link between apes and men, but later finds it to be the skeleton of a demon... a skeleton that flesh appears on when it becomes wet. He devises what he believes is a innoculation against evil, injects his innocent daugther with it... and that's when the nightmare begins. "The Creeping Flesh" is a decent chiller that is a bit slow in getting started, but once it gets going, it's a riviting experience. It's got Peter Cushing giving one of his best performances as a mentally unstable scientist, Christopher Lee at his most effective as a monstrous villain hiding behind a veneer of respectablity, and the uniquely beautiful Lorna Heilbron as a gorgeous and completely deranged young woman. Out of all the films that uses Victorian-style fantasy, horror, and pseudo-science, this is perhaps the film that captures the sexual repression and misogynism that was at the heart of so much of Victorian thought. And Cushing and Heilbron capture this mindset to a tee. It may not be the best horror film ever made, but "The Creeping Flesh" definately captures the mood of "gothic horror" that I was shooting for back when I worked on the Ravenloft line. It's also a film that fans of both Peter Cushing and Christopher Lee will be happy for seeking out. The Creeping Flesh Starring: Peter Cushing, Lorna Heilbron, Christopher Lee, and George Benson, and Hedger Wallace Director: Freddie Francis
Steve Miller
Creeping Flesh Quotes
There are no approved quotes yet for this movie.
Discussion Forum
Discuss Creeping Flesh on our Movie forum!