Crossfire Hurricane
(2012)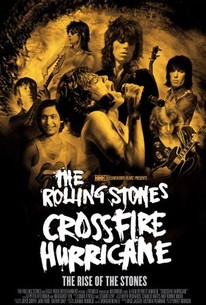 Crossfire Hurricane Photos
Movie Info
This history of the Rolling Stones features archival footage of the British rock-and-roll giant's 1960s performances, interviews with the group's members, and clips of other documentaries about the band, including Gimme Shelter (1970) and Shine a Light (2008). ~ Joe Friedrich, Rovi
Critic Reviews for Crossfire Hurricane
Audience Reviews for Crossfire Hurricane
To commemorate their 50th anniversary, all past and present (living) members of The Rolling Stones gathered together for audio interviews to talk about the history of the band's first 30 years. The present day audio is played over a vast array of archival footage from concerts, news broadcasts, etc, and also gives the departed Brian Jones the chance to give in his input about things as they were happening then. For someone who not a whole lot of people had previously heard talk, he proves quite well spoken and intelligent, which makes the footage of him both great as well as bittersweet. You don't have to be a major fan of the band to appreciate this, but it probably helps. And, while some of the elitist diehards will probably not find a lot of new info here, it's still worthwhile for the sake of completionism. If you dig The Stones, or are just a fan of brash bluesy rock and roll in general, especially during the 60s and 70s, then definitely give this one a look. It's a pretty interesting and fun ride.
Chris Weber
Super Reviewer
½
"I was born in a crossfire hurricane!" Man, that line doesn't really make a whole lot of sense, unless you're high, I guess, but I love it, like plenty of other lines in lyrics by The Stones, which is good, because songwriting is pretty much the only thing that The Stones have going for them. Oh no, don't get me wrong, folks, I like The Stones, but come on, I'd like to hear them try progressive rock, and I really, well, don't mean that, because about half of an hour of Keith Richards struggling to play Robert Fripp sounds like it might be enough to fully shake my faith in The Rolling Stones. As things stand, I reckon I'm glad to hear them, though not as much as I'm glad to see that they finally used "Crossfire Hurricane" as the title for something associated with The Stones, because, again, it's an awesome line, and plus, I'm not really in favor of a documentary titled "Papa Was a Rolling Stone", seeing as how Georgia May Jagger's teeth freak me out enough for 30 seconds in those Rimmel commericals, let alone a feature length. "Oh yes, and Mick Jagger's face nowadays is a much better alternative", is probably running through your head right now. Hey, apparently the makers of this documentary were thinking the same thing, as they decided to spare the viewer by making the new interviews with Jagger offscreen. So yeah, this is a bit of an unconventional rockumentary, at least when it comes to certain aspects, and a decent one at that, yet it would be better were it not for some of the unique touches' not really working too well. It's not like this documentary had much of a choice when it came to the unique move of not providing footage to go with the interviews, as no camera were allowed in the room in which the interviews were conducted on the eve of The Rolling Stones' 50th anniversary, so the flaws behind this documentary storytelling method are a bit forgivable, but not entirely, because as if it's not enough trouble to try and distinguish the band members' voices, a lack of visual association with the audio, as you can imagine, distances the intimacy between the viewer and the interviewees upon whom this film focus on. The lack of footage isn't nearly as irritating as you might fear, but it does loosen your grip on things a bit, and not just because the actual usage of the interview audio gets to be a bit uneven at times, much like the film's pacing. Perhaps more often than not, this documentary is tight, but whether it's trying to compensate for the absence of new footage that does damage to the documentary's immersion value, or simply getting kind of misguided in the editing room, there are more than a few occasions in which the film goes dragged out by overlong footage and repetitious spells in structure that retard momentum, and could be easier to forgive if plenty of the slow moments weren't accompanied by atmospheric slow-downs. When the film picks up liveliness, it keeps it going for a long, long time, but once that time is up and the film gets back into dragging its feet, things really start to bland up, with relative quietness and atmospheric dryness amidst narrative meanderings, thus resulting in momentary, but no less present dull spots. The film's unevenness hazes a sense of direction in this narrative, and that leaves the film to devolve into meanderings that go exacerbated by limited dynamicity within storytelling structure, whose moderate thinness leaves material to run together and hurt a sense of progression, while keeping momentum at a level for so long that, after a while, it's hard to stay fully engaged. The film challenges your attention span, and such a challenge would be more pressing if the film wasn't so enjoyable in a lot of ways, but there could have been, and perhaps should have been more insight and evenness, rather than structural hiccups that make the final product a somewhat underwhelming study on a icons who deserve a more extensive and well-assured documentary. Still, until we get the career-spanning study on The Stones that we want, this film will get you by, being flawed, but ultimately enjoyable and insightful enough to prove worthy of a watch, at least as a showcase of a strong body of musical work. Again, I'm not going to sit here like everyone else and laud The Rolling Stones as a phenomenal band, because they're simply not very good musicians, but they are decent enough to do justice to charisma and songwriting that are, more often than not, sharp enough to result in memorably rewarding song, after memorably rewarding song, after memorably rewarding song, and rest assured that you can find plenty of these types of songs throughout this film, which may not flaunt The Stones' more richly obscure efforts, but offers plenty of remembered classics to keep entertainment value from drifting too far. The soundtrack gives the film plenty of musical liveliness, but if you want visual liveliness, while you obviously shouldn't expect it from the interviews, you still get plenty of it, as this film offers plenty of delightful archived footage that gives you a fair bit of insight into the musical legends' lives and careers, and is itself colored up with many a stylish point in Stuart Levy's and Conor O'Neill's editing that snappily intensifies cinematic liveliness. There's plenty of nifty footage, as well as plenty of nifty stylistic choices behind the presentation of such footage, so in spite of the lack of new footage, there is a fair bit of immersive value to the visual aspects of this reasonably insightful documentary to provide engaging liveliness that goes backed by a certain storytelling aspect that you don't see. All jokes about how I'd rather not be stuck looking at The Rolling Stones' faces for two hours aside, the lack of footage really does hurt a sense of intimacy within the interviews that drive this documentary's narrative, yet you can do only so much to dilute the charisma of these musical legends, whose verbal chronicling of some of the golden years of one of mainstream music's most recognizable classic icons is distinguished and down-to-earth enough to earn your investment and feel the progression of this story about as much as you can, given the issues within the other areas of storytelling. The Stones tell their story well enough for you to get a reasonable sense of intimacy, even without faces to go with the voices, and the archived footage certainly helps in reinforcing this feeling, which would, of course, mean nothing if this film didn't offer plenty of interesting information. The film tells you plenty that you may very well already know very well, and does so a fashion that often meanders to the point of leaving material to flow together is a disengagingly structureless fashion, so this could have been a sharper study on The Rolling Stones, but the documentary is still informative enough to fascinate you with plenty of fun facts - some of what may be little-known - that help greatly in keeping storytelling alive and engaging. The final product isn't entirely memorable, even with its delivering plenty of interesting material to remember, but the informativeness of this documentary carries this effort a pretty good ways, while storytelling strengths that ultimately outweigh storytelling shortcomings further drive this film, not necessarily to generally rewarding heights, but certainly high enough to make this study of The Stones an enjoyable, if improvable one. When the hurricane clears out, a promising documentary is left pounded by footage limiting's diluting a sense of intimacy, as well as by uneven pacing whose sometimes dull dragging the film along with a meandering sense of progression that leaves material to run together does about as much as anything in making the final product underwhelming, but cannot prevent a good soundtrack, stylishly presented and neat footage, charismatic interviews and a fair bit of fascinating information from making "Crossfire Hurricane" a generally engaging, if pretty flawed study on The Rolling Stones' exploits during some of their most recognized years as classic forces within the mainstream music industry. 2.5/5 - Fair
Cameron Johnson
Super Reviewer
For the obsessive Rolling Stones fan, there may be little new of interest in the documentary "Crossfire Hurricane," made to commemorate their fiftieth anniversary. Throughout the archival and footage from other documentaries, the surviving members of the band seek to disprove the old dictum that if you remember the 60's, then you really were not there. Well, they were there. For a more casual fan like myself who only owns the 1964-1971 greatest hits and has seen "Gimme Shelter," "Crossfire Hurricane" is a more insightful film, even with some critical issues. For example, it is kind of simplistic to describe the Beatles as the good guys and the Rolling Stones as the bad guys, when to quote Bill Hicks, "The Beatles were so high, they let Ringo sing lead on a couple of songs." Rather, the bands were different sides of the same coin, reflecting opposite emotions identified with the 60's while stretching their music in new and creative ways. In fact, early film of both bands being mobbed look very similar. But where they differ is the Beatles stopped touring and the Rolling Stones continued with their concerts which at first they had so much trouble playing through that they placed bets as to when they would get interrupted. The documentary's strength comes from placing such chaos into context, especially when it comes down to the Altamont tragedy at the end of the 60's.
Crossfire Hurricane Quotes
There are no approved quotes yet for this movie.