Curse of the Pink Panther
(1983)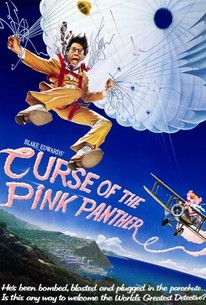 Curse of the Pink Panther Videos
Curse of the Pink Panther Photos
Movie Info
When the ultimate inept detective, Inspector Clouseau, disappears, the natural choice for his replacement is a similarly bumbling private eye. New York City detective Clifton Sleigh (Ted Wass) is just such a man.
Rating:
PG
Genre:
,
Directed By:
Written By:
In Theaters:
On DVD:
Runtime:
Studio:
U.I.P.
Critic Reviews for Curse of the Pink Panther
Audience Reviews for Curse of the Pink Panther
Radical idea: end a film series before it becomes stale. If they had not filmed this film concurrently with Trail of the Pink Panther, I doubt they would have made this film after the critical financial failure of that film. But with it already in the can, they went ahead and released it. This time instead of using alternate takes and "flashbacks" to previous films with unfunny linking material, we just have a new investigator (found by a ridiculous computer clone selection process) interviewing people (some of whom were already interviewed about Clouseau in the last film). This new guy (Ted Wass, who is awful by the way) is trying to find the missing Clouseau and Pink Panther diamond (which did get stolen again at the beginning of the previous film but that got lost in the mix of the clip show)...and it is all rather unfunny and pointless. The one good thing is the cameo of James Bond, Roger Moore, as Clouseau.
Ken Scheck
Hollywood has this awful, awful habit of producing terrible final chapters of series. This God-awful tripe is a prime example of that behavior. Instead of letting the late, great Peter Sellers rest in peace, they talk Blake Edwards into making one final Pink Panther movie WITHOUT Sellers (kind of what they did with the Steve Martin remakes a few years ago). What's worse is that they cast this utter buffoon (Ted Wass) to play Clouseau's replacement (who isn't funny in the least bit) and then end the original Pink Panther film storyline with Clouseau apparently turning into a thief himself and turning his back on the law he fought to uphold for so many years. WTF???!!!! The movie ends with the original Pink Panther thief, David Niven, getting away scot-free. My intelligence and my movie-watching psyche were both severely insulted with this mess and I felt this was a slap in the face to the memory of all of Sellers' great Pink Panther films.
J K
Somehow this isn't the worst one. And it's a mysteriously brisk 110 minutes to sit through. Far less painful then even the last one Peter Sellers is actually in, Revenge of the Pink Panther.
Matt Kendrick
Curse of the Pink Panther Quotes
There are no approved quotes yet for this movie.