Damnation Alley
(1977)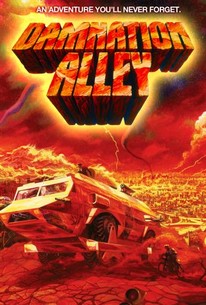 Movie Info
A small but hardy band of survivors traverses a post-apocalypse American landscape in this sci-fi thriller. A horrific nuclear assault leaves only three survivors at an underground military facility, so Tanner (Jan-Michael Vincent), Denton (George Peppard), and Keegan (Paul Winfield) commandeer a special all-terrain land cruiser and head for Albany, NY, the only American city to be spared in the attack. As they travel through the desolate post-nuke wastelands, the soldiers pick up a beautiful woman (Dominique Sanda) and an incorrigible teenager (Jackie Earle Haley), as they battle huge mutant insects, packs of survivors turned violent and feral, and brutal electrical storms that savage the already barren plains. Damnation Alley was based on a novel by award-winning speculative fiction author Roger Zelazny. ~ Mark Deming, Rovi
Critic Reviews for Damnation Alley
Audience Reviews for Damnation Alley
½
Jack Smight's cheesy post apocalyptic road movie is a fun ride, it concerns five survivors of a nuclear holocaust who travel cross-country in "Landmaster' a specially-designed 12-wheeled armored all-terrain military vehicle, which is equipped with front and back cannons and twin overhead rocket launchers, they are searching for other survivors and settlements, along the way they will encounter giant scorpions, man-eating killer cockroaches, some murderous radioactive hillbillies, freak storms and floods with a sky that is a mass of swirling colors. Awful dialogue with some of the cheapest looking practical special effects you'll ever see. As for the cast which is led by the late George Peppard, who is a campy delight as by-the book officer, Major Eugene Denton, a wooden Jan-Michael Vincent as rebellious junior officer, the late Paul Winfield, in a good turn as Vincent's officer buddy, and Dominque Sanda as the token female eye candy member of the group. Overall an enjoyable guilty pleasure. Recommended.
Danny Rovira
Super Reviewer
Another of the countless 70's disaster movies. Cheesy, but fun.
Marcus Woolcott
Super Reviewer
Whatever it has laughably bad effects, that include giant scorpions that are the worst superimposition job I've ever seen. It's got a couple cool part, with flesh eating bugs and a group of dudes gone crazy in the aftermath and are hostile to the crew, but above all it doesn't really have anything that other films haven't done better. It did entertain me.
Patrick Dolan
Super Reviewer
Damnation Alley Quotes
| | |
| --- | --- |
| Denton: | Don't go making something personal out of this. Perry is dead. That doesn't make you right and me wrong. It just means Perry is dead. |
| | |
| --- | --- |
| Keegan: | "Fuckin' cockroaches!" |
| Keegan: | Fuckin' cockroaches! |