Dance Party USA
(2006)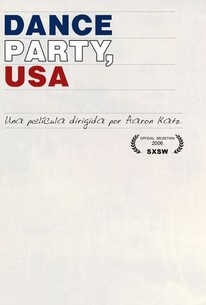 Movie Info
An apathetic seventeen-year old shares a dark secret that causes his aimless new friend to immediately sever ties in director Aaron Katz's talky teen drama. Gus spends most of his time relating self-indulgent tales of sexual conquests and drug fueled frenzies to his best friend Bill. Jessica seems to be drifting away from most of her friends, and lately things have gotten so bad that she isn't even speaking with her one-time best-friend Christie. Every Fourth of July all the kids gather at Brian's house to drink free beer and watch the fireworks. This year, Gus meets Jessica at the party and tries to pick her up. When she blows off his obvious come-on, Gus tells Jessica a secret that he has never revealed to even his closest of friends.
News & Interviews for Dance Party USA
Critic Reviews for Dance Party USA
Audience Reviews for Dance Party USA
As part of the so called mumblecore movement, this film like Funny Ha Ha is improvised and goes for reality over entertainment, which isn't always a good thing. The characters are interesting enough, though often the conversations seem flat and uninspired. A reflection of life itself but not an interesting one. At 65 minutes it is short and very sweet with a touching ending. The acting is okay, having the awkward relationships means awkward performances are fully acceptable. I'm not a fan of the digital look here, looks too much like a home movie. A nice little film, with some dark themes.
Luke Baldock
Super Reviewer
Dance Party USA Quotes
There are no approved quotes yet for this movie.