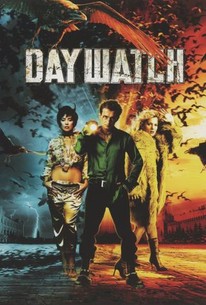 Day Watch
2006, Horror, 2h 19m
96 Reviews
25,000+ Ratings
What to know
critics consensus
Day Watch is frequently cheesy but it offers enough twists, surprises, and inventive action sequences to maintain viewer interest. Read critic reviews
Where to watch
Rent/buy
Rent/buy
Rent/buy
Rate And Review
Movie Info
Anton (Konstantin Khabensky), a member of a group of supernatural guardians who monitor the forces of the Dark, discovers that his own son is responsible for a series of murders. The Dark Side tries to get Anton out of the way, but his comrades in the Night Watch devise a way to protect him. However, a piece of enchanted chalk with the power to rewrite destiny is the key to a looming battle between Dark and Light.
News & Interviews for Day Watch
Audience Reviews for Day Watch
Did not like this movie at all. I don't recall one bit of Night Watch, which I watched and reviewed, most likely, before I graduated high school. I graduated in 2006, so you can imagine how little I actually remember of Night Watch. I remember liking it to an extent but really disliking the fact that the movie didn't come with the original Russian audio track and I had to suffer through an English dubbing. Anyway, perhaps I should've re-watched that movie before watching this one. But it's not like it's necessary since they recap what's going on at the beginning of the film, so even if you didn't watch the original film you won't be as lost. Anyway, this film is an absolute mess. The one thing that immediately jumps out at you is the comedy. I'm not gonna complain about the fact that the movie chooses to employ comedy, as I'm all for movies that aren't entirely humorless. The problem comes in the fact that the comedy in this movie is that they beat you over the head with it, to the point where it completely takes away from everything the rest of the movie is trying to do. It makes a movie with an intriguing concept, really, unbearable to watch at times. If they had kept the comedy separate from the rest of the movie then it'd be fine, but they make the comedy a part of the main story and it just feels completely forced in there. It's not effective. And this is a movie that is really ineffective at almost everything it does to be honest. Would the film have been better without the comedy? Who knows, it's pure speculation. But I can pretty much tell you that it adds absolutely nothing to the film, at all. I mean some of it is amusing and I did get a couple of chuckles here and there, but it's like trying to watch a mash-up of Citizen Kane and Duck Soup and trying to pass it off as one movie. Separately, those films are great. Together, not so much. Not that this movie would ever come close to that level, but I'm just trying to illustrate a point. As I mentioned, the movie has an intriguing concept but one that is so poorly executed that you don't really give two shits about what happens and you're not entirely sure what the point of is. Can someone tell me what the point is? Yea I mean the basic idea is to avoid war between the Dark and the Light, but the movie throws so much shit out there that the point is completely diluted by the end. There really wouldn't be much of a problem is the movie did a good job at getting these ideas across, but they just throw them out there without any rhyme or reason. The movie hopes that the "cool" action sequences, of which there are few, will make up for the story being a complete and utter disaster. The problem with the action scenes, while some are good, is that the editing is absolutely horrendous, you have no idea what's going on half the time and who's doing what. It's a complete mess. This is really the theme of the film. And the ending...boy, the ending completely sucks. It comes out of nowhere and it falls completely flat. The ending is sort of like a sitcom. Everything is, conveniently, resolved and everyone ends up happy and unharmed. It's a really stupid ending for this type of movie, it's TOO perfect. Now that I think about it, I really hated this movie. It doesn't work as a comedy. It doesn't work as an action movie. It doesn't work as a horror. It doesn't work as a romance. What does this film even do well??? Originally, I was gonna give the film 2 stars, but now that I think about it I thought this movie was bad. Some parts are really bad and others are just amusing. But even the amusing parts don't really add anything as far as quality to the film, so I can't recommend this movie at all. It's really bad.

Fans of the original will surely love this follow up, but it is never anything great. Day Watch is good, but leaves a lot be desired. I thought that the film was well constructed with a prominent sense of style, which is a trademark of Bekmambetov's films. Day Watch in many ways is a better film than Night Watch because it expands on the story established in the first entry. Night Watch was a film that was all over the place with its plot and relied on its visual style to create its entertainment value. Although similar, this film tones down on heavy special effects and focusing more on storytelling. But that's not saying that effects are not prominent in the film. There are plenty of scenes that have effects and are quite exciting, but the plot is better thought out here and the film is a more focused, more detailed movie. The performances are good and there are aspects of the film should appeal genre fans. However as a whole, the sequel doesn't break any new ground in terms of vampire lore. I enjoyed the film, but I felt it could have been better and it was on par with the original. Visually striking, with toned down effects and a good story, Day Watch is a worthwhile follow up to Night Watch. Fans of the first film will most likely enjoy this entry and it boasts some effective action and tense, horrifying scenes that will certainly delight genre fans. Either way you slice it, these films are only mildly entertaining, and won't be seen as classics of the genre. With that said, this is worth seeing for mindless entertainment value, but if you're looking for a standout feature, you'll sadly be disappointed.

Pretty cool, but like the first film, Night Watch, WTF moments abound in Day Watch. I'm pretty sure this film is even more confusing than the first film.

I actually preferred the original as it blended horror in more with the science fiction and action for a somewhat darker experience. Day Watch is a strange beast to dissect as there is some amazing cinematography, wonderful visual effects, and some very original concepts in the film but the story is all over the place and takes itself to serious. The tone is a bit too serious for some of the goofy interactions that take place and we are introduced to so many characters and the pace is so frantic you really are just all over the place and it stretches the narrative a bit too much. Overall decent and original but could have been so much better had the script been more polished and the tone of the film more loose.
See Details