Death of a President
(2006)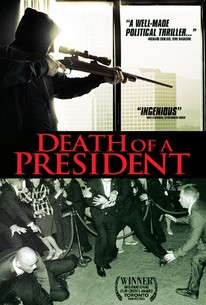 TOMATOMETER
AUDIENCE SCORE
Critic Consensus: In this unconvincing fictional documentary, the tense 30 minutes that lead into the title event is outweighed by the boring, melodramatic hour preceding it.
Death of a President Photos
Movie Info
The assassination of the most powerful leader in the free world is examined in this controversial mockumentary from British filmmaker Gabriel Range. On October 19, 2007, president George W. Bush is visiting Chicago when he impulsively stops to shake hands with supporters en route to a meeting, while a throng of protesters demonstrate nearby. Shots ring out, and Bush is fatally wounded. As America and its allies deal with the tragic loss of their leader, vice president Dick Cheney is sworn in as the new chief executive, and while he takes the reigns of the nation and pushes new and aggressive anti-terrorism legislation through Congress, the Federal Bureau of Investigation steps into action to track down the gunman. As Secret Service agents and law enforcement officers share their thoughts on how the murder of the president could have been avoided, and people around the globe discuss how Bush's death has tipped the delicate balance of relations between the United States and the Middle East, a Syrian Muslim activist living in Chicago, Jamal Abu Zikri (Malik Bader), is charged with the murder of the president. While no "smoking gun" connects Zikri to the crime, a wealth of circumstantial evidence points to him as the gunman, and he's tried, found guilty, and executed in short order. However, lingering questions persist as some wonder if the F.B.I. found the right man with the right motives. Created using a combination of newsreel footage, computer-generated images, and newly staged material, Death of a President (aka D.O.A.P.) received the International Critics Prize at the 2006 Toronto Film Festival, despite negative reaction from many American political commentators, many of whom were deeply offended by the film's depiction of the assassination of Bush, the sitting U.S. president at the time of the picture's production and release.
People Who Like this movie also like
News & Interviews for Death of a President
Critic Reviews for Death of a President
Audience Reviews for Death of a President
Overall, it was just too much to be enjoyed. Arab suspect, war protesters... just too unimaginative. Now, the use of real footage of Bush and Chaney was interesting in my trying to figure out of that was just public domain material or what. How they used real people, that I am sure did not cooperate in the making of the movie, was the most interesting aspect of this movie.
Thomas Johnston
Super Reviewer
Death of a President is a fake documentary, not a mockumentary, dealing with a President George W. Bush assassination situation. It has received multiple awards from various film festivals, but I fail to really see why. It can't be because of the highly political topic can it? Anyway, this film also has the R-rating. I assume this R-rating stems from the politics and racism because it sure isn't from the language and violence.
Does this film feel like a documentary? Yes, it does. Many different elements come together to create a realistic TV special report. That also means the bore factor for most people will be high. Not even the George W. Bush assassination is enough to keep the interest level up, but yes this is probably the part of the film that most people will be waiting for. It doesn't happen in the beginning either, which is what many will believe. The film actually takes the time to explain the events that lead up to the assassination and then go on to tell the story of the investigation that follows. In that sense, the flow is nicely done.
The acting is pretty believable, but other than the fact that you know this is a false documentary, there is still that little something that indicates that the interviewees are actors. Another good aspect of the film is that there are a few characters that speak Arabic. What would an assassination film be without terrorism right? Anyway, Hend Ayoub is the most believable actress in this entire picture.
While Death of a President does have an interesting premise, unless you like politics and 90 minute CNN specials, this will not entertain you.
This movie is SO interesting. The format is a dead-on copy of the contemporary historical documentary I've seen so much of, and the interviewees craft such intricate and nuanced characters. Underneath this brilliant examination of post 9/11 American culture lies a really engaging story. Bush himself is peripheral and his assassination is really just the backdrop for a much more personal narrative. This "documentary" is really something special.
Emily Armstrong
Super Reviewer
Death of a President Quotes
There are no approved quotes yet for this movie.
Discussion Forum
Discuss Death of a President on our Movie forum!