The Diary of Anne Frank
(1959)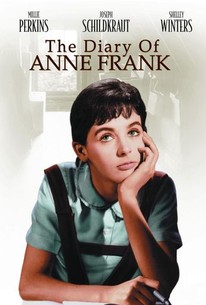 The Diary of Anne Frank Photos
Movie Info
Teenaged Anne Frank, a Dutch Jew, perished along with most of the rest of her family in a Nazi concentration camp, but her hopes, dreams, and optimistic outlook have endured thanks to the publication of her diary in 1952. After intense negotiations with Anne's father, the sole survivor of the Frank family, The Diary of Anne Frank was dramatized in 1954 in a Pulitzer Prize-winning version by Frances Goodrich and Albert Hackett. In the 1959 film version, director George Stevens could stage many dialogue sequences in furtive whispers, conveying the precariousness of the Franks' existence, and that of their fellow exiles, the Van Daan family and fussy dentist Mr. Dussel, during the two years they spent hiding from the Gestapo in a tiny Amsterdam attic. Along with Millie Perkins as Anne, the movie also features such veterans as Joseph Schildkraut as Otto Frank, Shelley Winters as Mrs. Van Daan, Lou Jacobi as Mr. Van Daan, and Ed Wynn as Dussel. Oscars went to supporting actress Winters and cinematographer William C. Mellor.
Critic Reviews for The Diary of Anne Frank
Audience Reviews for The Diary of Anne Frank
erika bruhns
Super Reviewer
A classic movie based on a classic novel/diary of the real experiences of a girl living in Nazi Germany. This movie really brings the events to life, and I highly recommend seeing it.
Touching classic based upon true events in WWII on Diary of Anne Frank. I read the Book twice and every tiny bit of the words in the book sucked me in to it. A tragedy.
The Diary of Anne Frank Quotes