Do the Right Thing
(1989)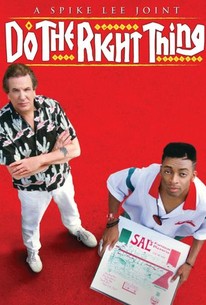 TOMATOMETER
AUDIENCE SCORE
Critic Consensus: Smart, vibrant, and urgent without being didactic, Do the Right Thing is one of Spike Lee's most fully realized efforts -- and one of the most important films of the 1980s.
Do the Right Thing Photos
Movie Info
Set in the Bedford-Stuyvesant area of Brooklyn, Spike Lee's thought-provoking and powerful comedy/drama chronicles the events that lead up to a race riot between the residents. The action takes place on the hottest day of the year and centers around a pizza parlor owned by Italian-American Sal. It's a popular hangout for the neighborhood youth. The events leading up to the confrontation are presented episodically and center around, Sal (Danny Aiello), his aimless employee Mookie (Spike Lee) and his pal, the radical Buggin Out (Giancarlo Esposito), who is irritated that Sal's "Wall of Fame" (containing only pictures of famous Italian-Americans) contains no African-American faces and therefore tries unsuccessfully to get the neighborhood blacks, including Mookie, to boycott the restaurant. Radio Raheem, with his blaring boom box permanently affixed to his shoulder, inadvertently becomes the catalyst for violence. As the stories unfold and many colorful satellite characters and their lives are introduced, the temperature rises. With the constant bickering between Mookie and the other employees, the harassment of Buggin Out, and other events, Sal is pushed to the breaking point and makes a fateful decision. Already stressed out and overheated, Sal snaps at closing time when Radio Raheem show up and demands service at the last minute. Violence and tragedy ensue.
News & Interviews for Do the Right Thing
Critic Reviews for Do the Right Thing
Audience Reviews for Do the Right Thing
A mixed bag for me. The topic and actual plot events were fascinating, but I found it a little tedious to watch. The movie has this very static quality where actors tend to stand in one spot when they're delivering their lines, instead of moving around naturally, which makes it feel at times like an amateurish stage play. (Perhaps most of it was filmed single-camera?) The only character I felt for was Sal, Danny Aiello is a superb actor. I'm not sure if we're supposed to like the main character Mookie, tbh. Some of the dialogue (especially by Mister Senor Love Daddy and the three old men sitting around) is hilarious with great flow, but a lot of times, for example when tempers run hot, the lines people yell at each other are clichéd and carry no meaning.
Letitia Lew
Super Reviewer
Artful, humorous, gritty and powerful. Spike Lee's joint Do The Right Thing executes with an unorthodox cinematic scope that is effective in highlighting a boom of a new generation. The film's overall tone and driving message tells a tale that resonates with all generations. 4/5
Eugene Bernabe
Super Reviewer
½
Remember the days when Spike Lee's "joints" has a real edge and potency to them? Nowadays, he's rolling out more generic, Hollywood tripe like "Oldboy" but there was a time when he was a highly original and passionately political filmmaker as he regularly touched upon important social issues and conflicts. However, few of his joints have been as packed or as provocative as "Do The Right Thing". On a hot summer day in a Brooklyn neighbourhood, the residents struggle to keep their cool in the increasingly sweltering temperature. Sal (Danny Aiello) owns the local Italian pizzeria where he happens to upset black activist Buggin' Out (Giancarlo Esposito) who, in turn, demands the black community boycott his place. Most people are unwilling to do so but it still adds to the discontentment amongst the community as racial attitudes and prejudices begin to surface. Taking the title from Malcolm X's quote "You've got to do the right thing" and being inspired by an actual incident in Howard Beach, New York, Spike Lee crafts an important and unflinching portrayal of racial tension in a literal urban melting pot. He sets his intentions from the outset with the ferociously pumping music of Public Enemy's "Fight the Power" and infuses his story with an eclectic mix of races, characters and personalities, while still managing to lend the film an important lightness of touch. It has a distinct and observant humour that magnifies the absurdity in people's preconceptions and judgments but this absurdity is soon, skilfully, shifted to frustration and rage which descends his characters into a chaotic madness. Filled with an abundance of excellent performances from Danny Aiello's hard working Sal to John Turturro as his racist son Pino and a small but highly entertaining role for Samuel L. Jackson as the radio dj, 'Mister Señor Love Daddy' - who seemingly oversees everything in the neighbourhood. Lee's direction is vibrant and colourful and makes full use of an excellent hip-hop score before other filmmakers even realised it was cool to do so. His script is also as sharp as they come with endlessly quotable dialogue and he even has the bravery to have a selection of characters - from different ethnic backgrounds - rhyme off very personal and racial slurs in a montage that breaks the fourth wall. With this scene alone, it's easy to see why some were offended by the film upon it's release. It's a passionate reflection of racism and race relations and one that raises as many questions as it answers. However, that's the whole point; Lee's agenda is not to incite trouble but to rouse debate and he does a sterling job in doing so, while still being empathetic towards each and every one of his characters - regardless of their ethnicity. That's the real key in preventing this film from being contradictory in it's arguments as many critics have claimed it to be. Few films have ever dealt with racism as powerfully or as thought provoking as Lee does here. He has a strong voice on the subject and this outstanding piece of work is one that's still as relevant today as it ever was. Beginning with a simmer before ending in a boiling intensity, this a powerful and thought provoking, sociopolitical commentary. Lee would go on to deliver the similarly themed "Jungle Fever" and "Malcolm X" after this, which cemented his reputation as one the most important black filmmaker's of our (or any) generation. Mark Walker
Mark Walker
Super Reviewer
Do the Right Thing Quotes
| | |
| --- | --- |
| Da Mayor: | [after last night's riot] Hope the block is still standing. |
| Mother Sister: | We're still standing. |
| | |
| --- | --- |
| Mother Sister: | Good morning. |
| Da Mayor: | Is it a good morning? |
| Mother Sister: | Yes, indeed. You almost got yourself killed last night. |
| | |
| --- | --- |
| Mister Senor Love Daddy: | YO! HOLD UP! Time out! TIME OUT! Y'all take a chill! Ya need to cool that shit out! And that's the double truth, Ruth! |
| | |
| --- | --- |
| Sonny: | It's cheap, I got a good price for you, Mayor Koch, "How I'm doing," chocolate-egg-cream-drinking, bagel-and-lox, B'nai B'rith Jew asshole! |
Discussion Forum
Discuss Do the Right Thing on our Movie forum!