Doctor X
(1932)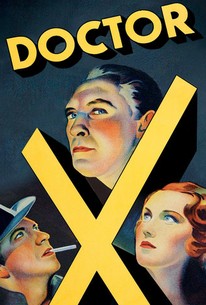 Movie Info
Fay Wray screams when she first lays eyes on Lionel Atwill in Doctor X, but don't let that fool you. Atwill plays Fay's father this time around, and he may very well not be the diabolical "Moon Murderer" whom the police are seeking. Dr. Xavier (Atwill) maintains a research lab in a remote Long Island estate. The police suspect that one of Xavier's assistants--all "second-chancers" whose previous misdemeanors range from botched experiments to cannibalism!--is the mysterious murderer who strikes only when the moon is full. Newspaper reporter Lee Tracy sneaks into the estate to get a swell scoop, whereupon he falls in love with Fay. In trying to help the authorities, Xavier stages an elaborate trap for the Moon Murderer, with his daughter as the willing bait. The killer (we won't tell you who it is, but you'll figure it out anyway) reveals himself by coating his body with "synthetic flesh", which gives him supernatural powers. Based on a play by Howard C. Comstock and Allen C. Miner, Doctor X was originally filmed in two-color Technicolor; available for years only in black and white, the film was restored to its full tinted state in the 1970s.
Rating:
NR
Genre:
,
Directed By:
Written By:
In Theaters:
Runtime:
Studio:
MGM Home Entertainment
Critic Reviews for Doctor X
Audience Reviews for Doctor X
This is cannibalism A serial killer is on the loose and a local physician, Doctor Xavier, believes he can solve the mystery but he doesn't want his efforts getting out to the public. A local news reporter discovers the physician's involvement in the case and sneaks around his house trying to uncover clues. Will the killer take out the reporter and doctor before they can stop him? "I want to show you a new type of brain cell." Michael Curtiz, director of White Christmas, Casablanca, Mildred Pierce, The Adventures of Robin Hood, We're No Angels, The Vagabond King, and Yankee Doodle Dandee, delivers Doctor X. The storyline for this picture is very interesting and contains an element of who done it, comedy, and horror all mixed together. The script is fairly clever and the acting is very good. The cast includes Lionel Atwill, Fay Wray, Lee Tracy, and George Rosener. "What do you think about the incision at the base of the brain?" Doctor X is a movie I DVR'd off Turner Classic Movies (TCM) during a Lionel Atwill marathon. It seemed like a great movie for this holiday season and it lived up to my expectations. The make up at the end was awesome and the use of the cadavers was a fresh and innovative manner for a villain. I strongly recommend catching this movie at least once. "Synthetic flesh!" Grade: B
Kevin Robbins
Not high grade horror, but a good spook fest none the less. Would have liked to see more of the make up effects through out the movie as a whole very much wasted in the short time they are used. The nice mix of spooky and mystery based with the that one comic relief and romantic formula that was expected of the time. The two strip color gives a nice touch to the lab equipment.
Joe Sicari
This Pre-Code film featured a masturbation joke early-on. This film is listed as the first color horror. There is a series of murders that lead the police to investigate a local medical research institute. A journalist is also secretly following this story, and learns that the police let the head of the academy do his own investigation before the officials are let to do their own investigation. The Dr is a able to deduce at least one of his colleagues is guilty, so he uses his super lie-detector machiney thing. There are some cool graphics with the creepy synthetic flesh which at part looks like the Grandpa in Texas Chainsaw Massacre. There is also a clitoris joke (or at least thats how I took it!).
D M
Doctor X Quotes
There are no approved quotes yet for this movie.