Don't Breathe
(2016)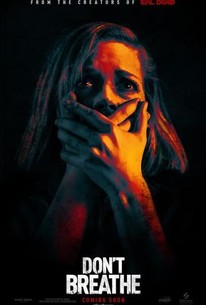 TOMATOMETER
AUDIENCE SCORE
Critic Consensus: Don't Breathe smartly twists its sturdy premise to offer a satisfyingly tense, chilling addition to the home invasion genre that's all the more effective for its simplicity.
Movie Info
A trio of reckless thieves breaks into the house of a wealthy blind man, thinking they'll get away with the perfect heist. They're wrong.
News & Interviews for Don't Breathe
Critic Reviews for Don't Breathe
Audience Reviews for Don't Breathe
½
Superior suspense horror outing, with a little bitty story but Told The Shit Out Of. Everything's good too, the direction, the writing, the acting, the art direction, cinematography, etc. Don't miss it.
Kevin M. Williams
Super Reviewer
Super, super overhyped. This movie is indeed a rollercoaster ride of excessive, unnecessary plot points that go in the opposite direction literally every 10 minutes. That's not what I would call a "smart and sturdy premise" but more like a obnoxious movie that's sole purpose is to push and pull you around and doesn't really care about the story it's telling. Rottentomatoes gives this 87 percent citing a "smart and sturdy plot". As a super reviewer, I refute that claim and cite examples to prove it's a dumb and shaky plot. 1) The old man is blind right? Ok so that means his hearing must be super sensitive, no? So when 3 loud teenagers jump over his fence with their feet hitting the ground and throwing the backpack over the fence which also hits the ground, repeatedly turn his door knob and shake the cellar doors - he can't hear it? And you might say, oh hey well he was dead asleep! He must be a deep sleeper. Ok, true I will give you that. But what about his dog? Huh? Yeah his super ferocious guard dog. In absolute silence, I don't know any dog that WOULDN'T get up and go to the door if someone was turning the locked door knob and strange people are talking in normal voices right outside the front door. So that is in the very beginning and already I'm like this is the dumbest plot ever. But wait - there's more! 2.) The kids choose this break-in because they know the old man was rewarded $300k for his daughter's death. Like, all right I see that. Then they're like we need to break in and take that money! And that's where I'm like hey, wait a minute. How the fuck do you know there is $300k cash in that house? They don't, but they go in anyway. They don't just think there's money in there, they KNOW there's money in there. They are planning their trips afterwards and how they're splitting up the money and everything. Like really? How can you know? They risk it all to go up in there being loud as fuck searching an old man's house in the morning while he's still there looking for money. Worst burglars ever? Yes. 3) The old man does indeed have $300k in straight up cash lying in a safe. And not multiple safes around the house, but just one safe. Yep $300k in one spot in cash in his house. Apparently this movie was filmed in a time when banks didn't exist and the only way to store your money is old fashioned safe. He has enough sense to make his house into an impenetrable castle, but not enough sense to put his cash in a bank? Yeah, super smart plot there. 4) SPOILER***** So at the very end - yeah I'm about to spoil something, but the movie isn't that great so you won't be too disappointed. At the very end, the guy decides he wants a new kid because his daughter was hit by a drunk driver and killed. So he kidnaps the girl who killed his daughter and impregnates her with his semen not rape more like with a turkey baster yeah. So anyway, he wants a kid soooooo bad he's going to force a baby with some random girl? His reasoning was "she took my daughter from me so she has to give me a daughter." Like, OK, I kind of see that, but that will take 9 months. Adoption - and I fucking know he can afford it - would be somewhat quicker. Why not just kill the girl and seek revenge that way? Or just kidnap the girl and keep her kidnapped. Why does she need to give him a baby? That part was weird and like OK you guys are pushing it a little bit. That went over the edge I think. 5) Not to mention the guy has probably killed multiple people before and never caught even after the police were AT HIS HOUSE investigating the robbery with the news crews there - so yeah, I'm not buying it. And neither should you. Rottentomatoes failed us. I would say this is a solid B movie, but nothing more. It's no A horror flick that Rottentomatoes is trying to pass it off as. I have seen my fair share of bad horror movies and this is definitely on the list. It takes a lot of work to make a good horror movie, and this was not good.
Fede Alvarez is a talented director, and the decent work he does bringing this story to the screen compensates for a thin, banal script that lacks enough original twists, interesting characters and even a plot that makes sense when you stop to think about it for a second.
Carlos Magalhães
Super Reviewer
Don't Breathe Quotes
There are no approved quotes yet for this movie.
Discussion Forum
Discuss Don't Breathe on our Movie forum!