Early Man
(2018)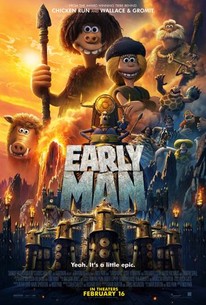 TOMATOMETER
AUDIENCE SCORE
Critic Consensus: Early Man isn't quite as evolved as Aardman's best work, but still retains the unique visuals and sweet humor that have made the studio a favorite among animation enthusiasts.
Movie Info
In this stop-motion animated comedy set in prehistoric times, a tribe of primitive hunters are displaced from their homes by emissaries from a distant empire that has mastered bronze-making. However, a tribesman named Dug (voice of Eddie Redmayne) tries to win his home back by challenging the invaders to a game of soccer. Directed by Nick Park, best known as the creator of the beloved animated duo Wallace and Gromit. Tom Hiddleston, Maisie Williams, Timothy Spall, and Richard Ayoade also lend their voices.
News & Interviews for Early Man
Critic Reviews for Early Man
Audience Reviews for Early Man
½
It's not quite one of their bests but even a mid-level Aardman movie still presents enough pleasures to justify one viewing. Early Man is in that big-eyed, big-toothed stop-motion clay animation style they're renowned for, so it makes even more visual sense that we're following cavemen. What I wasn't expecting was that the entire movie would be a sports film about the cavemen facing the team of elite soccer players of the Bronze Age. Once that realization settled in, I began lowering my expectations, which lowered further from the less imaginative use of comedy. I chuckled here and there but this is a comedy that relies much upon slapstick. It's at its best when it veers off into strange tangents or really doubles down on its absurdities, like a pig posing as a masseuse or a recording pigeon that acts out its messages. The character work is pretty minimal and relies upon a lot of stock characters, with the supporting players given one trait or less. While lacking in some areas, Early Man is still an amusing story that has its moments of goofy whimsy even amidst the sports clichés. I especially enjoyed Tom Hiddleston's vocal performance as the ignorant, effete leader of the Bronze Age. It's no Chicken Run or Pirates: Band of Misfits, but the gentle comic rhythms of an Aardman movie can still be refreshing. Nate's Grade: B-
Nate Zoebl
Super Reviewer
½
Thank the film gods Aardman still exists. Their wispy, homespun animated films, bring us down to a simpler time. Early Man, is perhaps their least satisfying claymation effort story wise, but it is funny and slight enough to enjoy as old-fashioned animated entertainment. The reason it can't reach the hit ratio of say Chicken Run, Aardman's best and first film, is because its narrative follows a predictable underdog sports structure. It is enjoyable and quite hilarious watching the cave people learn about soccer, but as far as hitting the next rung and emotionally investing us in the characters, isn't quite as successful this time around. However, amidst dad jokes and poke fun commentary, it is hard to dislike anything the studio releases, because they practically emit earthy innocence. While they haven't, and am not sure they will ever, reach the heights of Chicken Run again, Aardman is necessary for animation enthusiasts in this increasingly digital landscape. Rating: 72
Early Man Quotes
There are no approved quotes yet for this movie.