Early Man
(2018)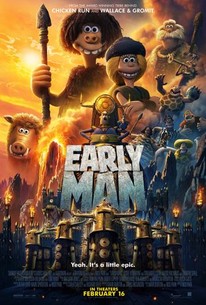 TOMATOMETER
AUDIENCE SCORE
Critic Consensus: Early Man isn't quite as evolved as Aardman's best work, but still retains the unique visuals and sweet humor that have made the studio a favorite among animation enthusiasts.
Movie Info
In this stop-motion animated comedy set in prehistoric times, a tribe of primitive hunters are displaced from their homes by emissaries from a distant empire that has mastered bronze-making. However, a tribesman named Dug (voice of Eddie Redmayne) tries to win his home back by challenging the invaders to a game of soccer. Directed by Nick Park, best known as the creator of the beloved animated duo Wallace and Gromit. Tom Hiddleston, Maisie Williams, Timothy Spall, and Richard Ayoade also lend their voices.
News & Interviews for Early Man
Critic Reviews for Early Man
Audience Reviews for Early Man
½
Very sweet stop-motion animation film with a story by the numbers but a lot of adorable details while being a sports film at the same time, covering a pre-historic football match. It's mostly the spoofs on modern day details that work fantastically here, the story is predictable but engaging enough. A few more jokes instead of slapstick would have been great. Still, very enjoyable.
½
Aardman is an animation studio that has impressed me since my childhood years. From Chicken Run to Flushed Away, or even Shaun the Sheep, which is a recent favorite of mine, I was very much looking forward to viewing their recent outing. While it may be one of their weakest of the movies they've produced in my opinion, I still got a kick out of it. So much effort is put into these films that it's very difficult to talk down about them. Sure, the style itself may not be for everyone, but notion that actual cinematography is used in creating a film like this is astounding to me. Early Man isn't a movie that will be recognized as one of the best films of 2018 and nor should it, but these movies don't receive enough recognition. Here's why I believe it deserves your time. Set around the plot of a young boy in Dug and his companion in Hognob, they stumble into a city of Bronze, ruled by Lord Nooth. Coming from the cavemen and women lineage, this is a surprise to them. Learning that this city has developed the game of futball (American Soccer in today's terms) from their very own ancestors, they decide to challenge this city for the right to their land back. This plot is very silly and by the numbers, so I wouldn't say it's a very adult film, but as a movie that has a goal of impressing children, while delivering some adult humour, it works tremendously. I found myself shrugging my shoulders at the sheer notion that a sport was the story that fuelled this film, but that being said, it's a solid little movie overall. As aforementioned, these movies look incredible in terms of how they're made. The animation style is to be commended no matter what the quality of the film itself turns out to be. From the visual gags to the unique characteristics, this is a movie that relies heavily on whether or not the audience can buy into the look of the movie. I found myself laughing at background elements or the way something moved, and it was clear that the intentions of the filmmakers were to accomplish just that. If for nothing else, Early Man is a wonderfully shot and animated feature film. Where the film started to lose me was how the plot itself became one of the most predictable things that I've witnessed in a while. The first act presents some very clever jokes and the characters are all likable, but once the real plot kicks in throughout the second act, I was hoping for a much more clever finale. Sadly, the third act of this movie is simply whether or not our heroes will be successful in beating this team. While the game itself and characters involved are all likable elements, I just found myself slightly uninterested. Still, there's a lot more to like than dislike here. In the end, Early Man tries very hard to be multiple things. A spoof of the tales of the stone age, a children's generic and safe storyline, and almost a political statement at the same time. While all of these elements work, I found them to be an odd mixture for this movie. Early Man is a film that I highly enjoyed from start to finish, but the overly simplistic story took away from what could've been a great film. The setting, animation, jokes, and characters all drove this movie in the right direction, but that's not quite enough when you know where everything is headed all the time. Early Man may be aimed at kids, but there's a little something in here for everyone. Disappointing for a fan like myself, but still a solid movie.
Not a great deal of effort story-wise in this latest Aardman Studio offering, but if the cute factor is enough for you and your kiddies, then this entry won't do so badly. The gist of the thing is a punt at the near religious fervor of soccer fandom, and that does get a few chuckles. the best bit is a bird that delivers messages over distances. Adults fans of Aardman will miss the usual depth of humor though, and the underdone quality lacks verve.
Kevin M. Williams
Super Reviewer
Early Man Quotes
There are no approved quotes yet for this movie.