El Cid
(1961)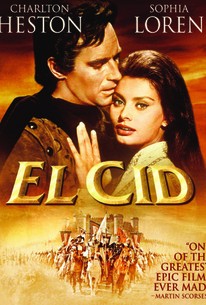 Movie Info
This film version of Pierre Corneille's El Cid focuses on the life of 11th-century Spanish hero Rodrigo Diaz de Bivar. The triumphs of his military life are not matched by his private affairs; he is betrayed by his bride and is made a political pawn by the avaricious Spanish landowners.
Critic Reviews for El Cid
Audience Reviews for El Cid
After revisiting The Cid - after a gap of a couple of decades - I have to confess an about-turn. I have always remembered at as stagy, very silly and, more unforgivable, boring - in the grand ol' Epic tradition. Yes, it still is very silly, over the top and utterly in love with it's saintly hero. But that is its draw. In the very best sense of the word, El Cid is thoroughly camp. Apart from a David Lean, what else do you expect from this kind of film? I make no apologies for thinking it magnificent. There is a reason it was such a massive hit when it was released - because it gave the audience of a pot-boiler what they want - a hero to adore, a strong-willed and gorgeous heroine, kings and queens and princes and princesses squabbling and stabbing and throttling each other, an epic bit of jousting, heaving breasts, melodrama, thrilling battles and one heck of a jaw-dropping finale. It's also Miklós Rózsa's finest score. If you are a fan of Game of Thrones I defy you to not have it in mind while watching.The utterly magnificent (and totally bonkers) finale of our gorgeous hero, dead and nailed to his horse (not surprisingly, Chuck struggled with this), riding off in to eternity, literally trampling the villain underhoof along the way, is something I don't doubt will end up in the show - if it hasn't already
William Sleet
Super Reviewer
A favorite of Martin Scorsese (who declared it one of the best epic films ever made), this marked a turning point for historical epics, from Hollywood to international production, from studio based, to more location oriented affairs. And it is glorious! I disagree with Marty, but do feel that yeah, it is quite a film. Not the best epic ever, but sure, it's up there. The story is a heavily romanticized look at the life of 11th Century Spanish knight Rodrigo Diaz de Vivar/El Cid, who was instrumental in defending Spain from Moorish invaders, with his efforts helping lead to Spanish unification. The man has gone done in history as pretty much being the national hero of Spain, kind of like what Joan of Arc is for France, though in this case, the man isn't an official saint. The film is typical of that era, in that the hero of the story is shown in generally the best light as much as possible. Like I said, this is a very romanticized film. He's a compassionate warrior and the film details how he gets caught up in various political and military machinations, going from accused traitor to king's champion, and later from exiled hero to lauded martyr. I know my dad likes this movie, as he's talked fondly of it before, and when he told me about it as a kid, the thing that stuck with me is the story/legend of the final battle he participated in. I don't want to spoil it, but let's just say that the story is really cool, if kind of bizarre, even if it may not be true. It's a colorful film about a colorful man, and it has all the hallmarks of a classic sweeping epic. Yeah, it's long, and it could be tightened up in places, but that's a common problem of most, if not all epics. It might be hard to sit through at times, but hey, we get excellent cinematography, gorgeous sets, costumes, thrilling spectacle, and the satisfaction of seeing stuff done without CGI. I really wish they would still make movies like this, just because you get a real sense of accomplishment when you have to bust your butt and not just rely on computers to do the heavy lifting. Oh yeah, and the score by Miklos Rozsa is just fantastic, and maybe the best thing about this movie. Heston adds another memorable character to his resume here, and he is of course, solid. We also get a sultry scheming Sophia Loren, and some strong support from Herbert Lom, Raf Vallone, and Genevieve Page among others. All in all, a sweeping and entertaining spectacle on a grand scale. It does drag at times, but when the film is cooking, it's just a blast to watch, especially the tremendous finale.
Chris Weber
Super Reviewer
Produção baseada na lendária história do herói espanhol, El Cid faz parte do mesmo tecido dos grandes épicos hollywoodianos populares nas décadas de 50 e 60: filme de costumes, cenas de batalhas épicas, tela larga (neste caso em Technirama), trilha retumbante de Miklós Rósza e, é claro, Charlton Heston no papel principal. Ao mesmo tempo, o fato de ter sido filmado em locações reais na Europa e não em estúdios cria uma ruptura com grande parte do que havia sido produzido até então. El Cid dá continuidade à aproximação mais contemporânea às películas épicas iniciada com Ben-Hur de William Wyler e, especialmente, Spartacus de Stanley Kubrick. O uso de castelos verdadeiros e os detalhes minuciosos dados aos figurinos e cenários conferem um ar de autenticidade que se distanciam do colorido lona de circo e sensibilidade kitsch das obras de Cecil B. DeMille. A parte intimista do filme também não deixa a desejar, com Charlton Heston em uma de suas interpretações "larger than life" de maior sucesso - o que é algo positivo, já que sua grande presença significa que o protagonista nunca se perde em meio ao escopo gigante da produção. Sophia Loren fica com o papel mais ingrato, sendo vitima da típica caracterização feminina da época. O romance do casal Rodrigo (o El Cid) e Gimenez (Loren) ajuda a dar maior peso dramático à narrativa (e era notável que os atores se odiavam durante as filmagens), mas o filme ganha vida mesmo durante as cenas de batalha. Orquestradas e enquadradas com maestria por Anthony Mann, as impressionantes tracking shots em meio a milhares de figurantes cavalgando à beira-mar nos levam a refletir o motivo de El Cid não ser tão lembrado quanto deveria.
Matheus Carvalho
Super Reviewer
El Cid Quotes
There are no approved quotes yet for this movie.